October 19, 2021
Wild Alaska Pollock With Spicy Chorizo And Crispy Handmade Breadcrumbs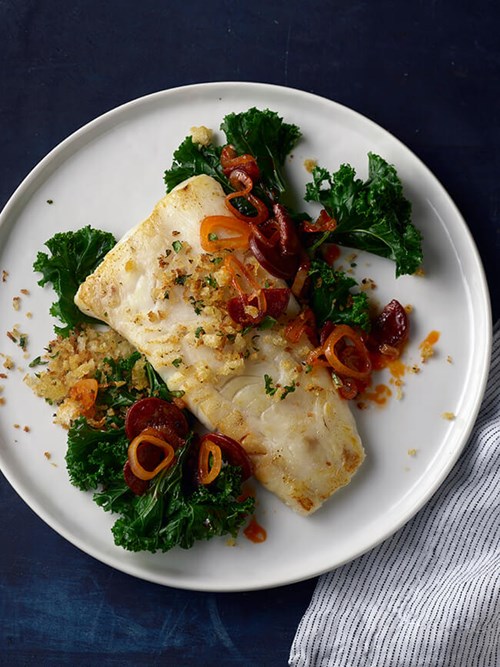 Yield:
 4 servings
Time:
 30 minutes
Ingredients:
2 3/4-inch-thick slices bread, crusts removed

4 Tbsp. olive oil, divided

1 small clove garlic, chopped

1 Tbsp. chopped fresh parsley

1 Tbsp. fresh oregano leaves

1 lg. shallot, thinly sliced

1.5 oz. smoked chorizo, halved and very thinly sliced

2 Tbsp. red wine vinegar

Kosher salt

Freshly ground black pepper

1/4 tsp. smoked paprika

4 6-oz. portions Wild Alaska Pollock
Directions:
Heat oven to 425 degrees. Pulse bread in a food processor until bread crumbs are formed, equaling about 1.5 cups. Heat 2 Tbsp. oil in a large nonstick skillet over medium-high heat. Add garlic and saute until soft. Add breadcrumbs. Cook for about 3 minutes, until golden and crisp, stirring often. Season with salt and pepper. Transfer mixture to a bowl, and toss in parsley and oregano. Wipe out nonstick skillet.
Heat 1 Tbsp. oil in the same nonstick skillet over medium-high heat. Add shallot and chorizo. Cook about 2 minutes, stirring often, until chorizo is just crisp. Transfer to a bowl and mix with vinegar, and season with salt and pepper. Wipe out skillet.
Heat remaining 1 Tbsp. oil in the same nonstick skillet over high heat. Season Wild Alaska Pollock portions with salt, pepper, and paprika, and sear in skillet for 1-2 minutes. Flip fish and sear for about 4-5 minutes. Transfer skillet to oven and roast until fish is cooked through, about 5 minutes longer.
Serve Wild Alaska Pollock topped with chorizo mixture and toasted breadcrumbs.