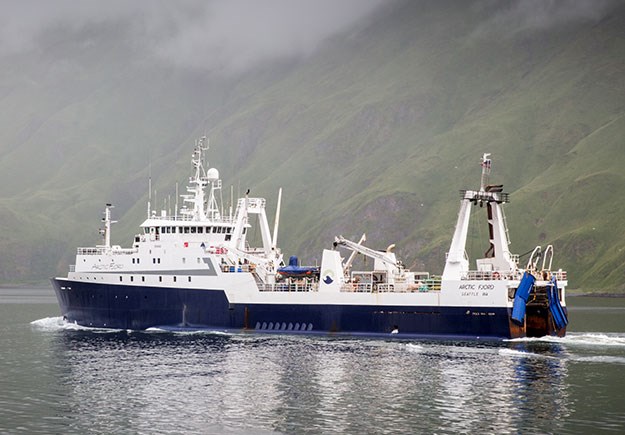 GOOD FOR YOU, GOOD FOR THE PLANET
The planet loves Wild Alaska Pollock too. It's true. If you want to eat a protein that's sustainable and minimize your overall environmental footprint, then look no further than Wild Alaska Pollock. Wild Alaska Pollock is top-ranked and verified by a Lifecycle Assessment (LCA) as a climate-smart protein choice thanks to abundant wild populations that are responsibly managed and sustainably harvested.
Not only that, but our fishery uses a small fraction of the freshwater used to produce land-based proteins. And you don't have to take our word for it. Wild Alaska Pollock is the largest sustainable fishery in the world that is independently certified by both the Marine Stewardship Council and the Alaska Responsible Fisheries Management program.
Sustainable Seafood Certification Matters
Certification measures against a standard of best practices for how fisheries are sustainability managed and provides a high level of assurance that the seafood you purchase is verified as sustainable or responsible, was harvested legally, and is traceable back to its source.
The wild Alaska pollock fishery is certified by both the Responsible Fisheries Management (RFM) and the Marine Stewardship Council (MSC) programs.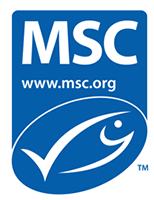 Both of the certification programs are recognized by the Global Sustainable Seafood Initiative (GSSI), an independent benchmark for the credibility of sustainable seafood certification programs. Achieving GSSI recognition is significant as there are 143 Essential Components the programs are benchmarked against.
GSSI was developed by a coalition of environmental NGOs, global business, industry experts, government, and intergovernmental organizations and is based on the United Nations Food and Agriculture Organization (FAO) codes and guides. GSSI is included in the sourcing policies of the world's largest retailers and seafood companies.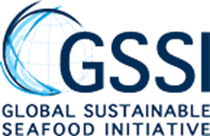 WILD ALASKA POLLOCK FISHERY MANAGEMENT
Protecting the future of Wild Alaska Pollock and the environment is our highest priority. Populations of Wild Alaska Pollock in the Bering Sea, Aleutian Islands, and the Gulf of Alaska are estimated by government and independent scientists using leading-edge scientific models and extensive surveys. Managers use survey data to determine the total available population, identify the total acceptable biological harvests that are never exceeded to ensure the population of Wild Alaska Pollock stocks will always be sustainable.
Recognized globally for its responsible fishery management, Wild Alaska Pollock stands by the following best practices:
Science-based standards for sustainable fishing 
Completely traceable from boat to table
Full utilization of every wild-caught fish

Making your plate climate friendly
In response to the increased consumer demand for sustainable protein products that are produced with low greenhouse gas emissions, GAPP partnered with a leader in global sustainability research to conduct a peer-reviewed Life Cycle Assessment (LCA) for the Wild Alaska Pollock industry. The LCA is an internationally recognized approach that evaluates the potential environmental impacts of products throughout their lifecycle.
The results of this LCA show that Wild Alaska Pollock has a lower carbon footprint and delivers more protein per KG of greenhouse gas emissions than many other animal proteins, including beef, chicken, and plant-based options. Read the full report here.
In short, as a carbon-friendly protein choice, Wild Alaska Pollock is a highly nutritious food that also helps meet the challenges of the present to protect the environment for future generations.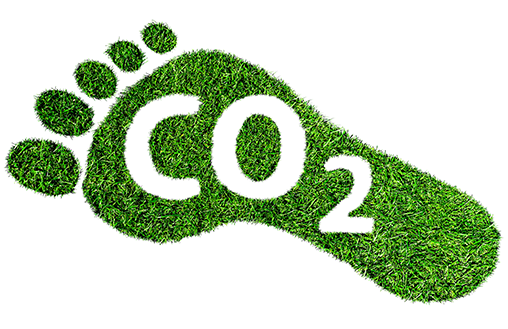 THE SMALLEST CARBON FOOTPRINT OF ALMOST ANY PROTEIN
THE OCEAN MEANS EVERYTHING TO US
The Wild Alaska Pollock industry works with the National Oceanic and Atmospheric Administration (NOAA) Fisheries, a division of the Department of Commerce, and the North Pacific Fishery Management Council, which are responsible for the stewardship of the nation's ocean resources and habitat off the coast of Alaska.

• Wild Alaska Pollock is the largest, certified sustainable fishery in the world, accounting for 43% (by weight) of all seafood caught in the U.S.

• NOAA endorses Wild Alaska Pollock as a smart seafood choice because it's sustainably managed, responsibly harvested, and not subject to overfishing.

The synergistic public-private partnership between industry, the North Pacific Fishery Management Council, and NOAA Fisheries helped make the Wild Alaska Pollock fishery a model for ecosystem-based fisheries management.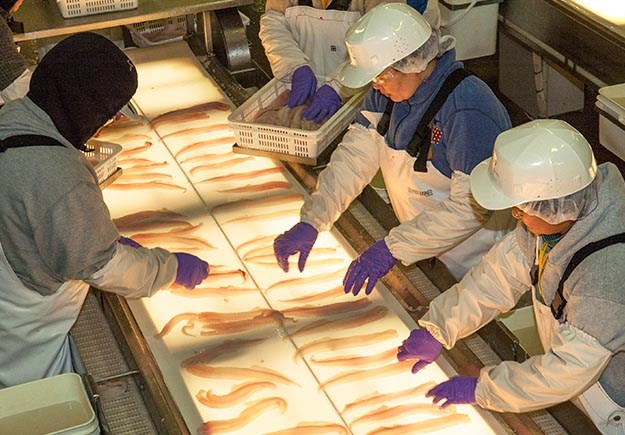 WE ONLY FISH FOR FISH
In the Alaska pollock fishery, fishermen apply decades of experience, cooperation on the fishing grounds, and the most modern fishing technology available to make sure they minimize interaction with anything aside from the fish they're targeting. In a typical year, less than one percent of what they catch is non-target catch, otherwise known as bycatch. The species and amount of all target and non-target catch is accounted for by scientists and fishery managers. In partnership with NOAA Fisheries and the North Pacific Fishery Management Council, the wild Alaska pollock industry is committed to minimizing bycatch to ensure the fishery remains sustainable, within a healthy and resilient ecosystem.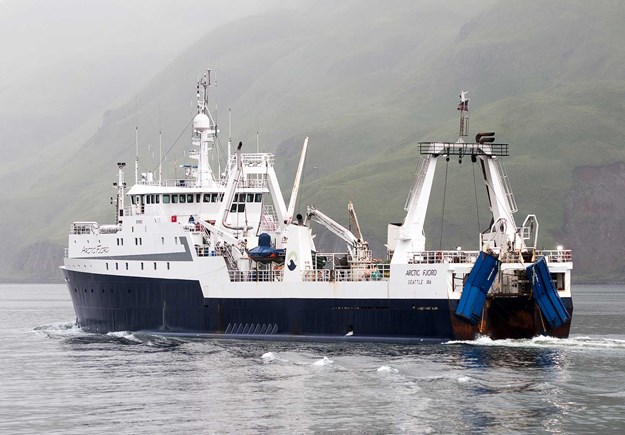 OUR IMPACT
Bycatch of certain species, such as salmon, cannot be sold when caught while fishing for Wild Alaska Pollock. Whenever possible, bycatch is routinely processed to support a charitable hunger relief program called SeaShare. The Wild Alaska Pollock fishery donates more than a million seafood meals annually through SeaShare, ensuring that fish—a high-quality source of vital, healthy protein—is served on more tables across the country.

The Alaska seafood industry directly employs 60,000 workers, including nearly 27,000 Alaska residents. Seafood is Alaska's second-largest basic sector industry, in terms of total job creation. The industry catches and processes enough seafood each year to feed one serving to every American for more than a month.