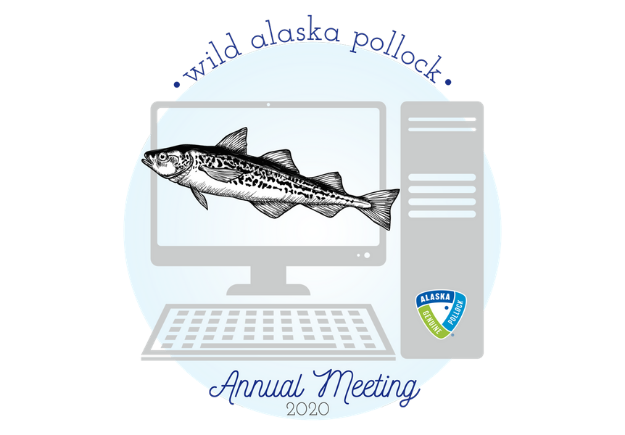 Thank you for attending the 2020 Wild Alaska Pollock Annual Meeting!
The second-annual GAPP Annual Meeting was held virtually on Monday, October 12, 2020. Want to revisit one of our incredible speaker sessions or panels? Click the link below to watch the event on demand!
Watch the Event On Demand
GAPP Annual Meeting 2020 Schedule
All Times are U.S. Pacific
8:00 am: Opening Remarks
Overseas Wild Alaska Pollock Marketing Efforts: Hannah Lindoff, ASMI (moderator); Jens
Hombeck, Germany; Sarah Johnson, UK; Ksenia Gorovaia, Eastern Europe; Akiko Yakata, Japan; and Carolina Nascimento, South America.
What are the challenges and opportunities for Wild Alaska Pollock in key overseas markets? Hear from Alaska Seafood Marketing Institute's Overseas Marketing Representatives (OMRs) about the state of the seafood market and where the opportunities are in the future for Wild Alaska Pollock.
GAPP Return on Investment Study: Dr. Harry Kaiser, Cornell University
What do all of the collective efforts of the Wild Alaska Pollock industry really mean—and are we moving the needle for the industry? Hear from Professor Harry Kaiser about the results from the GAPP-commissioned "Return on Investment Study" and the impact marketing initiatives, protecting the name 'Alaska Pollock' and more have had on the industry's bottom line.
Break—10 minutes
Keynote: Chef Dan Churchill
Chef and ambassador Dan Churchill will provide attendees with a first-hand perspective on the health-conscious consumers that follow his example and on his newfound love for Wild Alaska Pollock. Chef Churchill will give a personal account of why partnering with the industry was a logical fit for his popular lifestyle and fitness brand.
Futureproof Your Sales: Jeff Fromm, The FutureCast
Consumers have instant access to nearly everything including a modern day swiss army knife you may mistakenly reference as a phone. Quality, taste & price will be table stakes and not enough to differentiate your brand in tomorrow-land. In this Ted-style presentation, we'll look at the what's driving growth now and how to think about consumer preferences for affordable protein in 2021 and beyond.
Marketing During COVID: Margery Schelling, American Seafoods (Moderator), Craig Murray, High Liner Foods; Gavin Kennedy, Gorton's Seafoods; Nick Mendoza, OneForNeptune; Carly Arnold, Nomad Foods; Mike Campanile, Trident Seafoods
As companies in the food and beverage space scramble to make sense of consumer preferences that have changed overnight as a result of COVID-19, five leaders in the seafood space will share their insights on marketing in the age of Covid. Some of seafood's most seasoned marketers will offer their thoughts about which trends—like well-stocked freezers and no-contact grocery delivery—are here to stay and how they are preparing for a new future for Wild Alaska Pollock.
Break—10 minutes
LCA Results Presentation & Communications Plan: Melissa Zgola & Xinyue Zhang, Quantis; Kristina Amaral-Salas & Caryn Leahy, Ketchum
A study by IRI and NYU Stern School of Business found even as shoppers stocked up during the pandemic, products with sustainability claims outperformed their conventional counterparts. Wild Alaska Pollock's sustainability story is more relevant than ever. In this session hear the latest consumer research which will help inform how to market the story effectively and the exciting progress being made to measure the carbon footprint of the species.
U.S. and Europe WAP Attitudes and Usage Results: Mary Elizabeth Germaine, Ketchum Analytics; Dr. Leigh Morris, Bonamy Finch
Last year's US research gave us a baseline of consumer awareness and of the features that drive consumer interest. In 2020, we've studied to understand the progress we've made in the US and to get a baseline of similar metrics in several European countries. Researchers from Ketchum Analytics and Bonamy Finch will share the findings and implications from this new research which will provide helpful insights for 2021 and beyond.
12:55 pm: Closing Remarks
Break
3:30pm – 4:30pm: Networking Happy Hour Hosted by GAPP and the Garrigan Lyman Group
After the meeting, join us for a highly-anticipated happy hour event. During this event all attendees will be seen and heard. We have a number of fun and engaging activities lined up (virtual trivia, anyone?) and we can't wait to see you all! The best part? It's an easy networking opportunity for everyone in attendance. Don't be afraid to take down a few names and reach out after the meeting to expand your network.
Thank You to Our 2020 Annual Meeting Sponsors:
GAPP Summer Webinar Series
As part of its COVID-19 coverage, GAPP hosted a summer webinar series that explored topics related to new consumer trends, marketing best practices and crisis management communications. If you missed any of our sessions, you're in luck! You can revisit all 11 webinars on demand at the links below.
Thank You to Our Webinar Sponsors:
2019 ANNUAL MEETING RECAP
On October 29, 2019, GAPP held its first-ever Annual Meeting at the World Trade center in Seattle. The event was themed, "Celebrating our Perfect Protein: Wild Alaska Pollock."
The agenda and day were focused on networking, brainstorming how to best take advantage of opportunities, and overcoming challenges that the industry faces.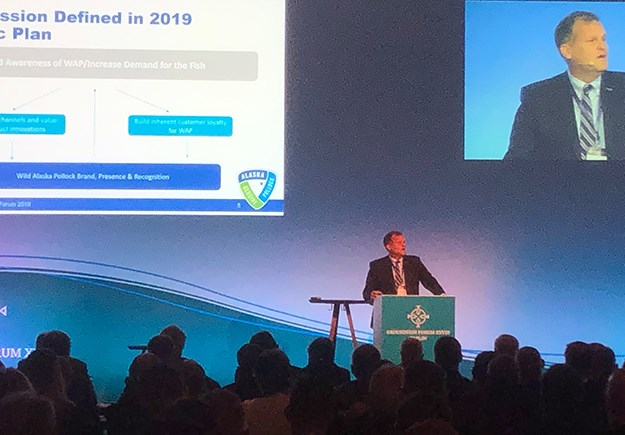 GLOBAL OUTREACH
GAPP staff also routinely participates in events in Seattle, Washington, Washington D.C., and around the world. Recently, GAPP CEO Craig Morris spoke at the 2019 Groundfish Forum in Berlin, Germany where he gave a market update on the Wild Alaska Pollock fishery and announced the new European Partnership Program.