Wild Alaska Pollock with Chili and Chinese Green Onion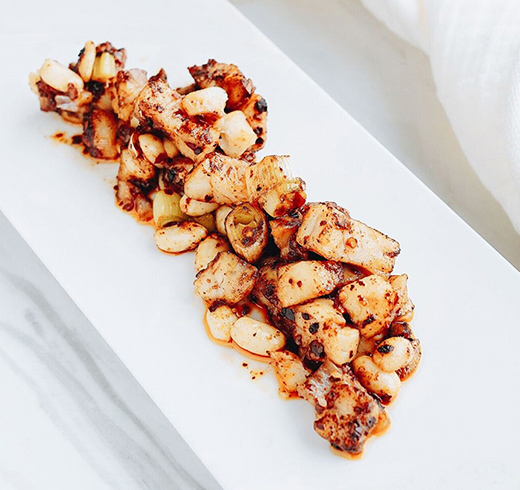 Yield: 2 servings
Ingredients:
2 Perfect Pollock Portions™ fillets (5 oz. each Wild Alaska Pollock), thawed
3/4 teaspoon salt
3/4 teaspoon cornstarch
2/3 cup green onion, sliced
2 tablespoons (or 30 ml) camellia oil (or other light, delicate flavored oil, such as grape seed oil)
1/4 cup shelled peanuts
1 1/2 tablespoons chilis in oil
2 teaspoons chili powder or cayenne
Directions:
1. Cut each thawed fillet into eight evenly sliced pieces.

2. Combine salt and cornstarch in a medium sized bowl. Gently dip and stir fillets in the mixture until coated. Let sit to absorb flavor.

3. Heat wok until a drop of water evaporates upon contact. Add camellia oil, coating the wok. If the wok smokes, it's too hot. Add sliced green onion and stir until fragrant. Add fillet pieces and sauté evenly until brown on both sides. Add chilis in oil and shelled peanuts. Flip and stir until fillets are cooked through and flaky. Sprinkle chili powder on top.

4. Remove from heat and serve.