Chef Thierry Rautureau
Wild Alaska Pollock Nicoise Salad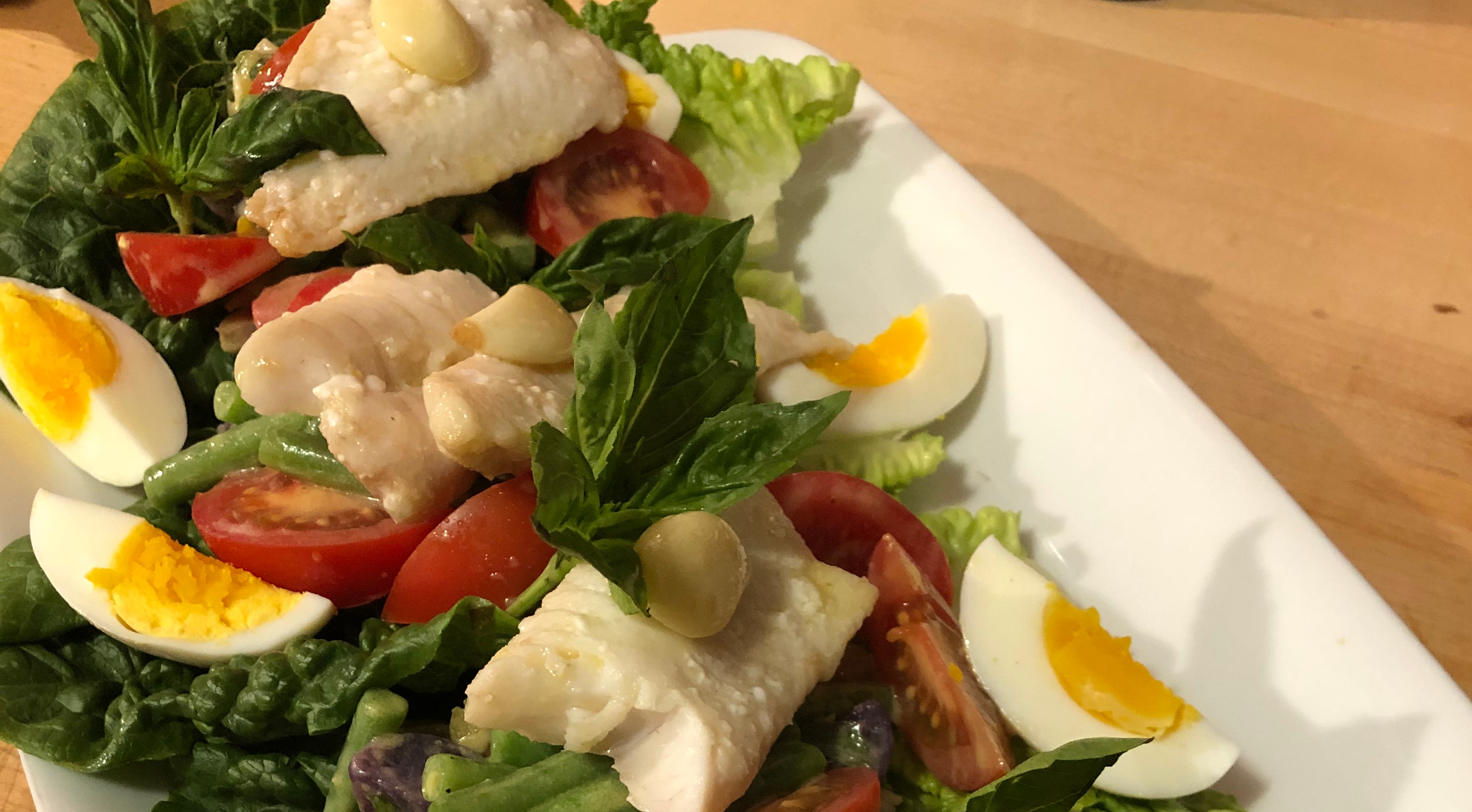 Photo Credit: Chef Thierry Rautureau
Ingredients
2 Filet of Wild Alaska Pollock (about 8 oz each) cut in halves (making 4 portions)
2 Cups Olive Oil (in a pan capable of fitting 4 pieces of Wild Alaska Pollock at a time)
2 bay leaves
4 garlic cloves
1 Pound of boiled small potato (cut in halves after cooked and cool down)
½ White onion small diced
¼ Cup Greek olive pitted & diced
¼ Cup Castelvetrano olive pitted & diced
2 Eggs hard boiled, peeled & cut in quarters
1 Pound green beans, blanched
2 tomato ripe, cut into quarters
1 Gem lettuce (or Boston Lettuce)
¼ Bunch of basil, julienned
Dressing
3 Tablespoons of Dijon mustard
2 Lemons (juice only)
½ Cup of olive oil (use chilled poaching oil)
Directions
Place the Wild Alaska Pollock in the olive oil pan with bay leaves and garlic and gently poach (temperature at 180 degrees, no boiling) for about 20 minutes or until totally cooked. Pull out of the oil and set aside.
In a mixing bowl, drop the mustard, add the lemon juice and whisk thoroughly together, then pour in the olive oil very slowly while whisking the entire time. Season with salt & pepper to taste.
In a bowl, add the potatoes, onions, olives, the garlic cloves from the poaching oil, basil and half the dressing, mix well and set aside.
In another bowl toss the green beans and tomato quarters with ½ of the remaining dressing and set aside.
On a platter place the lettuce leaves, spoon the potatoes and olives on top of it. Around it add the green beans and tomatoes. Add the eggs. Crumble the Pollock on top of the salad and drizzle with the remainder dressing. Sprinkle the basil on top of the salad and serve or refrigerate until serving. (Can be made ahead a couple of hours prior but should be taken out of the cold an hour prior serving). Serve with sliced grilled or toasted sourdough bread.

Yields 4 servings

© Thierry Rautureau 2020
™ The Chef In The Hat!!!