September 05, 2022
Wild Alaska Pollock Milanese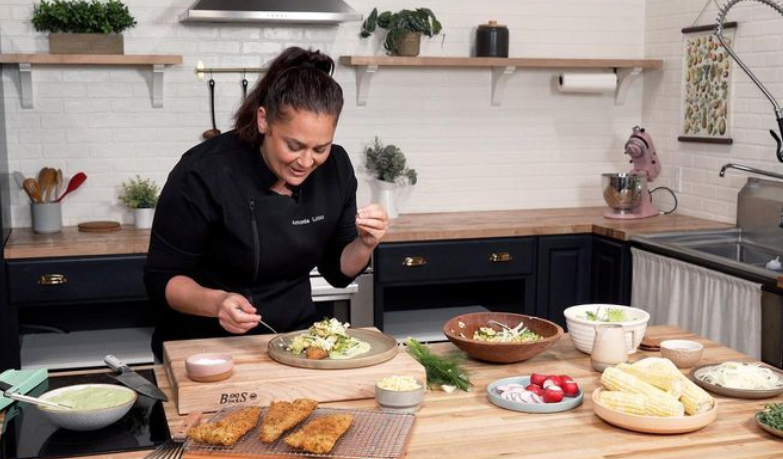 Ingredients:​
4-8 oz of Wild Alaska Pollock, pat dry to remove any excess water​
4 cups of homemade Italian breadcrumbs​
4 eggs, whisked together ​
2 cups AP flour ​
1T salt ​
8 cups peanut oil ​
​
Procedure:​
Heat peanut oil in a 14-inch sauté pan over medium-high heat until temperature reaches 375 degrees. Season the Wild Alaska Pollock with salt and dredge in flour. Pat to remove excess. Then dip in egg and coat with Italian breadcrumbs. Cook in peanut oil for about 3 minutes on each side. ​
​
Homemade Italian Breadcrumbs:​
2 1/2 cups panko​
1/4 cup grated pecorino cheese​
1T kosher salt ​
3T chopped Italian parsley ​
2T chopped garlic ​
​
Procedure:​
Place all ingredients in a food processor and mix for about 2 minutes until thoroughly combined. ​
​
Basil aioli:
2 cups mayonnaise ​
2 cups packed picked basil ​
1/3 cup quality olive oil ​
1 peeled garlic clove​
Pinch chili flake ​
​
Procedure:​
In a blender, add basil, oil, chili flakes and garlic. Allow to blend on high for about 45 seconds until smooth. Add mayonnaise and continue to blend until fully incorporated. ​
​
To plate:​
On a large 12-inch plate, spread 3T basil aioli and place Wild Alaska Pollock to one side. Top with salad. ​




See more from Chef Antonia here