Antoni Porowski
Thai Inspired Fish Cakes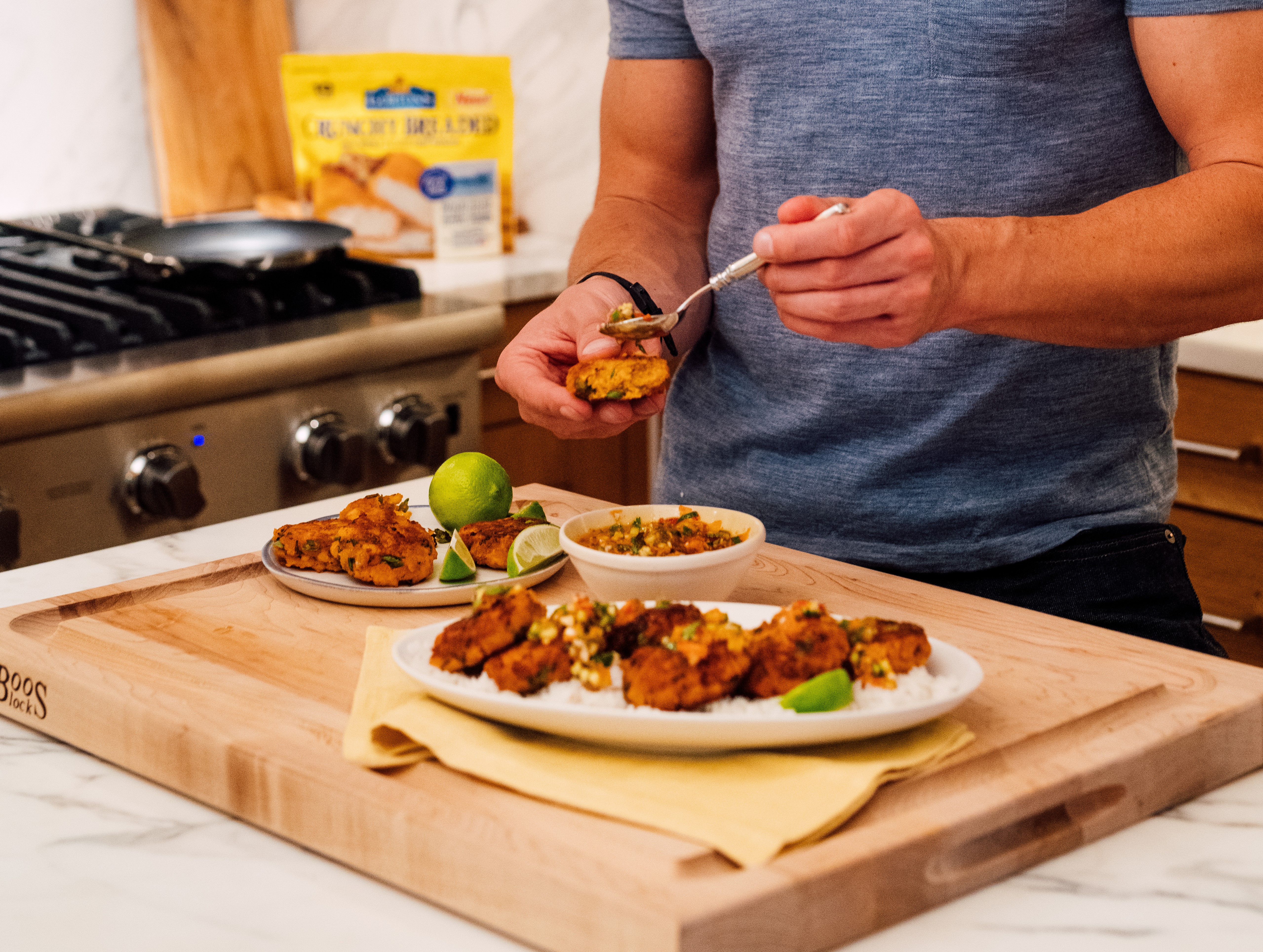 Antoni Porowski for Gorton's Seafood
Ingredients
For Fish Cakes
1 bag of Gorton's Crunchy Breaded Fish Fillets, thawed for 30 min and roughly chopped
3 Tbsp red curry paste
2 Tbsp chopped cilantro
1 Tbsp fish sauce
Juice of one lime (about 2 Tbsp)
1 large egg
1/2 cup thinly sliced green beans (about 9)
1/2 cup vegetable oil for frying fish cakes
Coconut Rice
1 cup coconut milk
1 cup water
1 Tbsp salted butter
1 cup jasmine rice
Sweet Chili Dipping Sauce
1/2 cup sweet chili sauce (available in most grocery stores and Asian markets)
1 cup seeded, diced cucumber
1/2 cup shredded carrot
2 Tbsp chopped cilantro
2 Tbsp chopped almond
Juice of one lime (about 2 Tbsp)
Pinch of salt
Directions
Open bag of Crunchy Breaded Fillets and let thaw for 30 minutes.
In a large mixing bowl add all fish cake ingredients and mix together until a patty could easily be formed. Let rest while you make coconut rice and dipping sauce.
Heat 1/2 cup vegetable oil in a large, nonstick skillet on medium high until starting to sizzle. Take 1/4 cup of the fish cake mixture and form it into a patty roughly 1/2 inch thick. Add cakes to the hot oil four at a time. Cook for approx. 3 minutes per side until golden brown and crispy. Remove from pan and let rest while repeating this step to complete the final four.
To make coconut rice, in a medium saucepan, add coconut milk, water and butter and bring to a boil over medium high heat. Add rice, bring back to a boil, stir and cover. Reduce heat to low and cook for 15 minutes without removing lid. At 15-minute mark, turn off heat, remove lid, stir rice, cover and let rest for 5 more minutes. Remove lid and fluff with a fork.
For sweet chili dipping sauce, in a medium nonreactive bowl, mix all ingredients together and set to the side for serving.
To serve, divide rice between four plates, top with two fish cakes and top with sweet chili dipping sauce.
Cook fish cakes to an internal temperature of 165°F or higher.