Chef Kevin Davis, Orfeo Restaurant
Seared Wild Alaska Pollock Potato Cakes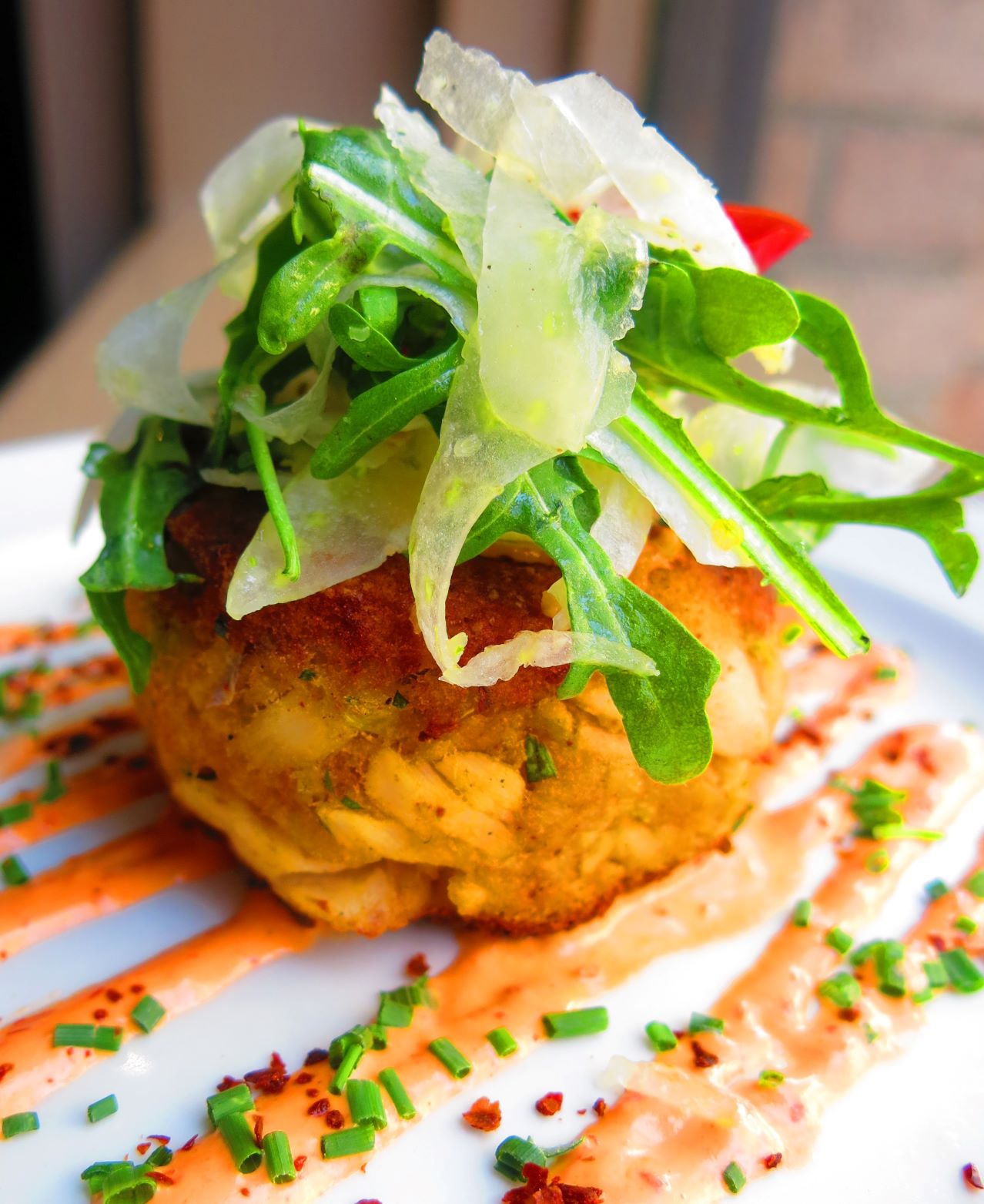 Image & Recipe Credit: Orfeo Restaurant
Ingredients
1 lb. cleaned Wild Alaska Pollock fillets
2ea russet potatoes
½ cups butter
3 ea leeks
2 cups mayo
1 whole egg
½ cup Mama Lil's Peppers (drained of excess oil)
2 tbsp paprika
1 ea fennel bulb shaved
2 tbsp. Dijon mustard
2 cup panko bread crumb
1 bunch parsley chopped
1 tsp garlic minced
Tabasco sauce (optional)
Prep ahead of time
Roast whole russet potatoes in oven at 350°F until tender around 1 hour. 
As you are roasting the potatoes, place cleaned Alaska Pollock fillets on sheet tray and season with oil, salt, and pepper.  Roast pollock until it flakes and pulls apart easily; this should take around 15 minutes.  Set pollock aside to cool. 
When potatoes are finished, carefully cut in half while still hot and scoop out insides without getting any of the skin.  Mash potatoes as fine as possible, can use a food mill if available.  Set aside and cool. 
Next, cut green tops off of the leeks — you only want to use the white parts.  Slice leeks in half and julienne.  Then crosscut your julienned leeks to create a fine dice.  Wash cut leeks under running water to get rid of any unwanted dirt.  Poach leeks in butter until fully cooked and tender.  Strain and cool when finished. 
Alaska Pollock cake preparation
Combine cooled Alaska Pollock, leeks, potatoes, egg, panko, parsley, garlic, 1 cup mayo, paprika, and Dijon mustard into a bowl and mix gently until evenly mixed.  Mixture should be soft yet easily able to hold shape without falling apart.  If the cakes are too soft, add more breadcrumbs; if the cakes are too firm, add more mayo.  Add salt, pepper, and Tabasco sauce to desired levels. 
Form cakes and dust the tops and bottoms with flour for pan searing.  In a sauté pan, gently sear both sides of the pollock cake until golden brown and place in a 350°F oven until the internal temperature is 160°F or higher.  Serve immediately after taken out of the oven.
Mama Lil's aioli
Place drained Mama Lil's peppers in a blender with 1 cup mayo.  Blend until there are no visible chunks of peppers left.  Add salt and pepper as desired.  Use to put underneath and/or on top of cakes.
Shaved fennel salad
Gently toss thinly shaved fennel with extra virgin olive oil and sherry vinegar.  Place on top of cake right before serving.