Martha Stewart
Seafood Cioppino with Herb Spice Blend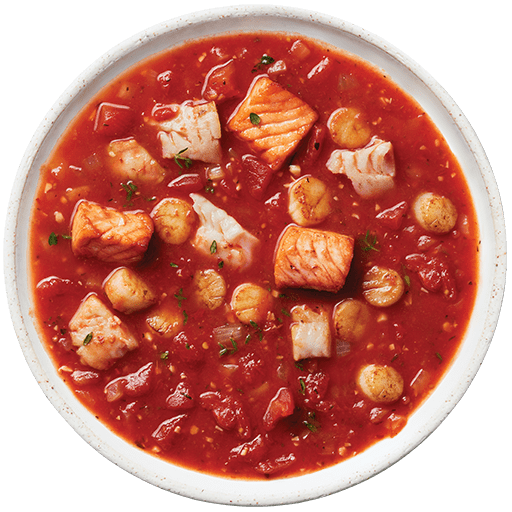 Seafood Cioppino by Martha Stewart for True North Seafood
Ingredients
Seafood Medley
Seafood Medley by Martha Stewart for True North Seafood 
4 oz. Wild Alaska Pollock
4 oz. salmon of choice
4 oz. scallops
Signature Herb Spice Blend
Signature Herb Spice Blend by Martha Stewart for True North Seafood
1

¼

 tsp dried thyme
1 tsp dried oregano

¼

 tsp crushed red pepper flakes
1 dried bay leaf

¼

 c. dried parsley
Stew Base
2 tablespoons olive oil
½ large onion, chopped
1 small fennel bulb, thinly sliced
2 cloves garlic, minced
1 (14-ounce) can diced tomatoes with juice
½ cup dry white wine
½ cup bottled clam juice
Coarse salt and freshly ground pepper
Grilled bread, for serving
Directions
Heat olive oil in a high-sided skillet over medium-heat. Add onion and fennel. Cook until onion is translucent and fennel has softened. Add garlic and spice blend and sauté 2 minutes more.
Add tomatoes and their liquid, wine, clam juice, and 1 cup water and season with salt; simmer for 10 minutes.
Pat seafood dry and season with salt and pepper. Add to pot and cover, simmer until seafood is opaque and cooked through, about 4 minutes.
Taste and adjust for seasoning. Serve with grilled bread.