Chef Rick Moonen
Pollock En Papillote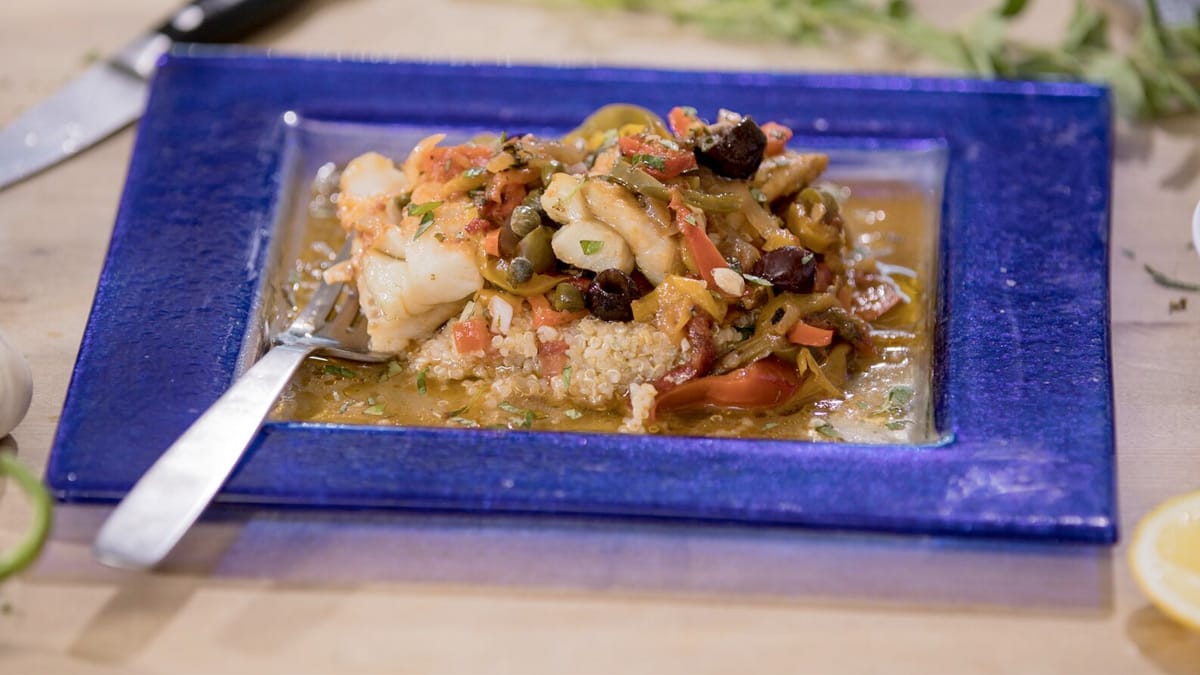 Ingredients
4 x 6 oz pollock fillets, skinless
Coarse salt and freshly ground white pepper
2 tbsp fresh parsley, chopped<
Peperonata
¼ cup olive oil
1 medium onion, thinly sliced
2 garlic cloves, minced
4 anchovies, minced
3 large bell peppers (yellow and red), thinly sliced
1 Anaheim or Hungarian wax pepper (see above), seeded and thinly sliced
Coarse salt and freshly ground white pepper
1½ cups tomatoes, chopped
2 tsp fresh thyme leaves
Olive Paste
1/3 cup Kalamata olives, minced
2 tbsp olive oil
Directions
Peperonata
Heat a wide, deep skillet over high heat. When the pan is hot, add oil and onion. Sauté, stirring often, until onion starts to soften, about 2 min.
Add garlic and anchovies; sauté, stirring until garlic is fragrant, about 30 sec.
Add peppers and season with salt and pepper; sauté, stirring often, about 3 min.
Add tomatoes and thyme; cover and reduce heat to medium-low. Simmer for 30 min or until peppers are very tender.
Set aside and allow to reach room temperature.
Olive Paste
Stir olives and olive oil in a small bowl, set aside.
Cooking and Assembly
Preheat oven to 400°. Tear off four 18-x-12-inch pieces of heavy-duty aluminum foil. Fold in thirds lengthwise and reopen.
Taste peperonata and adjust seasoning with salt and pepper if necessary.
Spoon peperonata in the center of each piece of foil. Season the fish with salt and pepper and set on peperonata.
Spread the olive paste on each piece of fish evenly using the back of a spoon. Use the saran wrap to close up the packets.
Set packets on a baking sheet and bake for 15 min.
Plating
Open each packet carefully in the kitchen—there's going to be a burst of hot steam and a lot of liquid—and slide the fish and peperonata out into a soup plate, with all the juices. Sprinkle with parsley and serve.