Antoni Porowski
New Orleans Style Fish 'n Chips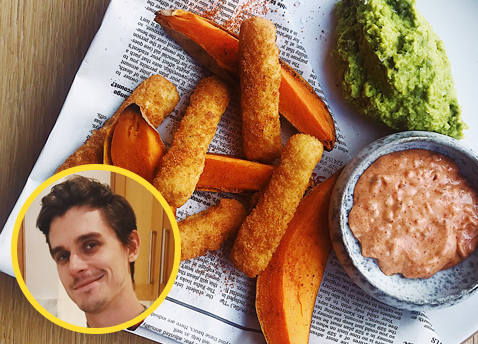 Ingredients
Gorton's Crunchy Breaded Fish Sticks
2 sweet potatoes, cut into thin strips/wedges
Olive oil
2 teaspoon malt vinegar
2 tablespoon fresh parsley, finely chopped
1 teaspoon lemon juice
1 teaspoon Old Bay Seasoning
Smashed Peas:
1 bag frozen peas
2 tablespoons butter
1/4 cup Parmigiano, freshly grated
Fresh mint, small handful
Homemade Tartar Sauce:
¾ cup mayo
2 teaspoons Dijon mustard
2 tablespoons cornichons (or dill relish)
Pinch of salt
¼ teaspoon ground black pepper
1 teaspoon lemon juice
Remoulade:
1¼ cups mayo
¼ cup mustard (Creole or grainy)
2 teaspoons prepared horseradish
1 teaspoon pickle juice
1 teaspoon Tabasco
1 large clove garlic, minced
1 teaspoon lemon juice
Directions
Put oven rack in middle of oven and preheat oven to 450°F.
Toss frozen fish sticks and sweet potatoes in a bowl with a bit of olive oil, malt vinegar, parsley, lemon juice, and Old Bay Seasoning. Arrange sweet potatoes on half of a metal baking pan and bake for 10 min.
Add fish sticks to the other side of the pan and bake as instructed on Gorton's packaging. Keep your sticks and sweet potatoes separated to prevent clumping and ensure a nice golden brown.
In a small saucepan, warm peas and butter. Once softened but still bright, add Parmigiano and a squeeze of fresh lemon. Blitz in food processor or blender until smooth and creamy. Season to taste with salt. Add fresh mint before serving.
For the tartar sauce and remoulade, incorporate all ingredients in small bowls until smooth.