December 17, 2021
Healthier Crispy Rice Recipe by Rachel Mansfield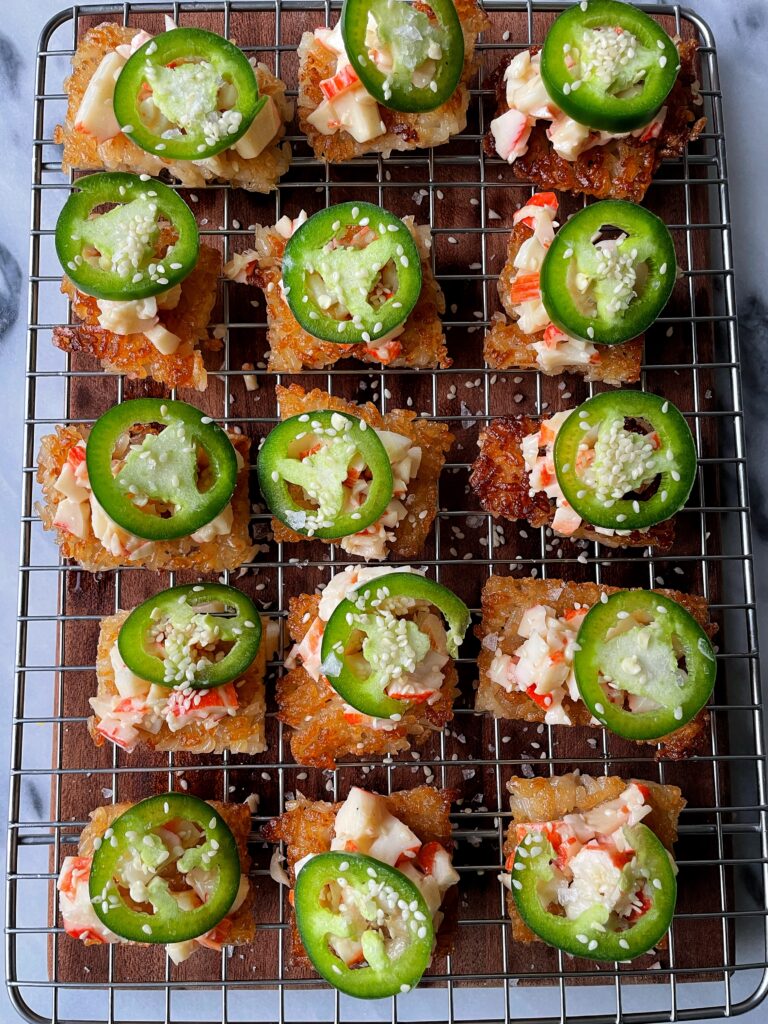 Ingredients:
Short grain rice or

 

sushi rice
Coconut sugar
Sea salt
Crab sticks (Wild Alaska Pollock Surimi Seafood Sticks commonly found in the refrigerated seafood section of your grocer)
1 jalapeño, sliced
Toasted sesame seeds to garnish
Directions:
Place the sushi rice in a colander, rinse throughly and let it drain
Cook rice per instructions on package
While rice cooks, mix together rice vinegar, coconut sugar and salt in a small bowl
Transfer the rice to a large bowl then mix the vinegar mixture in the bowl
Line a baking sheet with parchment paper then spread the rice out across so it is about 1 inch high (or however thick you want it!)
Add the sheet to fridge to set for at least 3 hours. I like to do this overnight
Next prepare the fish topping but cutting the surimi seafood into smaller pieces then add in the mayo, hot sauce, coconut aminos and oil and store in fridge
Remove rice from fridge and slice the rice into 2 inch pieces
Thinly coat a large pan with oil and heat over medium/high
Gently add the rice squares to the pan and crisp until golden (don't flip too soon or rice will come apart – I crisped bout 3-5 minutes on each side)
Drain on a wire rack or paper towel lined plate/tray
Top the crispy rice with the surimi seafood, jalapeño and sesame seeds and enjoy!
Tips from Rachel:
Make sure you sure you use short grain rice or

 

sushi rice.

 

Don't skip cooling the rice overnight or at least 3 hours.
This dish tastes best day of! At least to me. I am not a huge fan of leftovers with crispy rice. It isn't as crispy the next day and the fish topping too tastes better day of.