The Fork & Fin
Grilled Wild Alaska Pollock Tacos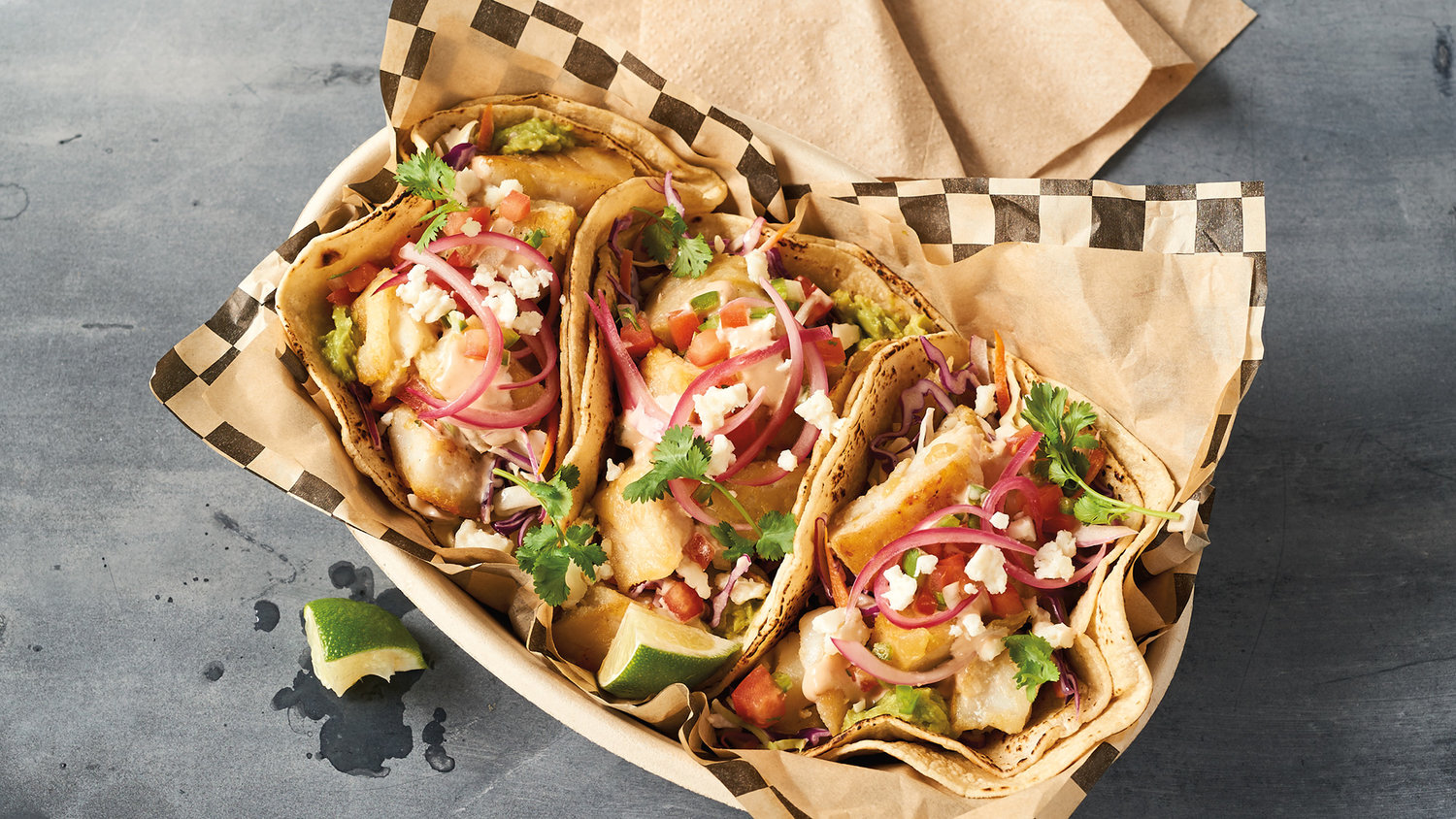 Image & Recipe Credit: The Fork & Fin
Servings: 8 Tacos
Ingredients 
High-oleic oil of choice
1lb Trident Seafoods Wild Alaska Pollock Skillet Cuts
1 tbsp Chili powder
1 tbsp Cumin
½ tbsp Mexican Oregano
½ tbsp Paprika
½ tbsp Garlic powder
½ tbsp Onion Powder
Salt & Black Pepper to taste
Corn tortillas
Additional Taco Ingredients
Guacamole
Smoked-chili crema
Cabbage Slaw
Queso fresco
Pico de Gallo
Pickled red onion
Lime wedges
Directions
Mix your spices, salt, & pepper in a small bowl
Bring your large, well-oiled frying pan to medium-high heat
Stack 2 corn tortillas & fry until golden on both sides. Repeat 7 times & store under clean dish towel
Add more oil to frying pan 
Add frozen Wild Alaska Pollock Skillet Cuts & spread evenly 
Pour your spice mix over the Wild Alaska Pollock & toss until all sides are evenly coated
Fry for 4-5 minutes, ensuring all sides of the Skillet Cuts are cooked
When the Wild Alaska Pollock reaches an internal temperature of 145°F & begin to flake, transfer to a serving dish
Assemble your tacos beginning with guacamole on a tortilla. Add 4-6 pieces grilled Wild Alaska Pollock, followed by the remaining ingredients in the order shown above.
Enjoy!