Antoni Porowski
Buffalo Fish Sliders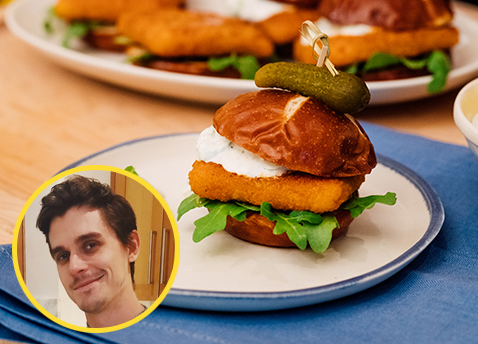 Ingredients
1 package Gorton's Fish Sandwich Fillets
1 stick unsalted butter
1/2 cup of your favorite hot sauce
For assembly:
8 slider buns, toasted
2 cups arugula
8 small pickles
8 medium wood skewers
Blue cheese and celery "slaw":
1 cup thinly sliced celery
1/2 cup mayo
1/2 cup crumbled blue cheese
1/2 cup sour cream
1/4 cup chopped parsley
1/2 tsp salt
1/2 tsp pepper
2 tsp lemon juice
Directions
To prepare blue cheese and celery slaw, mix all ingredients together in a medium bowl and let rest in fridge while preparing fish. Cook Gorton's Fish Sandwich Fillets according to package directions.
In a small saucepan, melt butter and add 1/2 cup of your favorite hot sauce. Whisk together and simmer for 5 minutes over medium low heat.
With tongs, take crispy fish from the oven and dip one at a time into the Buffalo sauce until fully coated. Let rest on baking pan fish was cooked on while toasting the buns.
To assemble, place 1/4 cup arugula on bottom half of bun. Put 1 Buffalo fish fillet on top of arugula. Top with a generous dollop of Blue Cheese "Slaw". Top with bun and secure with a skewered pickle.
Cook fish to an internal temperature of 165°F or higher.