Antoni Porowski
Brunchy Fish and Waffles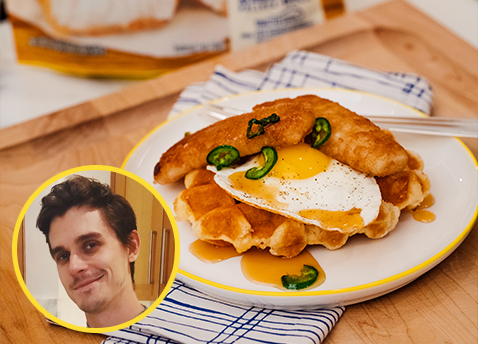 Antoni Porowski for Gorton's Seafood
Ingredients
1 package Gorton's Beer Battered Fish Fillets
4 of your favorite frozen Belgian Waffles
4 large eggs
2 Tbsp unsalted butter
pinch of salt and pepper
Jalapeño Maple Syrup:
1 cup of real maple syrup
1/2 cup honey
1 Tbsp fish sauce
1 medium jalapeño, thinly sliced (remove seeds if would like less spicy)
1 inch knob of fresh ginger, sliced into four chunks
2 tsp orange zest
1/4 tsp white pepper
pinch salt
Directions
To make jalapeño maple syrup, in a medium saucepan over medium low heat, add all ingredients and cook for 10 minutes until gently bubbling. Let rest and slightly cool while preparing both fish and waffles according to package directions. Remove ginger and discard before serving.
For eggs, place butter in a large nonstick skillet over low heat and cook until fully melted and slightly foamy. Add eggs and cook until whites have fully set. Turn off heat and lightly season with salt and pepper.
To assemble, place one toasted waffle on plate. Top with one sunny side up egg. Stack two Beer Battered Fish fillets on top of egg, leaning on one another to avoid breaking yolk. Drizzle with Jalapeño Maple syrup.
Cook fish to an internal temperature of 165°F or higher.