Chef Thierry Rautureau
Baked Wild Alaska Pollock with Olive Tapenade, Lemon Couscous & Harissa Beurre Blanc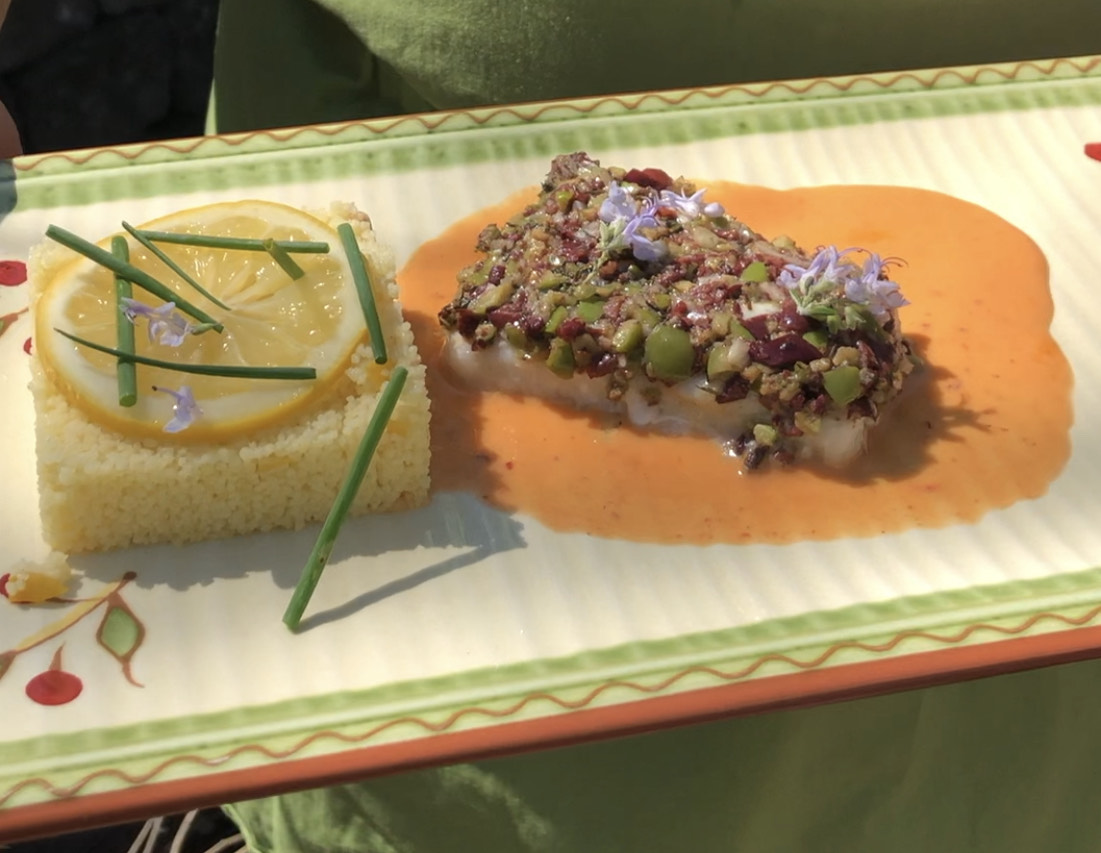 Baked Wild Alaska Pollock with Olive Tapenade, Lemon Couscous & Harissa Beurre Blanc
Ingredients
4 Wild Alaska Pollock steaks (4-5 oz each) skin on (or off) and bone out
Lemon Couscous
Couscous is a North African pasta made of semolina and water.
1 ½ cup couscous
2 tablespoons olive oil (or butter)
1 ½ cup water or broth (fish, chicken or vegetable)
4 thin lemon slices in the water/broth
1/2 teaspoon salt
Olive Tapenade
Tapenade is a blend of black and green olives, garlic, olive oil, and herbs chopped and mixed together. You can use it for a variety of dishes, but you can also purchase a quality prepared tapenade if you prefer.
1 ½ Cup pitted & chopped olives (mix of black & green)
4 tablespoon chopped shallots
1 tablespoon chopped garlic
3 teaspoons Harissa (for spicier result add more Harissa)
3 red bell peppers (roasted, skinned and diced small)
1 teaspoon chopped thyme
1 tablespoon chopped chive
¾ Moroccan Olive Oil
Harissa Beurre Blanc
Harissa is a North African hot chili pepper paste. You can find it in small specialty grocery store or on line.
2 Cup dry white wine
1 big shallot, thinly sliced
2 tablespoon of heavy whipping cream
1 tablespoon Harissa
1 C of butter
Directions
Lemon Couscous
Bring the Water to a Boil - Pour the water and Olive oil/butter and lemon slices into a
medium saucepan and bring it to a boil over high heat.
Remove the pan from heat and pour in the couscous and salt. Stir to evenly moisten the couscous.
Cover the pan with a lid and let it sit for 10 minutes. If the couscous hasn't absorbed the water or still tastes crunchy after this time, cover and let it sit for a few more minutes. Gently break apart and fluff the cooked couscous with a fork before serving. If the rest of dinner isn't quite done, re-cover the pan after fluffing to keep the couscous warm. Pick the lemon slices out and use them for garnish on the couscous when serving.
Olive Tapenade
Toss all the tapenade ingredients in a salad bowl and season with salt & pepper to taste.
Spread all the tapenade on the top of all the Wild Alaska Pollock steaks padding gently so it stays atop.
Let marinate for at least half an hour.
Turn on oven at 400 degrees.
On a cookie sheet, brush a little bit of olive oil and place the Wild Alaska Pollock steak apart from each other's just by a inch or so and tapenade side up. Bake for about 8 minutes. Check with a pairing knife blade to unsure it is cooked.Place each of the Wild Alaska Pollock portion on top of the lemon couscous.
Harissa Beurre Blanc
In a small sauce pan, pour in the wine, add the shallot and bring to a boil. Simmer it down to a quarter of what you started with . Add the cream and the Harissa, cook on medium heat for about 3 minutes. Drop the butter one cube at a time while whisking the entire to create an emulsion. Season to taste with salt and strain thru a fine mesh sieve/strainer.
Pour the sauce around the Wild Alaska Pollock and couscous on all four plates. Serve warm.
Yields 4 servings

© Thierry Rautureau 2020
™ The Chef In The Hat!!!