Antoni Porowski
Baked Crunchy Fish Fillets Puttanesca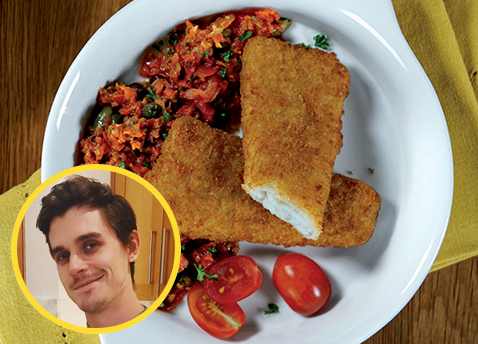 Ingredients
2-3 Gorton's Crunchy Breaded Fish Fillet
2 tablespoons capers
1/4 cup black and green olives, pitted
1 1/2 cup cherry tomatoes
1 teaspoon red wine vinegar
1 clove garlic
1/2 shallot
2 teaspoon olive oil
Chili flakes, to taste
Fresh oregano and black pepper, for garnish
Directions
Combine all ingredients (except fish fillets) in a blender or food processor. Pulse until mixture is incorporated but still chunky and textured.
Pour sauce contents into a small baking dish or aluminum foil basket. Place 2-3 fish fillets on a metal baking pan and bake sauce and fish as instructed on Gorton's packaging.
Arrange cooked fillets on top of sauce and garnish with fresh oregano, cracked black pepper, and enjoy.