Antoni Porowski
Baja Style Fish Tacos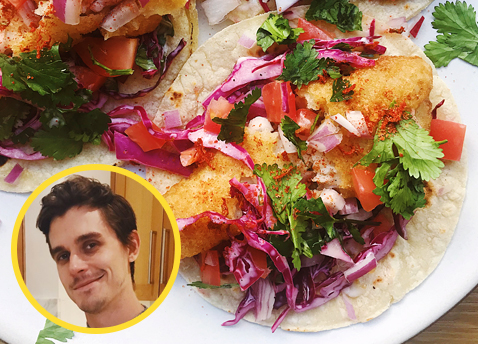 Ingredients
Gorton's Beer Battered Fish Fillets (one per taco)
Chili or taco seasoning, for garnish
2 tablespoons apple cider vinegar
1/4 cup mayonnaise
1 chipotle pepper in adobo, diced
2 limes (one for zest and juice, second sliced into sixths for serving)
1 teaspoon celery seed
1/2 red cabbage, sliced finely or shredded
Salt and pepper, to taste
2 roma tomatoes, diced
1/2 medium red onion, diced
¼ cup cilantro, washed and roughly chopped
Mexican crema (or sour cream or Greek yogurt)
½ teaspoon cumin
Corn tortillas (one per taco)
Directions
Bake fish fillets as instructed on packaging. Once crisp and browned, sprinkle with chili seasoning.
In a small bowl, combine apple cider vinegar, mayo, chipotle pepper, zest & juice of one lime (reserve a bit for crema), and celery seed.
Add mixture to cabbage. Season to taste with cracked black pepper, and salt. Add cilantro and toss with tongs to incorporate thoroughly.
Mix crema with remaining lime juice, zest, and cumin. Season to taste with salt.
Heat tortillas over medium heat on a pan until lightly browned.
Assemble tacos. Start by lightly spreading crema onto warm tortillas, adding slaw, and finally topping with flaked Gorton's fish fillet. Garnish with red onions, diced tomatoes, cilantro, and chili seasoning.