Craig Morris , May 14, 2020
The Need for Radical Innovation, and Togetherness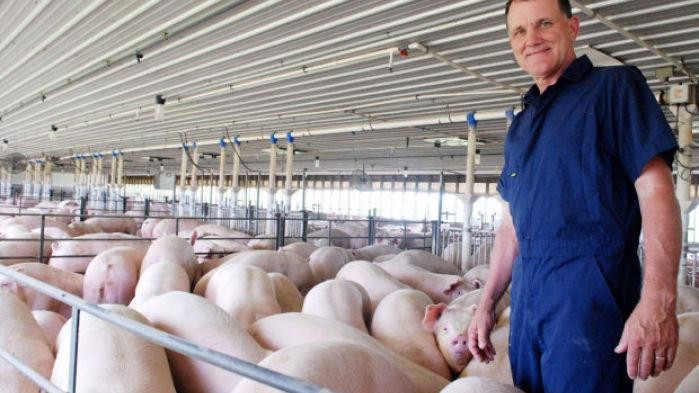 Craig's friend Bill Luckey, a pig farmer from Columbus, Nebraska.
I may have bought a pig. Before I get a raft of private messages asking me if COVID-19 quarantine has finally gotten to me, first…let me explain. As many of you may know, I spent some time as the Vice President of International Marketing for the National Pork Board—the marketing arm for the U.S. pork industry. During my time there, I had the privilege (and I mean that, truly) of getting to know some very special pork producers.
As you may have seen on the news recently for those less of an "industry" junkie than I am, the pork supply chain has had some struggles as of late. For the layman, when one part of the food chain isn't working as it usually does (here, the pork processors or "packers"), the entire chain backs up like a giant, snaky accordion mid-note. It's caused a lot of unease, unrest and angst, mostly among our great American farmers, many of whom I just call friends.
I've seen countless Facebook posts and have texted and called some truly special farmers over the last few weeks and have heard some truly trying stories. And it was during one such call that I felt compelled to do my part—even just a little—to buy a pig and donate the meat to a local shelter.
So yes, I'm ok…but I'm also concerned.
COVID-19 has brought to all of us a host of new challenges to overcome. From working from home and sharing a workspace 24-7 with our families to a lack of travel and a lack of common staples like toilet paper and eggs (finally back in stock I'm starting to see!), this has certainly thrown us all for a loop.
As many read, the Chairman of Tyson Foods, John H. Tyson, recently took out a full page ad in The New York Times and The Washington Post where he described the food chain as "breaking" and talked about the new, delicate and extremely important balance between keeping their team members healthy and feeding the world. Talk about a daunting set of decisions.
As an industry wonk, I've watched along with my farmer friends and professional food industry colleagues these last few months as the beef, pork, dairy and even poultry supply chains we long thought were indestructible have bent under the pressure of this novel virus. It's left all of us wondering what's in store for our future and how we can—and must—prevent this from ever happening again. After all, we have too many mouths to feed here and around the world.
I've always believed that necessity was the mother of invention. That out of great periods of stress came some of our generation's most fruitful ingenuities. I think this will be no different.
Even though I've moved on from the pork space into the Wild Alaska Pollock world, the challenges that are being experienced by the meat industry supply chains are not unimaginable in the seafood space. In fact, its what keeps me and many of my members up at night.
I've long talked about how (even before COVID-19), our world was headed for a drastic protein shortage in the next decade. So, when one—or in this case several—viable protein options are struggling to make their ways to consumers, it puts increased pressure on the other proteins, like Wild Alaska Pollock, to make up the difference. And, in a few short years, shortages of any protein, at all, anywhere will mean greater global malnutrition and food insecurity.
I used to work for the U.S. Department of Agriculture—which, among its many duties, has long been responsible for ensuring the safety of our nation's meat, poultry and egg products. Based on this first-hand experience, I can honestly, and proudly, say that we have and still enjoy the safest food supply in the world. But, now is the time to make sure that those supply chains with the safest food are also the most stable—from as many externalities as we can anticipate.
Certainly, none of us could have prepared for this unprecedented event. But I think all of us as players in the larger food supply chain took a moment when the dust settled to learn from this experience, to band together and to brainstorm. To find out how we can innovate and make necessary changes. To do even better than we did the day before. Now is the time to think big and to throw out the playbook in favor of a better one.
Now is also the time for unity. I've seen too much finger-pointing and blame tossed around as we've all struggled to cope with these unforeseen and unprecedented circumstances. That blame, frankly, has created more chaos, more confusion and unwelcomed distrust. We need to remember that we are all in this together and it's going to take all of our collective brainpower to come up with the new—and necessary—solutions to come out of this crisis stronger and better prepared.
Frankly, we have the eyes of our nation's—and the world's—consumers upon us and we can't afford to fail. Consumers don't understand the 1000-piece expert jigsaw-puzzle-esque complexity of the food chain—from farm or fisherman to fork and beyond. Consumers that don't know just how many dedicated employees work every day in a variety of jobs to feed us the safest food in the world, bar none. Those consumers don't understand that during this period of uncertainty, everyone has had to make tough, unimaginable choices…especially many of my farmer friends.
I share John Tyson's comments about being thankful that those that feed us every day are committed to something bigger than a job. As the saying goes, a chain is only as strong as it's weakest link. I hope we can all work to fortify our global food chain for the future and feed a growing world population sustainably.
P.S. if you, like me, want to do your part (however small) and thank a dedicated farmer, consider this GoFundMe page #GiveAPig.