June 24, 2020
Giving Back More Important Now than Ever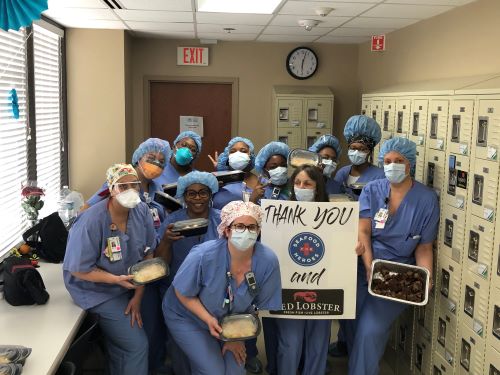 Hospital workers in St. Louis, MO receiving meals from Seafood for Heroes
By now, we're all more than tired of hearing about the Coronavirus. And yet, as things begin to slowly open, it appears that this wily virus is holding on tight and continuing to wreak havoc on cities across the country.
As the nation tries to recover and resume what is no doubt a "new normal," the burden remains on our first responders to help provide the expertise, oversight and care to those that may need it. The rest of us must continue to be vigilant and take precautions, but the lion's-share of the burden of keeping us safe and healthy lies at the hands of those on the front lines.
GAPP recently partnered with the Napa Seafood Foundation on its Seafood for Heroes Program. Seafood for Heroes is working with Red Lobster and other local restaurants to create and deliver seafood meals to deserving hospitals and healthcare workers across America. This also benefits the people providing seafood to our restaurant partners, and in turn, all of their employees across the seafood industry.
On behalf of the entire Wild Alaska Pollock community—from our fishermen to our processors to our front office staff—GAPP was honored to provide a donation to ensure that our front-line workers know they're being thought of in these trying times (and to fuel them up with some nutritious and delicious Wild Alaska Pollock!).
Donations like ours help to ensure that healthcare workers receive a fresh, well-deserved lunch, dinner break or take-home meal to enjoy with the families they're forced to leave behind as they work to keep us all safe. In addition, our contribution also benefits the people providing seafood to these restaurants, and in turn, all the workers who service them. In our eyes, that's a win-win.
Thanks to our first responders for working round the clock in an effort to keep us all healthy. And, thanks too to our Wild Alaska Pollock team, who are also on the front lines as they head out to "B" season to catch our perfect protein and make sure that we can continue to feed everyone. Here's to giving back, together.
For more information about the Napa Seafood Foundation's Seafood for Heroes Program, visit: https://www.seafoodforheroes.com/