Christine Durkin, Partnerships Advisor , November 16, 2022
Partnerships with a Story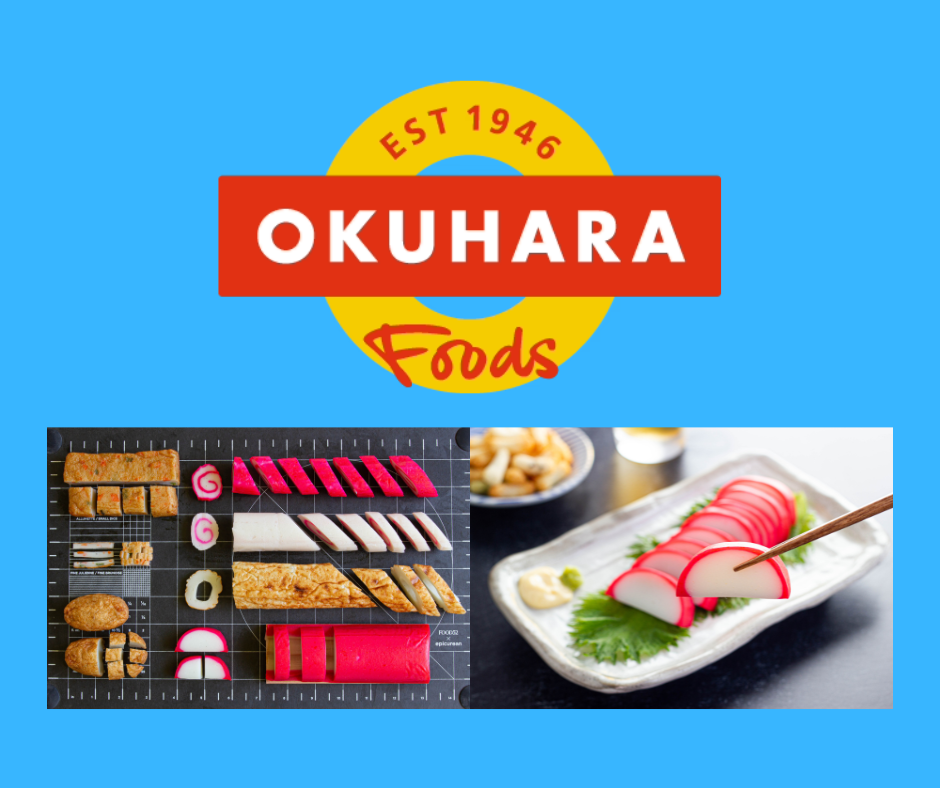 Today on the GAPP blog, we are interviewing GAPP partner Okuhara Foods. We hear from family prodigy Lindsay Teruya on all things Wild Alaska Pollock and Kamaboko.
GAPP prides itself on partnerships with companies that truly care about our mission to build awareness and demand for Wild Alaska Pollock.
Hear from Lindsay below.
Okuhara is a third-generation family business. Can you tell us about it and help us understand where your family's passion for food came from?
Our grandpa and his brothers started the kamaboko factory in 1946 in Honolulu, Hawaii. Kamaboko is a form of cured surimi popular among Japanese cultures. Kamaboko factories were quite prolific in Hawaii after World War II, but today there are only two remaining factories. The business developed a recognizable presence in Hawaii and expanded its other seafood offerings.
For my brothers and I, it was never our intention to work for the business, and we were encouraged to find careers outside the family business. Fast forward to 2017, our grandpa was in his 90's, lacked a succession plan, and was in the midst of financial distress, which triggered my brothers, Jayce and Micah, to get involved. After an unsuccessful attempt to sell the business, all three of us decided to step in full-time. We all wanted to work with food and have a passion for food, but we had no clue how to use surimi or operate a business. While the learning curve is steep, we have embraced the challenge and want to preserve the art of making kamaboko.
Fishcake is common in Japan and Hawaii. Can you describe the product because many of our members are unfamiliar with it? What do you think it is about the product that makes it so popular?
Fishcake is popular because it is affordable, ready to eat, and has a unique, smooth, chewy texture. The three most popular forms in Hawaii are steamed (kamaboko), fried (satuma-age), and grilled (chikuwa). All variations have different tastes, textures, and applications, but they all make for the perfect stand-alone dish or easy, ready-to-use ingredient.
Our customer favorite is our Gobo (Burdock Root) Tempura. The fried, bite-size balls filled with bits of earthy burdock root are a perfect otsumami, a finger food that pairs well with beer or sake.
You could have used many different fish species for your surimi. Why did you choose Wild Alaska Pollock? How does Wild Alaska Pollock differentiate your fish cakes from the competition?
We intentionally use Wild Alaska Pollock to make our fishcake because we prioritize sourcing domestically and from a managed resource. Wild Alaska Pollock surimi is a climate-friendly protein option caught from the waters of Alaska. Tropical surimi is volatile and inconsistent.
Our kamaboko was initially made by hand from local fish such as kajiki (swordfish) and 'ō'io (bonefish). When we took over the business, we discovered that our customers considered fishcake a "mystery product" as they did not know what it was made from. Fun fact, some people thought it was made from sharks because of rumors about factories in the old days mixing in shark bycatch to create kamaboko. Our goal is to perpetuate fishcake for the next generation, and utilizing Wild Alaska Pollock helps us ensure we are using a source that will also be available for the next generation. How cool would it be to start seeing more fishcakes made from Wild Alaska Pollock in stores near you?
You have partnered with GAPP on several projects. Can you provide details of the projects and how they have benefited your business?
We have, and we greatly appreciate the support. One of the largest and most impactful projects is in food service.   In the past two years, we received an influx of requests from our food service customers for foodservice friendly fishcakes. They wanted our fishcakes sliced, shredded, and diced. We needed specialized equipment to be able to offer all three variations, so we partnered with GAPP. Our shredded kamaboko is in 7-Eleven bentos, and our diced fishcake is used to create a kamaboko poke for the poke counters in supermarkets. Partnering with GAPP has allowed us to meet the needs of our customers, provide easy-to-use fishcakes, and continue to increase the awareness of Wild Alaska Pollock as an ingredient in our fishcakes.
Your fishcakes are a household name in Hawaii. Is it true that you have distribution in places like McDonald's and 7-Eleven?
Yes. Saimin is a comfort food in Hawaii, and you cannot have saimin without our Uzumaki (pink and white swirl). In food service applications, fishcake is primarily used in noodle dishes. McDonald's and 7-Eleven in Hawaii have a strong emphasis on localizing their menu, and we are fortunate they have perpetuated the fishcake's role in local cuisine.
What is the biggest growth opportunity for Wild Alaska Pollock and Okuhara?
Our biggest growth opportunities in retail are new products for the younger generation. Our focus is quirky flavors, unique collaboration, and unbeatable convenience and price. In Hawaii, fishcake is primarily consumed by the older generation, so we will be working with students from a local culinary school to give them a chance to work with surimi and create new recipes. The origin and sustainability messaging associated with surimi and Wild Alaska Pollock are a perfect way for us to bring in the younger consumer. 
GAPP appreciates the dedication that our partners put in to continue to make a name for Wild Alaska Pollock in new channels and innovative forms. Thank you to Okuhara Foods for continuing to be an integral part of #TeamWildAlaskaPollock, all the way from Hawaii!
To learn more about Okuhara Foods, click here.