Lydia Moore, Social Media and Membership Coordinator , November 03, 2022
A Look Into Common Industry Goals and Strategic Collaborations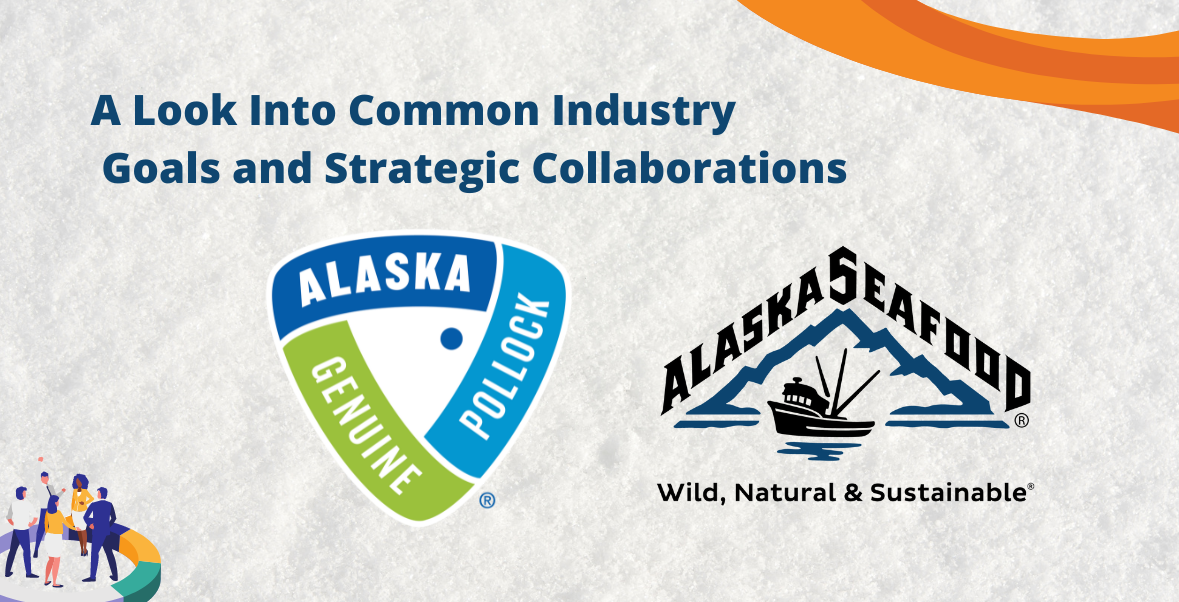 Partnerships, collaboration, and vigor for Alaska seafood- these are just a few of the things that the Association of Genuine Alaska Pollock Producers (GAPP) and Alaska Seafood Marketing Institute (ASMI) have in common. And this was more than apparent after attending the annual ASMI All Hands On Deck meeting. Heather Brandon from McKinley Research opened up the morning session with a message that resonated: "perception is up for Alaska Pollock due to the continuous marketing efforts from both ASMI and GAPP."
GAPP and ASMI align in our core missions. One of ASMI's many species they promote is Wild Alaska Pollock, and they work to build a positive brand image for it. GAPP's singular mission is to raise awareness and build demand for Wild Alaska Pollock.
Each organization has its strengths and focus-areas. But, the real magic is when we come together.
That's why I was extremely excited to hear this time last year that I was accepted onto the Whitefish Committee at ASMI. And if there's something I know about ASMI, it's that they're incredibly engaging and inclusive. Everyone's voice is heard, from harvesters and fishermen to retailers and marketers (like me), looking around the room, you'll see subject-matter-experts that are the best in their game.
Being at All Hands, I found that one of the most valuable parts of my experience, besides my committee meeting, was the Customer Advisory Panel. The panelists all spoke about two things: storytelling and sustainability.
John Steinmetz, Senior Buyer of Fresh Seafood at Walmart, gave his retail perspective on sustainability stating, "Our marketing is based on certifications. We have the RFM logo on the front of most packs because we get 30 to 60 seconds to make an impression on a customer." Steinmetz intrigued me with his excitement for chilled seafood, most specifically, surimi seafood.
Stephanie Mitchell, Senior Manager of Culinary Training and Support at Sodexo, had much to say about sustainability, too, leaning into the storytelling efforts that both GAPP and ASMI continue to strive to do. Mitchell stated, "We need to be teaching people in foodservice this story and helping them understand it so that they can tell it to the end consumer."
After that session, one utterly clear conviction I left with is that there is much to be said about sustainability and teaching more people about the details behind the story. Considering sustainability is one of GAPP's key pillars, and that Wild Alaska Pollock is one of ASMI's most largely discussed species, I believe that we can continue to work together on strategic ways to talk about the two.
To echo Mitchell, "We need fact-based learnings and information to spread the word."
As a marketer, I am more than ready to continue amplifying the message. I want to scream from the rooftop about why Wild Alaska Pollock is the climate-friendly choice for Gen Z and millennials. So, my mission within the next year is to truly learn from my peers and industry connections, both in GAPP and ASMI, how to do that even better.
Thank you to the ASMI team for getting me fired up about sustainability and storytelling. Thank you for making me excited to captivate an audience about the story behind our favorite whitefish. Lastly, thank you for strategically collaborating with us over the years to be a sounding board for each other on how we can best work together to tell the world about Wild Alaska Pollock.