Craig Morris, Arron Kallenberg , January 22, 2020
Why the Wild Alaskan Company is Wild for Wild Alaska Pollock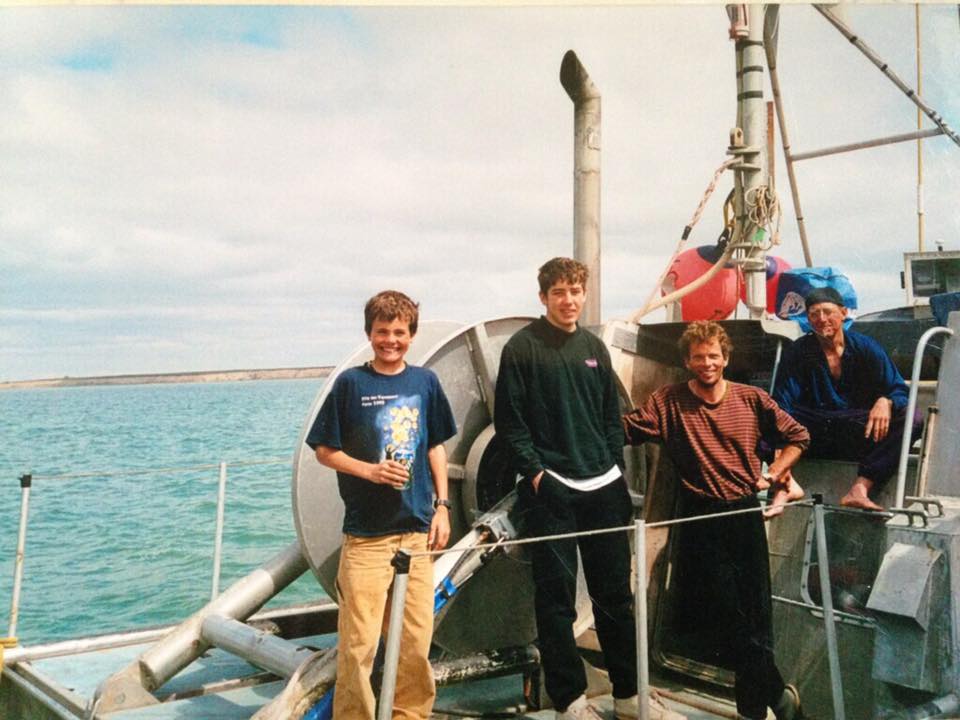 We sat down with Wild Alaskan Company CEO Arron Kallenberg (pictured above 2nd from left in Alaska year 2000 at 18) to talk about their growing business, his thoughts on all things Alaskan Seafood and most importantly, why he absolutely loves Wild Alaska Pollock. Read on to hear what he has to say!

1. Wild Alaskan Company seems to have an infectious energy and love of seafood. What inspires this affection for the fishing industry?
It's in my blood. My grandfather, Robert C. Kallenberg, moved to Alaska in 1926. He was 23 years old at the time, he fell in love with the place, and fished for sockeye salmon in Bristol Bay until he was 75 years old.
In fact, my grandfather loved Alaska's fisheries so much that in 1952 he received a Master of Science in agriculture with a major in conservation education and a minor in fishery biology from Cornell University. His thesis was titled "A Study of the Red Salmon of Bristol Bay with Particular Reference to Teaching its Conservation." A few years after completing his masters, he served as the chairman of the Territorial Board of Fisheries in Alaska.
My father grew up fishing with my grandfather. I grew up fishing with my father. As a consequence of my upbringing in a family where commercial fishing and responsibly sourced seafood were constantly discussed around the dinner table, I was inevitably raised with a deep-seated respect for sustainability and conservation. You could say that these values were infused into my personal ethos — first and foremost as a human being and then eventually as an entrepreneur and founder of the Wild Alaskan Company.
2. As you know, GAPP is all about Wild Alaska Pollock. Tell us a little bit about why you heart our fish and why your members do too?
Precisely because of what I described above, I am a serious proponent of supply-driven food systems. I firmly believe that as human beings, we need to act in concert with nature and eat what mother nature can reliably sustain. Wild Alaska Pollock checks that box for me.
Our members love Wild Alaska Pollock for its versatility and ease of use. They also love the mild flavor and flaky texture. These traits are extremely important to many seafood consumers, especially if they are not yet seafood aficionados and more accustomed to the more robust flavors of species such as sockeye salmon. Additionally, our more seafood savvy members love the story of Wild Alaska Pollock. They understand the importance of eating sustainably and the positive effects of being a conscious consumer.
3. If you had a crystal ball, what do you see for your future? Is Wild Alaska Pollock a part of that?
The Wild Alaskan Company's mission is to accelerate humanity's transition to sustainable food systems by fostering meaningful, interconnected relationships between human beings, wild seafood and the planet. To that end, we strive to inspire Americans to cook and consume more sustainable seafood. Our goal is to help would-be seafood consumers to gain more confidence in the kitchen and to truly understand the many nuances and delights of preparing fish.
When it comes to Wild Alaska Pollock specifically, I believe that it truly is an unsung hero of the sea and a superstar of sustainability. Given my mission to enable our collective transition to sustainable food systems, Wild Alaska Pollock as a species is inevitably at the forefront of that objective.
4. We know that consumers in the U.S. under-index when it comes to seafood consumption. What can we do to change that, together?
The farm-to-table and real-food movements have gained significant traction in other verticals in recent years. Yet Americans remain largely intimidated by seafood. Unfortunately, you can't blame them. The industry as a whole could do a better job of helping to foster meaningful connections between consumers and the seafood they eat. Because this disconnect has, unfortunately, bred a lot of confusion and distrust.
More and more, people expect to know the story behind their food, where it comes from and how it made it to their plate. The great irony is that the Alaskan seafood industry has one of the best stories on the planet. Yet remarkably few brands are telling that story well. Wild Alaskan is working to change the status quo and reconnect our culture to seafood.
Our philosophy is simple: tell the amazing story of Alaskan seafood in an unapologetically authentic manner.
For example, Wild Alaskan doesn't have a customer support team. Instead, we have a member experience team that helps cultivate each member's personal relationship with seafood. The team goes through an extensive vetting process and training program. We arm them with an abundance of information and cooking inspiration designed to cultivate meaningful, long-lasting relationships with our members. We like to say that, while we sell seafood, we deliver health, happiness and trust.
5. What are you most excited about in the new year? It's a new decade after all!
My first child was born a couple of months ago, so without question fatherhood is at the top of my list. And besides the obvious joys that come with it, the birth of my son has prompted me to take a much longer view of life — including contemplating the future of Wild Alaskan on a multi-generational scale. I want to make certain that my son's grandchildren can enjoy the same sustainable seafood that my own grandfather worked so hard to protect.
Learn more about this amazing industry partner: www.wildalaskancompany.com