May 05, 2020
Get "Saucy" with New Bullwhip Hot Sauce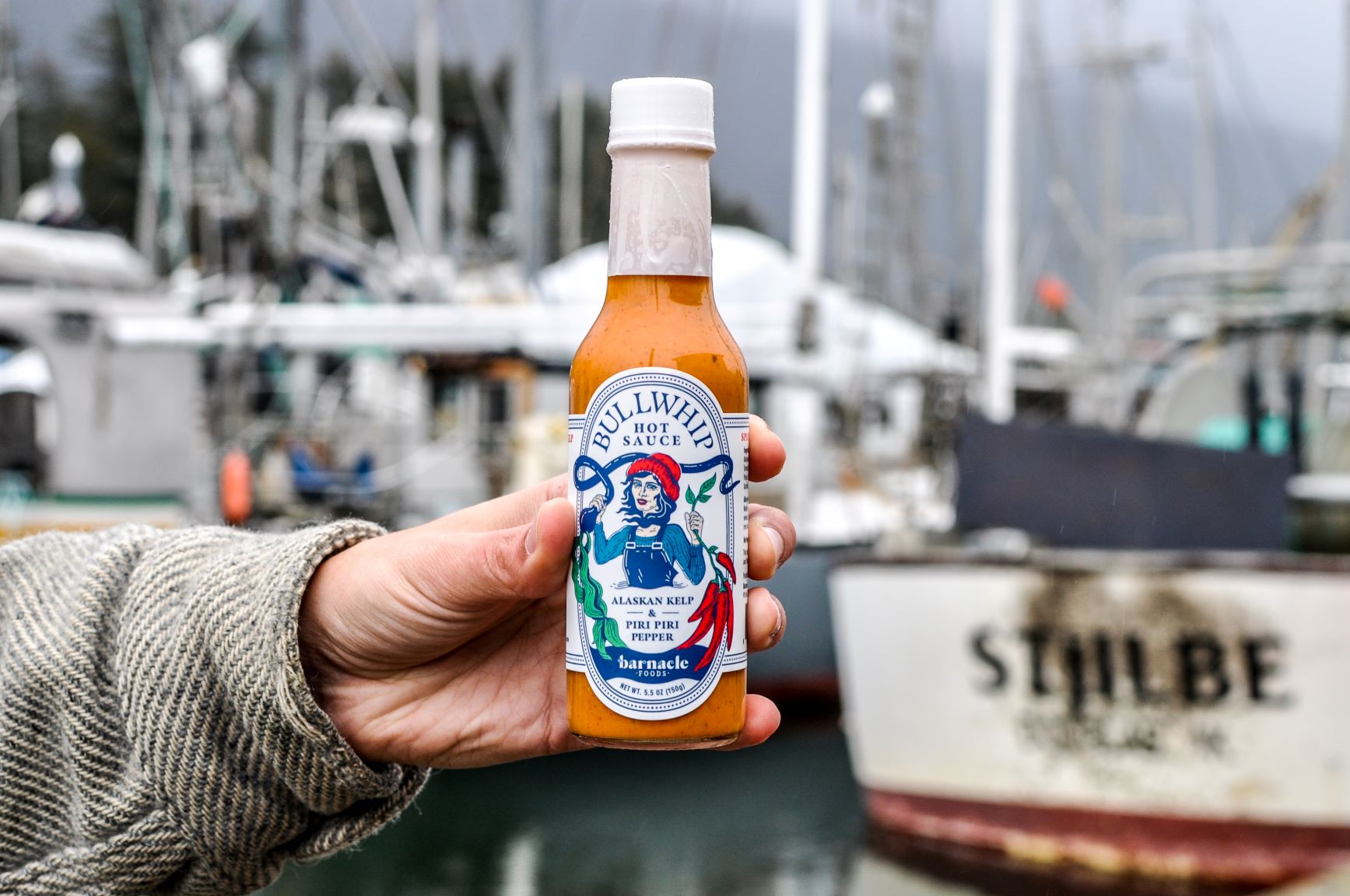 Image Credit: Barnacle Foods
What's a perfect accompaniment to Wild Alaska Pollock in all of its forms? Well, if you like it saucy—and spicy—then look no further than Bullwhip Hot Sauce. We sat down with one of the founders of Barnacle Foods, the inventors of Bullwhip Hot Sauce, to talk about how this amazing sauce came to be and what's next for this innovative Alaskan company. The sauce recently won multiple prizes at the Alaska Symphony of Seafoods and uses Alaskan kelp to add to its unique flavor profile. Read more on this amazing company below!

Q: What inspired you to start Bullwhip hot sauce?
A: Bullwhip hot sauce has been a couple of years in the making and it is a recipe we are really proud of. We were excited to meld kelp's salty, umami flavor with the balanced heat from piri piri peppers and make a sauce that pairs with all kinds of foods. Turns out hot sauce is the perfect way to enjoy kelp every day because you can put it on everything!

Q: Have you been surprised by its success?
A: We have been very impressed by people's response to Bullwhip, but not entirely surprised. While we were making test batch after test batch we never had a problem finding people to take the leftovers home and share with friends and family.

Q: In your own words what do you think makes it so great?
A: Bullwhip combines the savory, slightly briny flavor of kelp in a way that is empty-the-bottle-too-fast good. The first hint of flavor you get is reminiscent of the sea, and then your taste buds go on a ride through salty, spicy, and a tiny bit sweet. The texture is creamy and unique among hot sauces.

Q: Hot sauce has an almost cult-like following in the U.S. Why do you think that is?
A: Yes! It's amazing how many small-batch hot sauces there are out there, and how many die-hard fans a great hot sauce ignites. I think hot sauce is a way to turn everyday meals into a more memorable and meaningful experience. That boring quesadilla or rice bowl can all the sudden be a leveled-up, satisfying entree.

Q: As an Alaskan company, do you think Bullwhip goes perfectly with Alaska Seafood and Wild Alaska Pollock?
A: Bullwhip + Alaskan seafood is a perfect combo! We've been pairing Bullwhip with almost every part of our diet, and we eat a lot of Alaskan Seafood, so you could say it's been well tested. You can make a great seafood dip by mixing in some Bullwhip with sour cream or mayo, possibly a splash of fresh lime and chopped cilantro for a little something extra. This quick sauce pairs well with fried fish, fish tacos, or straight on a fillet of halibut or salmon.

Q: What's your favorite use for your hot sauce? Why?
A: Our favorite use of Bullwhip is in burritos. Much of the Barnacle crew packs burritos for lunch, and we all take turns dumping copious amounts of Bullwhip on them, or in them to bring the meal to life. We go through a lot of hot sauce.
Q: What's next for your company—what's in the works?
A: We're excited to be at the forefront of making tasty Alaskan kelp foods and are excited to continue to improve and innovate what we do. We've been testing out some new techniques for furikake that will be an excellent partner with the hot sauce for topping on all kinds of foods. Expect some other new tasty condiments to come over the coming year. Did I mention barrel-aged Bullwhip?

Yum! Did you just fall in love with Bullwhip Hot Sauce? We knew you would! Check out our "Where to Find" page to order yourself a bottle (or three!) today!