Craig Morris , April 06, 2020
Pivotal Food Moments and the Power to Overcome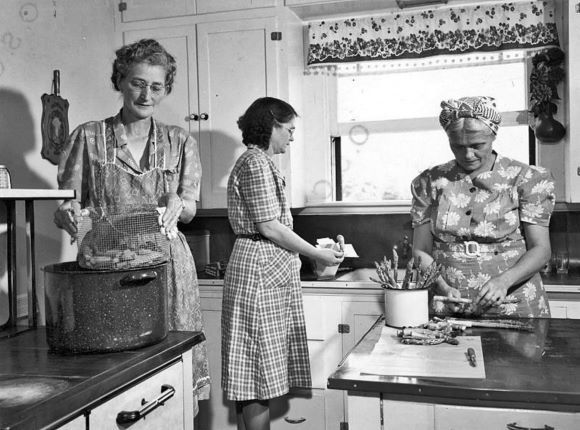 Image Credit: The Brattleboro Reformer
It's a little doom and gloom out there folks. Believe me, I'm feeling it too. The first few weeks I thought: Ok, I got this. I can hold virtual meetings and cook every meal at home and entertain my boys (chores, chores and more chores). But now, as we approach a month on lockdown, things are starting to get a bit more, frankly, depressing. It's hard to see the light at the end of this coronavirus tunnel.
As likely many of you, I've been reading a lot to pass the time. If my mind is going to turn and spin, it might as well be well-informed. I'm particularly prone to read articles about the economy and what's to come on that front. All signs would point that we're headed toward a global recession, one that some have gone as far as to compare to the Great Depression (let's all collectively knock on some wood against that).
All of the webinars I participated in last week talked about how food trends and consumer preferences change as you head into times of economic struggle, where consumers are dealing with furloughs, layoffs, 401(k) declines and just general unease. Specifically, consumers who are worried about making ends meet look for ways to cut back, do more with less, eat leftovers, repurpose pantry staples and look for significantly higher value on every item they put in their shopping carts.
Wild Alaska Pollock is well-positioned for the changing market and for times when consumers are feeling the pressure to tighten their belts. But, our fish as the perfect protein—no matter the economy—is not what I want to focus on today.
During my rabbit hole of reading, I stumbled across quite a few articles about Depression-era cuisine. They were truly fascinating in their discussion of how the Greatest Generation got through those hard times and came out the other side. The Great Depression has often been called one of the most pivotal food moments in history—both for the cuisines and traditions around food that emerged during, but also how tastes and preferences evolved significantly when the economy rebounded.
In an NPR article I came across, two historians discussed how creamed, canned and frozen revamped American diets. The article painted a pretty grim picture of depression-era cooking, one devoid of taste, variety and joy of any kind.
Yet, it's those depression-era recipes: ones of casseroles and simple cakes and stretching an ingredient and tiny indulgences that have become all the rage once again. Those are the recipes that have been passed down from the Greatest Generation to today's at-home cooks. Those are the recipes that family traditions and weathered index cards full of drips and drabs of meals gone by are made of.
As we enter this (hopefully brief) period of economic downturn, I would venture to say that the challenges that plagued our grandparents and great-grandparents (in Gen Z's case) will not too plague us. Here's why.
First, brands understand the importance of value, and taste. They know that in times of uncertainty, they have to work that much harder to demonstrate that their products are worth the investment. Things like taste, nutritional content and a sustainable supply chain are now table stakes. They're the cost of admission and even if it costs a bit more no one is going to walk away from those. Brands that are more expensive are going to have to work that much harder to justify the expense—but no one is going to cut corners on the basics.
Second, consumers today love variety and use cooking as a way to experience the far-off corners of the world. Unlike our ancestors, American consumers today aren't afraid of unique ethnic flavor profiles and cooking techniques. Quite the opposite, they embrace them. Many of those ethnicities (just as many of the new American immigrants were during the Great Depression) are used to cooking large quantities of food, that packs a punch, on a budget. I predict that we'll be seeing an even greater affinity for unique global flavors in the coming months.
Which brings me to my third and final point: variety. Just as I've been reading voraciously and trying out new recipes while quarantined at home, I know many of my fellow Americans have as well. By now we all have those oversized trays or bags of various proteins in our freezer and we just can't eat the same dish over and over again. Sure, the basic ingredient may be the same be it from that 5-lb tray of chicken breasts or ground beef or that 60-count bag of Trident Ultimate Fish Sticks we purchased at Costco, but we need to add variety around the edges to that protein. But, we're bombarded (sometimes too much) with content these days—so it's really hard to repeat the same old recipe or use the same old ingredients over and over again. There are countless food bloggers, chefs, amateur chefs and #foodies out there experimenting right now who are more than willing to share their insights and recipes online. We'll benefit from that as consumers look at pantry and freezer staples to carry them through but aren't willing to sacrifice flavor, taste or variety.
Yes, Wild Alaska Pollock is well positioned for this brave new world. But, so are we as Americans. We've learned from the Greatest Generation about how to pull ourselves up from our bootstraps and overcome. We've been doing that since we landed here way back when. We have the learned lessons of the past and the benefits of modern society to help get us through. We can get through, together. Eating together and cooking together.
I know we can.