Lydia Moore, Social Media and Membership Coordinator , November 08, 2022
Social Media 101: A Guide to Understanding the Basics of the Digital World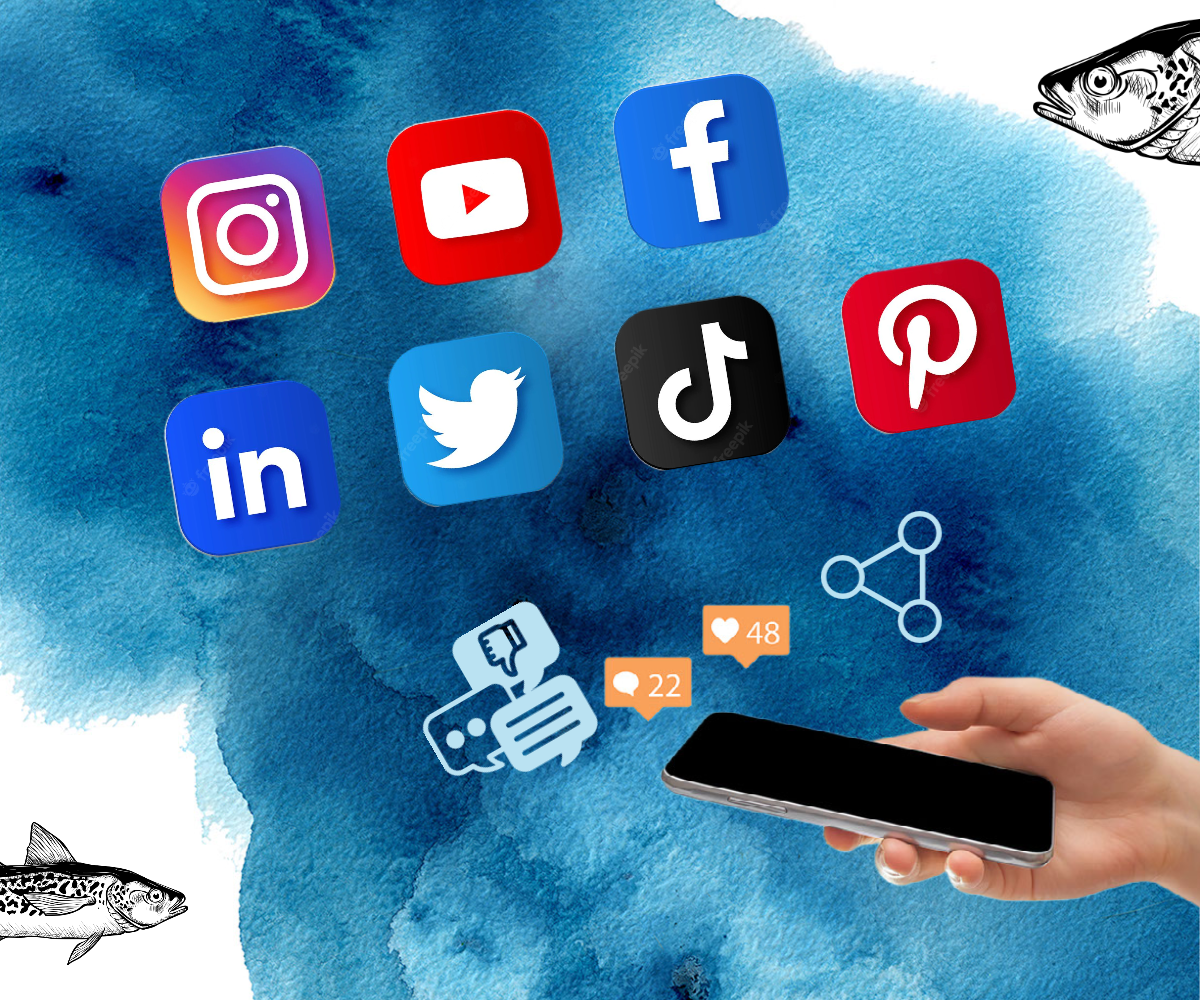 Social media marketing. It's powerful. It has the capability to change the direction of a brand efficiently and meaningfully. That's why the Association of Genuine Alaska Pollock Producers (GAPP) loves it. That's why GAPP exists- to be the marketing arm for the Wild Alaska Pollock industry and association that builds awareness and demand for Wild Alaska Pollock.
We represent a wide range of folks in the Wild Alaska Pollock business. That includes the creative retailers selling our fish in the frozen seafood aisle at QFC or Walmart, or it could be the catcher-vessel cooperatives and the men and women that catch the fish itself. Not everyone might be as close to the ins and outs of social media, so we thought we'd do some explaining… just in case.
So, let's have a little social media and marketing 101 so that you can feel like an expert or at least understand what in the world GAPP staff is talking about during committee calls, press releases, annual meetings, and our quarterly Board of Directors meetings. Below is a glossary of terms and definitions you can reference from here on out.
Social Media- Social media is an interactive website or application that enable users to create and share content or to participate in social networking.

Social Media Channels- A specific application or website. Examples: Facebook, Instagram, Twitter, LinkedIn, YouTube, Pinterest, or TikTok.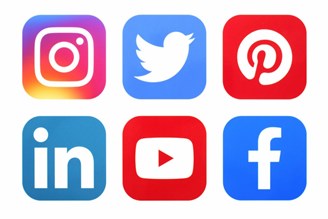 Earned Media- This type of media is exposure gained from methods other than paid advertising. (Example: A local news outlet writes a feature story on GAPP or tweets about Wild Alaska Pollock without our team reaching out to inquire or asking them to do so. Note that this could include stories that are written after GAPP "pitches" the story to the media or invites them to a media event as long as GAPP did not pay for the placement.
Owned Media- This type of media is any property you can control and is unique to your brand. (Example: A blog posted on the GAPP website, a press release posted on the GAPP website, GAPP Instagram or Facebook posts.)
Paid Media- This type of media is an investment to pay for visitors, reach, or conversions. This also includes traditional media that you pay for. It will likely include the tag "ad" in the copy or is denoted as an advertisement. (Examples: Social media ads, sponsorships, paid search efforts.)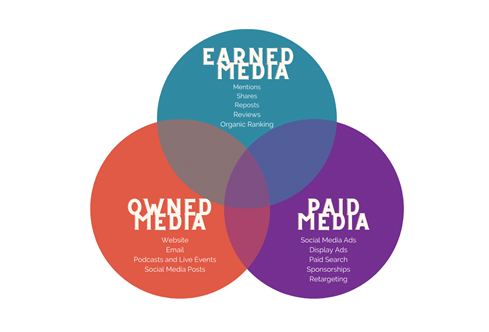 Source: Marketing Insider Group
Likes- A form of communication allowing us to signal our validation and approval with a single click. (This often is seen in the form of a "heart" or a "thumbs up.")


Saves- Facebook, Instagram, and LinkedIn users can easily save posts to find them again later. This metric can often tell you that your users consider this high-quality content. It often can assist in placing your content on the "Explore Page." A user may save recipe content or interesting facts because they'd like to return and reference it in the future. See the below image for the "save" icon that resembles a bookmark.


Shares- A share counts as posting a photo or video to their "owned media," such as onto their Feed or Stories. (Example(s): Person A posts an image, then Person B shares it on their story; or Company A posts an article, and Persons A, B, and C "share" it by posting a link to it on their stories or feeds.) Another hint… GAPP loves sharing Wild Alaska Pollock industry news, so we often share links or images that many of our member companies are communicating.


Impressions- The number of times a unique user sees a piece of content. GAPP measures many of our social media campaigns through impressions because our primary goal is to build awareness. More eyes mean more awareness of Wild Alaska Pollock. (Example: Person A viewed and clicked on a GAPP social media advertisement today. Tomorrow Person A sees the advertisement again and clicks on it- - again. The impressions stand at two since they saw the content twice in their feed.)


Reach- The number of unique users that see a piece of content. (Example: Person A viewed and clicked on an advertisement today. Tomorrow Person A sees the ad again and clicks on it- again. The reach is one even though they have visited the website multiple times.)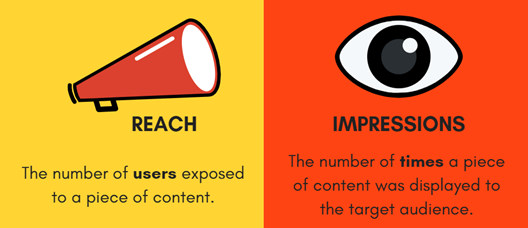 Source: KeyHole
Engagements- An engagement is a broad term for actions that symbolize how much your audience interacts with your content. Engagements can include likes, comments, shares, saves, retweets, etc. Engagements are crucial to getting your message across to your target audience because they reflect interaction with real people absorbing your content!

Engagement Rate- Engagement rates represent how much an audience is actively engaged or interested in your content. Positive engagement is a direct result of sharing, liking, or tagging the account and usually means that your message is resonating with your audience enough for them to interact. (Example: GAPP values engagement rate in our influencer campaigns and often brings this number up when determining whether an influencer would be a good fit for us. High engagement rates mean that these influencers we work with (that keep in mind, have impressively large audiences) will help us get a true conversation about Wild Alaska Pollock through comments, shares, etc.) You can calculate the engagement rate with this formula = (Engagements) / (Impressions) X 100.

Clicks- Multiple actions can qualify as a source of measurements for clicks, including link clicks, post likes, comments, shares, clicks to a profile page, and clicks to expand a photo or video to full screen.

Clicks are important to GAPP because our goal is to lead our audience to our website to learn more about Wild Alaska Pollock. Often the website link (URL) we use in advertisements is linked to our "Where to Buy" page that ultimately leads users to GAPP member's retail products.


Click-through Rate (CTR)- Click-through rates represent how frequently a user clicks on your paid media. Your target audience is a user that needs a reason to click on your content. So, the role of social media content is to truly catch the reader's attention and pique their curiosity just enough for them to click a link that either further educates or sells them something. (Example: GAPP uses CTR in many one-off campaigns because we link our posts to recipes, member products, or educational material. If our CTR is high, this means people are visiting our website to get more information on GAPP-owned or member Wild Alaska Pollock recipes and member products.) Calculate (CTR) with this formula: = (Total Clicks on Paid Media) / (Total Impressions).


Influencer- Influencers are people who build a reputation for their knowledge and social media expertise on specific topics or specific target audiences. They make regular posts on their preferred social media channels and generate large followings of enthusiastic, engaged people who pay close attention to them and trust them for decision-making on lifestyle choices.
User-generated Content- User-generated content refers to unpaid or unsponsored posts that users across social media share when using a product or service.


Community Management- A process by which a brand or organization engages with its target audience on social media platforms to build an online community.


Algorithm- An algorithm is a mathematical set of rules specifying how a group of data behaves. In social media, an algorithm helps rank, filter, and organize the posts for users in the most beneficial way that the hosting app deems reasonable.


TikTok- TikTok is an app that hosts a variety of short-form user videos. *According to Sprout Social, TikTok is known for its popularity with younger users (*47% in the US are between 10 and 29 years old). For reference, GAPP recently dove into the world of TikTok. It's a newer channel that is fast-moving with the trends. It's often used for humor, ideas, and educational videos.


Instagram- Instagram is a popular photo and video-sharing app for smartphones. Instagram is different from other platforms in that it is primarily used on mobile devices. One of GAPP's biggest focuses lately has been Instagram because of the rise of influencers (see previously mentioned) and reels (see below). Instagram is continuously evolving and GAPP staff continues to plan more campaigns using Instagram's "hot" features and large user platform.


Facebook- Facebook is a social networking site where users can share comments, post photographs, and share links to news or other interesting content. Facebook is popular because of its usability for both business and individual use. It is frequently used on both mobile and desktop devices. GAPP uses Facebook to share recipes, articles, event photos, and more! Facebook is handy for sharing a variety of content and continues to be an excellent place for B2B interaction.


Twitter- Twitter began as a microblogging social networking site and has quickly become a social media outlet where users disseminate short posts known as "tweets." These tweets can contain text, videos, photos, or links. Tweets are limited to 140 characters. Twitter is primarily used on mobile but is also available on desktop. For reference, on Twitter, GAPP interacts by sharing quotes from recent news articles, commenting on McDonald's or Arby's Fish Sandwich tweets showing support, or by retweeting our member's links to recipes.


LinkedIn- LinkedIn is unique in that it is a social networking social media site designed specifically for the business community. The users can register as an individual or as a business. Businesses can share job postings and company-related updates. Many individuals use LinkedIn to create professional connections and to grow their personal image amongst colleagues. For reference, GAPP uses LinkedIn to share big "wins," such as breaking new research, event photos, etc.


Reels- Reels are an Instagram feature, specifically a vertical video that can be up to 90 seconds long. They come with many unique editing tools and an extensive library of audio tracks. The Instagram algorithm often favors them as dynamic video content is becoming more popular amongst users. GAPP recently began creating reels in our National Seafood Month campaign to test the waters and will continue this effort over the coming months.



So, hopefully this gives you some key social media insights in which you can feel confident moving forward. GAPP and Wild Alaska Pollock couldn't do this without you supporting us and believing in our mission, so, thank you.

Now get ready to get tech savvy for Wild Alaska Pollock and make sure you are following your favorite whitefish on Twitter, Instagram, and TikTok at @wildakpollock and Facebook and LinkedIn at "Genuine Alaska Pollock Producers." Thanks for reading!