April 12, 2023
Wild Alaska Pollock to Be Named Official Whitefish of Climate Pledge Arena and the Seattle Kraken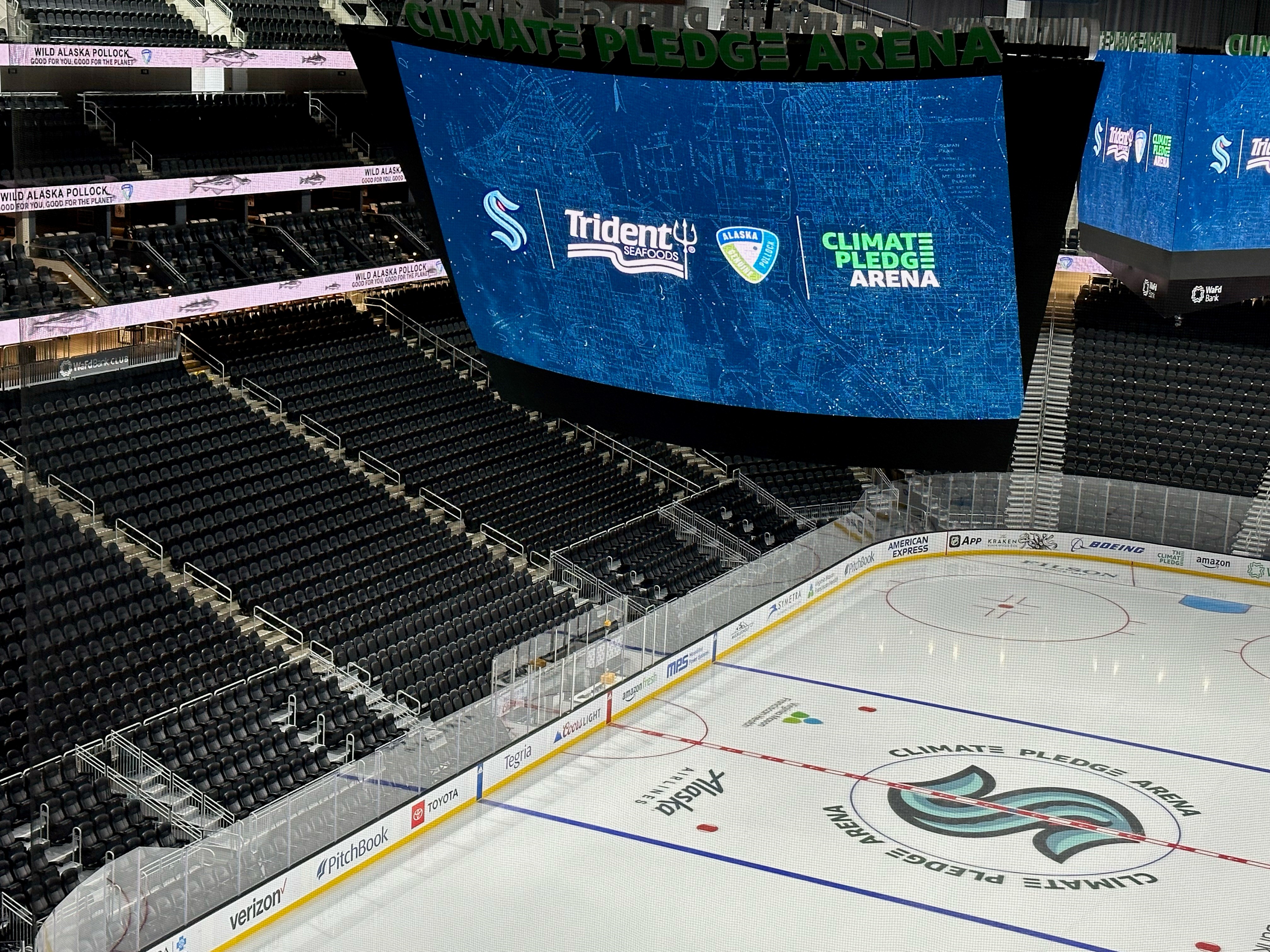 Today, one of the world's most sustainable proteins, Wild Alaska Pollock, has been named the official Whitefish of Climate Pledge Arena and the Seattle Kraken and will be featured on menus throughout the arena.
Seattle-based Trident Seafoods, the largest vertically integrated seafood company in the United States, the Association of Genuine Alaska Pollock Producers (GAPP), a non-profit working with industry leaders to sustainably harvest Wild Alaska Pollock', will complement Climate Pledge Arena and the Seattle Kraken's commitment to sustainability.
Wild Alaska Pollock will be featured in mouthwatering menu items featuring recipes by Climate Pledge Arena Executive Chef, Molly De Mers in the Trident Seafoods marketplace, Fork & Fin, located in American Express Hall and in other marketplaces to be announced throughout the arena.
"Seattle is home to the most sustainable arena in the world and also home to the fleet that harvests one of the most sustainable proteins in the world: Wild Alaska Pollock," said Craig Morris, GAPP CEO. "We appreciate the warm welcome as the newest member of the Climate Pledge Arena team and the Kraken faithful, but as the official whitefish of Climate Pledge Arena, we could not be more excited to welcome the Seattle Kraken to a very special team: Team Wild Alaska Pollock."
As part of the partnership, Trident will be reinforcing its commitment to bringing sustainable seafood to those struggling with food insecurity in coordination with SeaShare. Since 1994, Trident has donated the equivalent of 29.2 million servings of seafood to SeaShare, a Seattle-based non-profit organization whose mission is to engage the seafood industry in a collective effort to improve nutrition for the people served by food banks and feeding centers.
"The Seattle Kraken is the 32nd team in the NHL," said Joe Bundrant, Trident CEO. "And we think it's fitting to increase our donations to reach a lifetime target of donating 32 million servings of food to people in need by 2024. Our partnership with Climate Pledge Arena is an important part of that commitment."
Climate Pledge Arena is redefining what it means to be a sustainable sports and entertainment venue. The arena is actively on the way to becoming the first International Living Future Institute Net-Zero carbon-certified arena in the world. Operating on 100% renewable energy power, running zero waste events, and Climate Pledge Arena is committed to being free of all single-use plastics by 2024. Sustainability is also a core tenant for Trident and the entire Wild Alaska Pollock industry. Wild Alaska Pollock has one of the smallest carbon footprints of any protein on earth.
"When fans enjoy our delicious seafood on game night, they do so knowing they are eating food that is good for people, and good for the planet," said Bundrant.