June 14, 2022
Wild Alaska Pollock Industry to Host Fourth Annual Meeting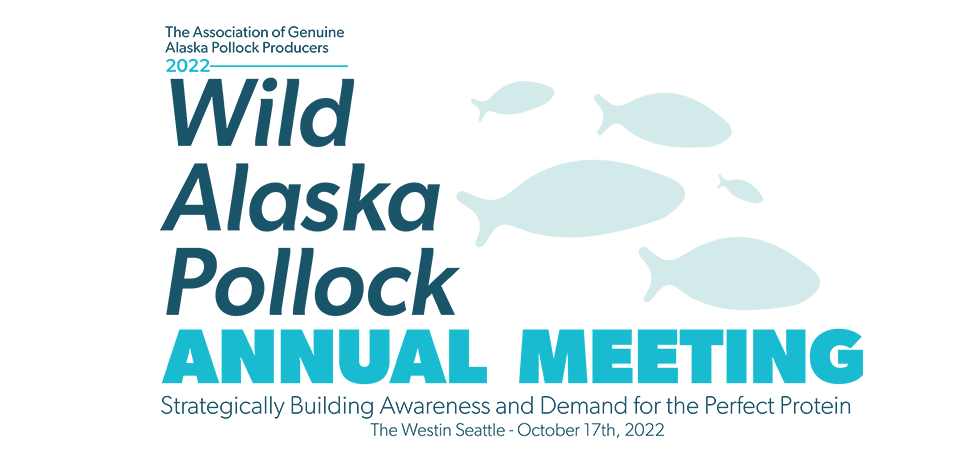 SEATTLE, Wash.—The fourth annual Association of Genuine Alaska Pollock Producers' (GAPP) Wild Alaska Pollock meeting will be held in Seattle, Washington USA, on October 17, 2022, GAPP announced today. The meeting, to be held at the Westin Seattle, will once again bring together representatives from all segments of the Wild Alaska Pollock industry, marketing experts, and visionary speakers designed to challenge the status quo and inspire collaboration for tackling future industry challenges. The theme of this year's event is "Strategically Building Awareness and Demand for the Perfect Protein."
"At the risk of jinxing it, I'm beyond excited that we're going to be back in person here in Seattle to bring the industry together and look to the future for our perfect protein: Wild Alaska Pollock," said Craig Morris, Chief Executive Officer of GAPP. "We'll be dropping the curtain on new, proprietary research—like our fourth nationwide year-over-year consumer tracking study conducted by Ketchum, discussing the latest marketing initiatives designed to raise awareness and build demand for our fish, and hosting some special guest speakers designed to inspire and challenge all of us to think bigger."
Amanda Buckle, managing editor of Seafood News and Urner Barry's Reporter, will serve as the "Master of Ceremonies" (MC) for this year's event, bringing her extensive knowledge of the seafood industry, food industry trends and consumer insights to the agenda. In addition to her official MC duties, Buckle is slated to present on the latest consumer trends in food at the event.
Other exciting speakers are being confirmed and will be announced in the coming months but topics will include economic updates, consumer research and trends, the latest on surimi seafood, global demand for Wild Alaska Pollock, and the results from the new GAPP "always on" Wild Alaska Pollock awareness and demand campaign slated to kick off in the U.S. this summer.
"There will be something for everyone at this year's meeting—we've really focused on how each presentation builds upon the last to generate robust discussion, collaboration and hopefully some 'aha' moments for our industry as a result," said GAPP's Acting Chairman of the Board, Doug Christensen.
While the final agenda is still being set, the event will begin at 9:00am and last until 5:00pm with a mid-day lunch and a Wild Alaska Pollock-themed reception to follow. Meeting details and information for in-person attendance is available on the GAPP website at https://www.alaskapollock.org/about-us/events. To register now, click here. Additional information will be posted on the website frequently relative to the agenda, confirmed speakers. People attending in person and needing assistance with lodging and access to the GAPP hotel room block can contact GAPP's Social Media and Membership Coordinator, Lydia Moore at Lydia.Moore@alaskapollock.org.
GAPP works to keep its events cost neutral to the organization through industry sponsorships and is actively seeking sponsors for this year's event. If interested in sponsorship opportunities, please reach out to GAPP's CEO, Craig Morris, at Craig.Morris@alaskapollock.org.