Craig Morris , August 23, 2023
Wild Alaska Pollock Annual Meeting to Feature Stars of 'Pollock People' Campaign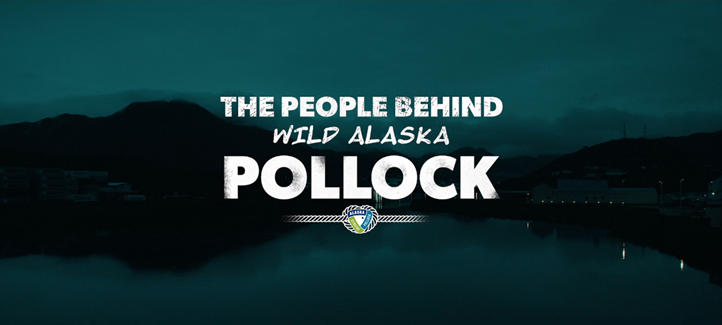 SEATTLE, Wash.— Attendees at the fifth Wild Alaska Pollock Annual Meeting will be the first to see the video, photo and social media content that comprises the new industry campaign dubbed 'Pollock People' that gives a behind-the-scenes look at the lives and stories of those that live, love and work in the industry, the Association of Genuine Alaska Pollock Producers (GAPP) announced today. Appearing both in the campaign and taking the stage at the September 28th Annual Meeting are: Jeff Crain of the F/V Sovereignty & Trident Seafoods, Emily Gibson of UniSea, Ruthie Anderson of Trident Seafoods and Tim Dyasuk of American Seafoods. The panel will be moderated by Mick O'Brien of Ketchum PR who produced and directed the campaign.
"This campaign came out of the vision and pride that the GAPP Board of Directors has for our Wild Alaska Pollock industry, especially the captains, crews, processors and the communities that built and sustain our amazing fishery," said Bob Desautel, Chairman of the Board and CEO of Global Seas. "We know we have incredible people that work in this industry and that support it through other business endeavors across Alaska and throughout the Pacific Northwest. Their stories deserve to be told. Those people are the true heart of this industry and the rightful stars of this campaign."
The campaign will feature interviews with vessel owners and operators, in processing facilities, and with those working in businesses that support the fishery and the communities in Unalaska, Kodiak and Seattle where the fishery is active. All in, GAPP conducted live on-camera interviews with more than twenty passionate industry leaders this summer.
These interviews will be compiled into digital content, in the form of photos and videos, for use by GAPP, its members and its trusted industry partners and customers throughout the value chain. The "hero video," a long-form video featuring many of the interview subjects will be debuted at the Wild Alaska Pollock Annual Meeting. An exciting trailer for the final video can be viewed here.
The meeting will once again bring together representatives across all segments of the Wild Alaska Pollock industry for a day-long agenda at the Four Seasons, Seattle, of networking, enlightened presentations and panels and delicious Wild Alaska Pollock entrees. As announced previously, celebrity chef Antonia Lofaso will once again prepare a Wild Alaska Pollock dish live on stage.
"Our meeting theme for our fifth-ever gathering is all about the people behind Wild Alaska Pollock in homage to this exciting and important campaign," said Craig Morris, Chief Executive Officer of GAPP. "I'm excited for our attendees to hear from the faces behind the fish that graciously agreed to tell their stories as part of this initiative and know it will be one of the highlights of the meeting."
The event will be held at the Four Seasons Hotel in downtown Seattle and will run from 8:30am – 5:00pm with an evening reception to immediately follow. Registration is available here for those wishing to register to attend the Wild Alaska Pollock Annual Meeting either in-person or virtually.
GAPP would like to thank its current sponsors: USI Insurance Services (Title Sponsor); Alaska Airlines, Alaska Seafood Marketing Institute, Arctic Storm Management Group LLC, Arthur J. Gallagher & Co., Beck Pack Systems, Glacier Fish Company, Global Seas, and UniSea (Gold Level Sponsors); American Seafoods, Aquamar, Gorton's Seafood, Highland Refrigeration, Lafferty's EMS, Marine Stewardship Council, NORPEL, Port of Seattle, Trans-Ocean Products, Trident Seafoods, Urner Barry and Westward Seafoods (Silver Level Sponsors); Alaska Marine Lines, Alaskan Observers, Aleutian Pribilof Island Community Development Association (APICDA), Baader Food Processing Machinery, Clark Nuber, Global Seafood Alliance, Golden Alaska Seafoods, High Liner Foods, ICR, Inc., Islandsbanki, Ketchum, Northwest Farm Credit Services, and Petro Marine (Bronze Level Sponsors); and Alaska Fisheries Development Foundation, Angulas Aguinaga, Bank of America, Coastal Villages Region Fund, Neptune Snacks, Perkins Coie LLP, and Restaurant Depot (Supporting Sponsor).