October 17, 2022
U.S. Consumers 'Intent to Eat' Wild Alaska Pollock Skyrockets, According to Year-over-Year Survey Results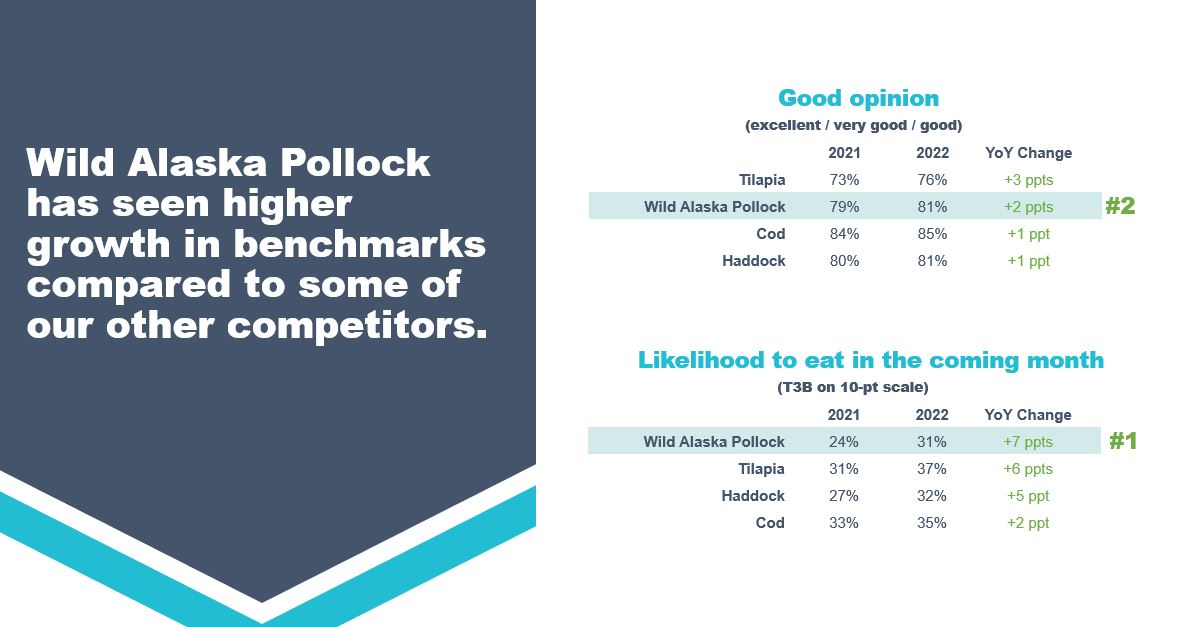 American's intent-to-purchase Wild Alaska Pollock in the next thirty days jumped seven percentage points, the largest jump of any competitor including Tilapia, Cod or Haddock, according to results of the Association of Genuine Alaska Pollock Producers (GAPP) year-over-year survey results, presenters from Ketchum told the audience at the fourth-ever Wild Alaska Pollock Annual Meeting this afternoon. Consumer's overall familiarity with Wild Alaska Pollock also rose by 2 percentage points, to 56%, meaning that almost 7 million more consumers know something about Wild Alaska Pollock than did last year.
"That likelihood [to purchase], the familiarity, the awareness—all of those indicators have significantly jumped over the last year," said Ketchum Global Head of Analytics Mary Elizabeth Germaine. "Intent to eat within the next 30 days is at 31%--and that's closing the gap between Wild Alaska Pollock and its competitive set. On awareness, the gap between Wild Alaska Pollock and Cod—we've narrowed that gap by 2% this year. While we are growing our awareness, we're also closing in more on our competitive set and that's great news."
"These are very significant positive trends in terms of what people know about Wild Alaska Pollock, how they feel and what they intend to eat," added Germaine.
Germaine explained that this is the fourth year of GAPP's year-over-year study which is an online survey of a nationally representative sample of Americans, around 1,000, to measure mass awareness and familiarity of Wild Alaska Pollock with consumers. The results are then compared to Wild Alaska Pollock's whitefish competitors.
"There's a continued upward trend of overall familiarity with Wild Alaska Pollock. Often, as you're educating people and introducing more and more people to a category, you begin to see a neutralization of opinion," said Germaine. "What's interesting here is we've seen that continuity in perception. Even as we're educating new people on Wild Alaska Pollock—perception of the fish overall is remaining incredibly positive."
Germaine and Ketchum Director of Analytics, Lauren Hasse, also shared with the audience the effects of inflation and the opportunity the current economic conditions present for Wild Alaska Pollock, particularly surimi seafood.
"Surimi seafood has a new opportunity throughout this time of inflation to bring in consumers—we can show them through continued recipe inspiration, such as the influencer content we showed earlier today, that there's new amazing options out there that are not sacrificing anything," said Hasse.
"Inflation is hitting consumers hard," added Germaine. "Inflation is bringing a slew of new consumers into the category that have never been there before—this is a moment for education. A lot of these consumers haven't heard of Wild Alaska Pollock or haven't visited the frozen food aisle before and that's a huge opportunity to connect to these new consumers and talk about the fish's attributes."
There was also significant discussion about the "surround sound" effect of GAPP's combined marketing and partnership efforts.
"People are seeing Wild Alaska Pollock more often in restaurants and on social media and that is a direct result of the direct-to-consumer influencer marketing GAPP has been doing—people are being exposed to the product in different ways than they have been in years past," said Germaine. "
"Fifty-five percent of consumers have found more recipes to for Wild Alaska Pollock, again, tied directly back to some of the direct-to-consumer influencer marketing work. And forty-three percent say it has been easier to find than Wild Alaska Pollock products—which can be tied directly to some of GAPP's partnership programs," said Germaine. "Meeting consumers at different touchpoints, it's important we're not only meeting them online but it's also important that they're seeing it in the store or dining out. That true 360-degree campaign is really having an impact."
In a fireside chat with GAPP Chief Executive Officer, McDonald's Director of Global Fish and Pork Sourcing Jason Cervone spoke highly of how critical that "surround sound" effect is in helping the industry's customers along the value chain.
"I would say that the brand equity, particularly in the U.S., of Filet-O-Fish has been impacted quite positively by the labelling.  It pulls people's mind away from perceptions of dirty Tilapia ponds and the like," said Cervone. "I think the industry already has [told a better story]. I've seen fantastic videos produced by GAPP and its members.  I know there are more out there; it's just a matter of getting them into customer's hands so they can work with them and potentially use them in consumer-facing facing messaging."
Cervone also noted to the Wild Alaska Pollock leaders in the industry that McDonald's wants to be the industry's customer of choice.
"Thank You! for all that you do every day for McDonald's, the seafood industry, for the country, and for the world," said Cervone. "In normal circumstances, it's a difficult job, but in the last 2 years, it's been Herculean.  We recognize the sacrifices made by employees, by management, and by the industry at large."
While Germaine and Hasse noted there remains a significant opportunity to educate consumers about surimi seafood, both noted the results of this year's survey were record-breaking.
"Surimi seafood holds a more positive association over imitation crab, despite a lower familiarity," said Hasse.  "When we look at barriers to surimi purchases, there is this perception that it is not a real fish. There is a huge opportunity to educate consumers about what surimi is and what it isn't."
"Surimi isn't imitation. It isn't fake. We need to be linking consumers to that recipe inspiration to drive that demand. Surimi is a big part of the second phase of the direct-to-consumer marketing campaign kicking off in January and we're excited to see more significant results from the next phase," added Germaine. 
Full results of the year-over-year study will be posted on the GAPP website in the coming days. The annual meeting will continue into the late afternoon with more high-profile speakers and will end with a closing reception this evening at the Westin Seattle.
In addition to Title Sponsors the Alaska Seafood Marketing Institute and Global Seas, GAPP would like to thank its other event sponsors: Alaska Fisheries Development Foundation, Alaska Ship Supply, Alaskan Observers, Inc, Aleutian-Pribilof Island Community Development Association, American Seafoods, Angulas Aguinaga, Aquamar, Arctic Storm Management Group, Baader, Beck Pack Systems, Central Bering Sea Fishermen Association, Clark Nuber, Coastal Villages Region Fund, Delta Western (NorthStar Energy), Diversified Communications, Eat Well Global, Fishermen's News, Glacier Fish Company, Global Seafood Alliance, Golden Alaska Seafoods, Gorton's, Grow Girl Seattle, High Liner Foods, Highland Refrigeration, HomeStreet Bank, Hospitality Performance Network Global, Islandsbanki, Ketchum, Key Bank, Lafferty's EMS, McKinley Research, Net Your Problem, Northwest Farm Credit Services, Norton Sound Economic Development Corporation, Ocean Beauty Seafoods, Perkins Coie, Petro Marine, Port of Seattle, Resolve Marine, Restaurant Depot, Seafood 101, Seafood Nutrition Partnership, Simrad, Sysco Pacific NW, Trans-Ocean Products, Trident Seafoods, UniSea Inc., United Catcher Boats, Urner Barry, Wells Fargo, Wesmar Company, and Westward Seafoods.