March 19, 2020
Schwan's Home Delivery Launches new Wild Signature™ Parmesan Alaskan Pollock in Partnership with GAPP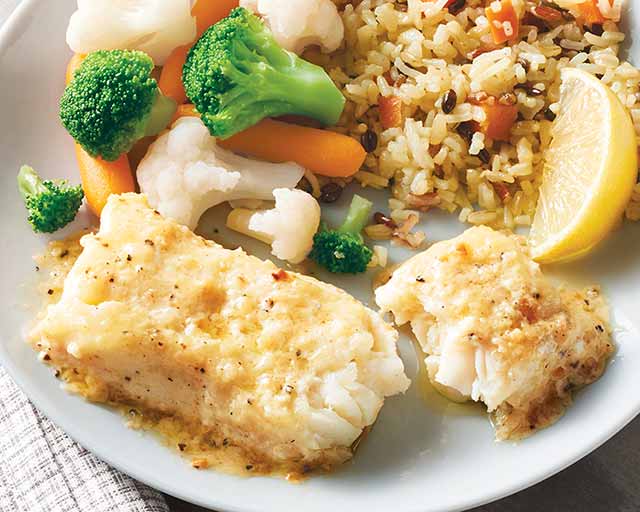 Photo Credit: Schwan's Home Delivery
This Lent, Schwan's Home Delivery customers will have a new item to enjoy: Signature™ Parmesan Alaskan Pollock that's delivered right to their door! The Wild Alaska Pollock fillets are individually selected, flaky and delicate, and flash frozen within hours of the catch. Each Wild Alaska Pollock fillet is coated in a rich butter Parmesan seasoned sauce, and individually vacuum sealed for freshness and convenience. As part of its North American Partnership Program round 3 funding, the Association of Genuine Alaska Pollock Producers (GAPP) announced its new partnership with Schwan's Home Delivery, a famed frozen food and meal delivery service looking to expand their seafood offerings and eager to do just that with Wild Alaska Pollock.
"If the goal of the partnership is to put Wild Alaska Pollock in front of more people, in more ways, more often globally, then this partnership certainly delivers: we're, quite literally, knocking on the door with delicious Wild Alaska Pollock," said Craig Morris, GAPP CEO.
Schwan's also features "Beer Battered Wild Alaskan Pollock" as part of its menu of meal offerings and will be using the GAPP round 3 partnership dollars to further market that product and launch the new Parmesan Wild Alaska Pollock offering.
"Food is bringing people together now more than ever and our ability to reach consumers who are in their homes with sustainable, nutritious and delicious Wild Alaska Pollock is more important than ever," added Morris.
Schwan's Home Delivery began in 1952 with one ambitious young man, Marvin Schwan, and a truck – a pioneer in grocery delivery. Today, they are the largest direct-to-consumer frozen fulfillment company, offering quick, easy meals, foods and treats that millions of customers love. Schwan's Home Delivery delivers high-quality food, delivered straight to customer doorsteps. Customers can order on Schwans.com, the Schwan's app, or by calling 1-888-SCHWANS.
In order to provide consumers looking for additional protein sources that are sustainable and wild-caught, Schwan's will launch a campaign that features a national catalog, website product promotion, targeted emails and targeted at the door promotions.
"This campaign is designed to reach millions of consumers with high frequency digital and direct sales," said Morris. "That's exactly the kind of impact we're looking to have: getting new consumers to try and buy our fish because we're confident once they do they'll keep coming back for more."   
For more information about this and other North American Partnerships, please visit the GAPP website at alaskapollock.org/partnerships.