April 07, 2022
Nordstrom Dishes up Wild Alaska Pollock for Earth Month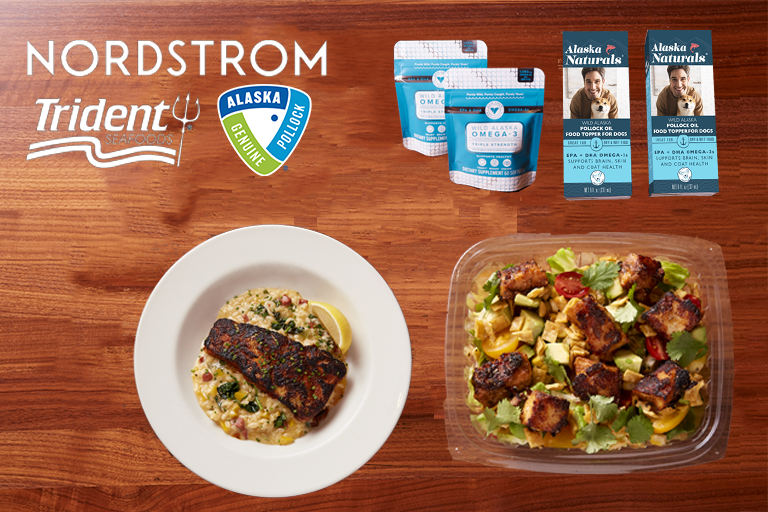 GAPP collaborates with Trident Seafoods and Nordstrom to celebrate Wild Alaska Pollock,
the great tasting, sustainable whitefish with a unique Partnership Program


SEATTLE, Wash.—
The Association of Genuine Alaska Pollock Producers (GAPP) is proud to announce a partnership with Nordstrom Restaurants and family-owned Trident Seafoods for Earth Month. This month, you can find two delicious and nutritious Wild Alaska Pollock dishes on the Climatarian Menu at Nordstrom Restaurants and Specialty Coffee Bars. Restaurants will feature
Blackened Wild Alaska Pollock
with Cajun Risotto and the Specialty Coffee Bars will feature a grab-n-go
Blackened Wild Alaska Pollock Taco Salad
available at Nordstrom through May 2nd.


"Nordstrom and Wild Alaska Pollock are perfectly paired. This program introduces the Nordstrom consumer who is interested in sustainability to one of the most climate-friendly proteins in the world," said Craig Morris, GAPP CEO. "It's good for you and it's good for the planet with a lower carbon footprint than plant-based meat and land-based proteins including beef, chicken and pork. What's more, Wild Alaska Pollock is the largest certified sustainable fishery in the world that is independently certified by both the Marine Stewardship Council and the Alaska Responsible Fisheries Management program."


"We are proud to be partnering with Nordstrom, a brand that has sustainability at its core and innovation in its spirit," said Joe Bundrant, CEO of Trident Seafoods. "One of our goals at Trident is to spread the word about Wild Alaska Pollock and its incredible benefits. These two delicious dishes showcase the beauty of this fish and how easy it is to create flavorful menu items using Wild Alaska Pollock as the inspiration."
Nordstrom Chefs, partnering with GAPP and Trident Seafoods team members spent a day together in January developing recipes and ideating on all things Wild Alaska Pollock. Wild Alaska Pollock's mild taste, white color and flaky texture make it a versatile chef favorite. The Nordstrom Chefs competed for which dish would be part of the April menu after the day-long creative session. The variety of dishes created spanned from grilled to blackened to breaded Wild Alaska Pollock in a vast array of preparations, global flavors and cuisines.
"Wild Alaska Pollock checks all the boxes when it comes to what we are looking to offer our customers. It's high quality, flavorful, nutrient dense, lean and most importantly sustainable," said Kati Lauffer, Director of Culinary for Nordstrom Restaurants. "At Nordstrom Ebars and Restaurants, we are committed to wholesome, clean and sustainably produced foods. We strive for simple, handcrafted cuisine with contemporary flavors & a fresh twist. These two Wild Alaska Pollock dishes more than deliver on those goals."
"We had an inspiring and fun cooking session with the Nordstrom Chefs to develop these two dishes." said Morris. "The biggest challenge was deciding which one of the amazing Wild Alaska Pollock dishes the Nordstrom Chef's created we should put on the menu. There were so many great dishes at the end of the day that we went ahead with two!"


"At Trident Seafoods, we catch the fish at the source and process fresh-cut fillets to deliver one of the most sustainable proteins on the planet," said Morgan Gabriel, Executive Chef of Trident Seafoods.


The work with Trident Seafoods and Nordstrom was part of a project selected during the latest round of funding in GAPP's Partnership Program last year. GAPP has awarded over $1.6 million in funding in this most recent round to fourteen partners whose goal is to increase awareness and demand of Wild Alaska Pollock. In total, GAPP has awarded over $6.5 million in GAPP Partnership Program funds over the past 3 years. This Nordstrom Partnership Program is a great example of how GAPP Partnership Program dollars are elevating the species and introducing this amazing fish to new consumers in new forms and channels every day.


Nordstrom stores will also be featuring two new Trident Seafoods Wild Alaska Pollock brands, one for people and one for their pets.
Pure Catch® Wild Omega-3 Supplements
is a concentrated supplement that delivers triple the omega-3s found in Wild Alaska Pollock fillets and
Alaska Naturals ™ Wild Alaska Pollock Oil Food Topper for Dogs
strengthens your pets' brain, skin and coat health. When we added in the pet food enhancer to our campaign with Nordstrom, we might need to change our catchphrase to, 'Wild Alaska Pollock— good for you, good for the planet, and good for your pet too!'" said Morris.


For more information about Wild Alaska Pollock and this partnership program visit
alaskapollock.org.