October 27, 2021
Nancy Fuller Describes Huge Opportunities to Introduce New Era of Consumers to Real Surimi Seafood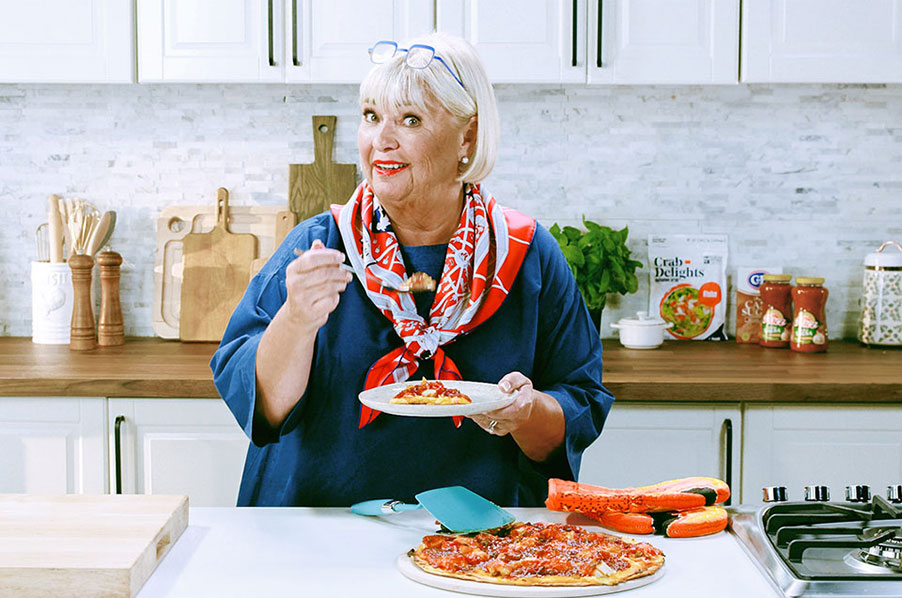 SEATTLE, Wash.—Surimi is definitely a star and it's rising, said Food Network Star Nancy Fuller of surimi seafood made from Wild Alaska Pollock, the Association of Genuine Alaska Pollock Producers (GAPP) announced today. Fuller told nearly 200 GAPP meeting attendees that surimi has the potential to be as popular as tuna—or even chicken—and be a bestseller by focusing on simple ingredients, simple messaging and simple labels.
"Surimi is a better fish product than tuna. Surimi has much more versatility, you can substitute it for just about any protein available, and it can be much healthier and can stand on its own," said Fuller. "Surimi can be the household word for the future. Surimi should be as popular and as easy as tuna-fish."
Fuller, who started her career as an upstate New York dairy farmer-turned caterer after having with six kids and a husband to feed, talked about how one of her most popular recipes has always been her crab dip, made with surimi seafood, butter, cream cheese and a host of other seasonings and fresh herbs.
"In 1974 I started using Surimi in a recipe I called 'crab dip'. Crab dip was the most popular menu item to my long list of brides, which were my specialty," noted Fuller. "The guests would scrape the dish for the last remaining morsel. Since I never had leftovers, I would keep back a small batch to stuff fish, bake pasta, mix to scrambled eggs or add to fresh vegetables. Surimi is one of the most versatile proteins I worked with."
Fuller previously worked with Trident to promote its Louis Kemp Crab Delights line of products, creating one-of-a-kind consumer-friendly recipes like Buffalo Crab Dip to be eaten during the famed food holiday: the Super Bowl.
"When I was approached by Trident Seafood, I was drawn to surimi because of the traditionalism of a well-founded product and the allure of a family business which matched my motto, which has always been 'it's always better with family,'" said Fuller.
Fuller repeatedly noted that surimi is one of the most versatile ingredients available, while challenging attendees—which included many surimi manufacturers—to think differently about product composition, messaging and marketing.
"We need a product that we can tout as clean, less is more," challenged Fuller. "Consistency, honesty, integrity in the product you produce—that will be your highway to the product you produce," said Fuller.
The need to think differently, as Fuller noted, is because the consumer today is different, seeking quick, easy recipes and simple ingredients that are healthy, sustainable and easy to prepare.
"Times always change, life always changes and change is good," said Fuller. "Today it's always about the label before the mouthful, a new breed of consumers, a new dynamic, a call for change. The 'newbies' was a new product a clean product—no additives—and a simple label talking about real seafood."
Fuller joked that even with all the changes in her life, that still-famous crab dip prevailed and now is the time to introduce a new generation of consumers to the popular recipe, and other new products. Fuller exclaimed that she can't wait to taste the industry's sea-burger, a new product she hopes to see at retail soon.
At retail, Fuller emphasized that the messaging about surimi seafood must be as clean as the product. Fuller challenged producers to make a product that is simple to say, simple to make, uncomplicated, simple, easy, pantry-ready.
"Imitation equals fake; most of us can't even pronounce sustainability much less know what it means," added Fuller. "The people buying surimi want to trust you, trust the product, they want to buy your product not be scared of it. Call it real seafood, seafood surimi, surimi seafood made with real Wild Alaska Pollock. Period."
More than anything, Fuller inspired attendees with the opportunities for Wild Alaska Pollock surimi, especially in a world looking for more protein with escalating food costs.
"Fishermen, it's all ahead of you, you have longevity ahead of you, you're a perfect fit for the masses. The people need your product for the protein value, especially to compensate for the lack of protein in the plant-based proteins," said Fuller. "This is an exciting new era, this is a time to relaunch your fabulous surimi seafood to a new generation. Surimi can be the household word for the future. This is your label, real surimi, surimi is real."
"Me, the Fuller farmer, the dairy farmer—I've had my day, but you, as fishermen with the ability to produce an authentic product, you are in the driver's seat. Surimi is your future. Cream rises to the top, and you will be the cream of the food chain crop," added Fuller in conclusion.
The third-annual GAPP Annual Meeting is being held virtually today with a wide array of distinguished speakers.  GAPP would like to thank its event sponsors: Glacier Fish Company, Global Seas, the Alaska Seafood Marketing Institute (ASMI), Neptune Snacks, UniSea, Trans-Ocean, Urner Barry, R3 Consulting, SeaTech, Clark Nuber, Trident Seafoods, Ketchum, Parker Smith Feek (PSF), Gallagher, Edelman, American Seafoods and Trans-Ocean.
About GAPP
The Association of Genuine Alaska Pollock Producers (GAPP) is dedicated to the marketing of once-frozen pollock products, harvested and processed in Alaska. A non-profit Alaska corporation formed in 2003, GAPP is working to promote Genuine Alaska Pollock in major whitefish markets around the world, with a focus on Europe, North America and Japan. It is our goal to educate both seafood buyers and consumers about the superior benefits of Genuine Alaska Pollock®.  www.alaskapollock.org
About Nancy Fuller
Nancy Fuller is a warm, loving mother of six and grandmother of 13, and the owner of Ginsberg's Foods, a multimillion-dollar business she runs with her husband. Nancy lives in an authentic 17th-century farmhouse on beautiful, rolling land in New York's Hudson Valley region. Nancy's food and recipes represent her surroundings on the farm and her philosophy of feeding others with delicious, simple meals from the heart. In addition to hosting her show Farmhouse Rules, Nancy is also a judge on Holiday Baking Championship and Spring Baking Championship. For recipe ideas, please visit www.fullerfarmer.com.