October 05, 2020
H-E-B Finalizes Switch to All Wild Alaska Pollock Surimi for Sushi in Stores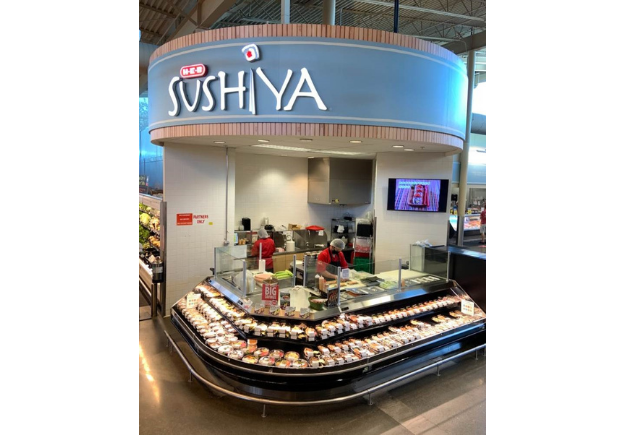 H-E-B sushi kiosk
Just in time for National Seafood Month, leading Texas retailer H-E-B will source only Surimi made from Wild Alaska Pollock in its more than 260 in-store sushi locations, the Association of Genuine Alaska Pollock Producers (GAPP) announced today. The change, which was first announced at the 2019 Wild Alaska Pollock Annual Meeting, will mean an additional one million pounds of surimi made from Wild Alaska Pollock will be sold by the retailer next year.
"This is such incredible news for our fish and a recognition of all of Wild Alaska Pollock's attributes," said Craig Morris, GAPP CEO. "H-E-B is a partner that cares deeply about all of the products it sources and the story behind them and we're excited to continue working with them to share our Surimi's story with new customers."
The news comes just as National Seafood Month, designated in October, is set to begin and just a week before the 2020 Wild Alaska Pollock Annual Meeting kicks off. Jason Driskill, Director of Seafood at H-E-B made the announcement about the retailer's intent to make the switch exclusively to surimi seafood made from Wild Alaska Pollock at the industry's meeting last year as part of a panel discussion about future opportunities for Wild Alaska Pollock.
"This move to Wild Alaska Pollock in our sushi program has been one of our top sourcing and sustainability goals, and we're proud to bring another great program from Alaska to our customers in Texas," said Driskill of the announcement.
Driskill noted that part of the rationale behind the switch was indeed Wild Alaska Pollock's strong sustainability story, in addition to its U.S. origin and the fact that the fish is wild-caught. Those attributes are indeed the most motivational for consumers, according to proprietary research conducted by GAPP over the last year and highlighted in the GAPP Communications Toolkit.
"It's great that all the attributes we tested and validated with consumers are exactly the attributes that makes our surimi the most attractive to a strong retailer like H-E-B," added Morris. "I'm excited about our forthcoming results of our industry's Life Cycle Assessment and working with H-E-B and others to help talk about the industry's low carbon footprint and strong legacy of sustainability best practices."