September 16, 2020
GAPP Annual Meeting Panel to Discuss Marketing Changes Amidst Global Pandemic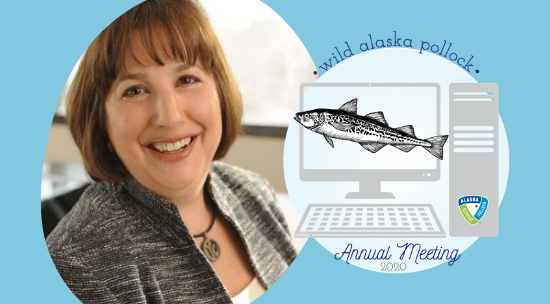 Margery Schelling, EVP of Marketing, Strategy and Innovation, will host the Annual Meeting panel.
As companies in the food and beverage space scramble to make sense of consumer preferences that have changed overnight as a result of COVID-19, five leaders in the seafood space will share their insights on marketing in the age of Covid, the Association of Genuine Alaska Pollock Producers (GAPP) announced today. A star-studded panel of some of seafood's most seasoned marketers will offer their thoughts about which trends—like well-stocked freezers and no-contact grocery delivery—are here to stay and how they are preparing for a new future for Wild Alaska Pollock.
"I think we can all agree that this new decade has seen more change in consumer buying habits and preferences than any of us could have predicted," said Craig Morris, GAPP CEO. "I think there's been some huge positives for seafood and Wild Alaska Pollock in particular and I'm eager to hear if our distinguished panel agrees that there's more opportunity than challenges ahead for our fish."
The second annual Wild Alaska Pollock meeting, scheduled to take place on October 12, 2020 from 8:00am to 1:00pm PST, will be held virtually and will feature a variety of engaging speakers. This panel, aptly titled 'Marketing During Covid" will be moderated by Margery Schelling of American Seafoods and feature panelists from High Liner Foods, Gorton's Seafoods, Nomad Foods, Trident Seafoods and OneforNeptune. 
"This panel represents diverse perspectives on how their products and companies met the changing needs of consumers during the pandemic and how they have changed their approach to marketing going forward," said moderator Margery Schelling. "I think these panelists will bring to the table (no pun intended) the hard lessons learned during this interesting period and share their thoughts on what's next with Wild Alaska Pollock as the perfect protein."
All five companies are also participants in GAPP's North American or European Partnership Programs and will share their perspectives on how they've had to adjust their programs during this period to account for rapidly changing consumer needs and preferences due to the global pandemic.
Registration for the Wild Alaska Pollock meeting is free and interested participants can register here. The event is supported with generous support from the following sponsors: American Seafoods, Alaska Seafood Marketing Institute, Clark Nuber, The Garrigan Lyman Group, Glacier Fish Company, Golden Alaska Seafoods, OneforNeptune, Starbound, Sysco Seattle, Trans-Ocean Products and UniSea. GAPP is still seeking sponsorship for this event, so if your company is interested in supporting this important industry event, please contact Craig Morris at Craig.Morris@alaskapollock.org or visit the GAPP website to learn more about sponsorship opportunities.