October 17, 2022
First Ever Wild Alaska Pollock Direct-to-Consumer Marketing Campaign Increases Sales Seventy-Eight Percent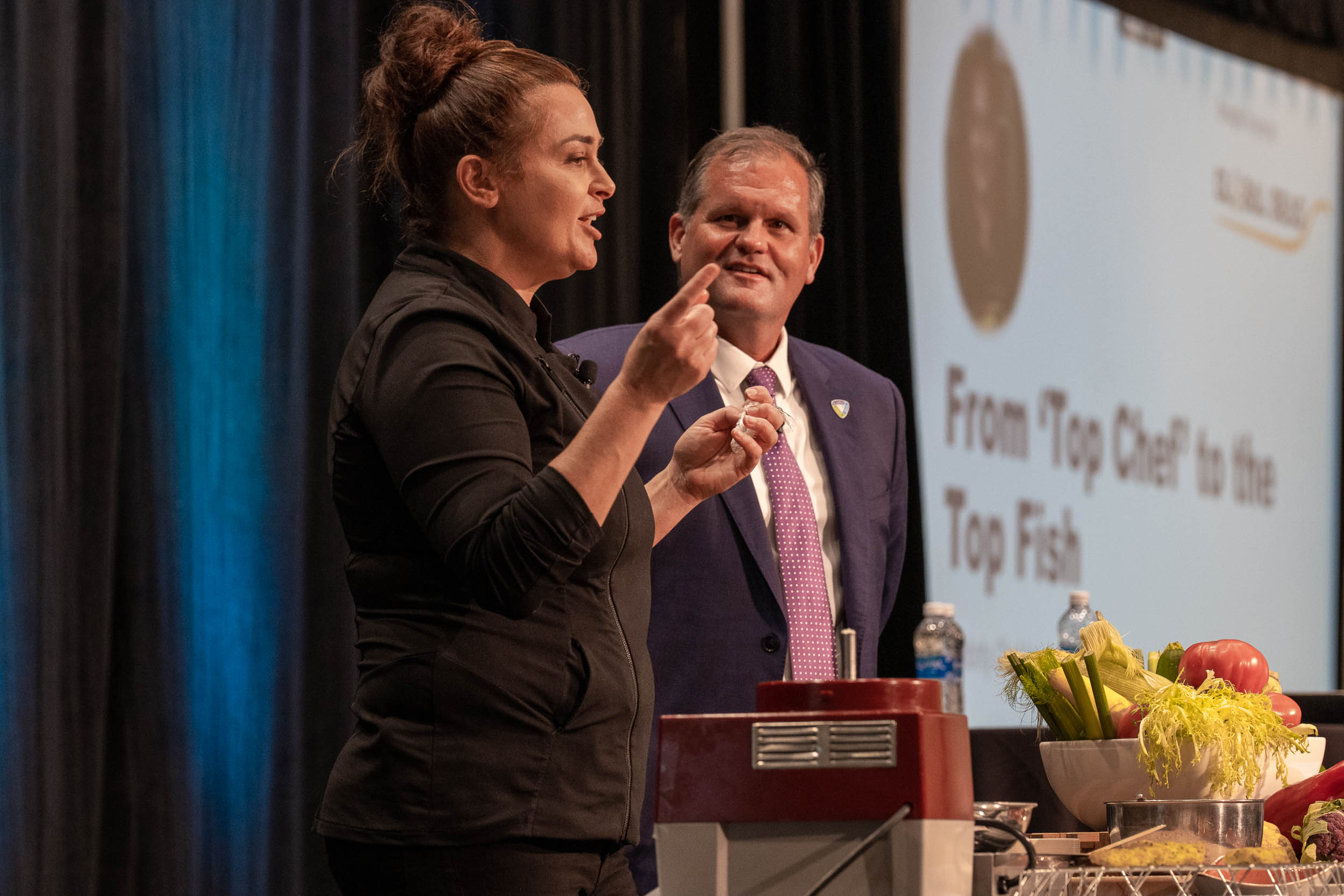 Wild Alaska Pollock fillet sales had a seventy-eight percent lift for consumers who saw original content this past July from one of six influencers, including celebrity chef Antonia Lofaso, experts from Ketchum told the audience at the Wild Alaska Pollock meeting today at the Westin Seattle. At the fourth-ever Wild Alaska Pollock Annual Meeting, hosted by the Association of Genuine Alaska Pollock Producers (GAPP), the more than 250 attendees heard the hot-off-the-presses results of GAPP's first direct-to-consumer awareness and demand campaign and got to enjoy a live cooking demonstration from Chef Antonia Lofaso, who led the campaign's team of content creating influencers.
"What we did, is we are able to track influencers' followers and we are able to match those followers to their to loyalty card purchases. We are able to take our exposed group and compare them to similar people in a control group—all regular seafood eaters— and we compare these two audiences," explained Ketchum's Global Head of Analytics Mary Elizabeth Germaine. "[Influencer] content drove conversion in retail. When we look at all of the ways consumers can buy Wild Alaska pollock represented by many of the brands in this room, we saw those exposed to our content drove a sales lift that was 78% higher than those not exposed. We also saw an 18% sales lift for surimi, which is massive."
Germaine also explained that the campaign metrics also focused on year-over-year comparisons in terms of sales.
"We looked at our influencer audiences and we looked at the portion who bought Wild Alaska Pollock a year ago and compared that to those who purchased during the same period [this year]," explained Germaine. "We doubled the number of people for each influencer that were buying Wild Alaska Pollock fillets over last year. And then you see the same with surimi. These results are exciting, and this is only phase one of this campaign just think what these will be six months from now."
Audience participants were treated to a live cooking demonstration of Chef Lofaso's Wild Alaska Pollock Milanese, an original recipe that was seen as part of the campaign by more than 12 million people. During her presentation, Chef Lofaso shared her history both as a restauranteur and a television chef personality and the impact that food television and social media has made on consumers.
"Over the last 15 years of doing television, I've seen the education behind it become an enormous focus. Now there's so much connection between people who are coming into the restaurants, people who I'm seeing on the street and how it's [television] has touched people or opened up people's eyes and they're trying things and making things they never have and that's because they feel they've been given the confidence and education to make that happen," said Lofaso of how food television has evolved.
Chef Lofaso also shared her candid perceptions of Wild Alaska Pollock and the future opportunities for the fish.
"Before I work with someone, I need to make sure there's belief there from me," said Lofaso. "What I love about Wild Alaska Pollock is the fact that there's a firmness and a flakiness. Not many of these whitefish can hold up to strong flavors. Wild Alaska Pollock is such a forgiving fish, I can use it in the very most aggressive ways that I want to without having to be too delicate but at the same time it eats delicate."
Chef Lofaso was optimistic about the future of Wild Alaska Pollock in higher-end restaurant settings as well.
"The U.S. likes what it likes because that's what they've been told to like. It's about getting out there and educating chefs and others about this amazing product and encouraging them to try it in their own way," added Lofaso.
The annual meeting will continue into the afternoon with more high-profile speakers from McDonald's, Arby's and Alaska Airlines, among others, and will end with a closing reception this evening at the Westin Seattle.
In addition to Title Sponsors the Alaska Seafood Marketing Institute and Global Seas, GAPP would like to thank its other event sponsors: Alaska Fisheries Development Foundation, Alaska Ship Supply, Alaskan Observers, Inc, Aleutian-Pribilof Island Community Development Association, American Seafoods, Angulas Aguinaga, Aquamar, Arctic Storm Management Group, Baader, Beck Pack Systems, Central Bering Sea Fishermen Association, Clark Nuber, Coastal Villages Region Fund, Delta Western (NorthStar Energy), Diversified Communications, Eat Well Global, Fishermen's News, Glacier Fish Company, Global Seafood Alliance, Golden Alaska Seafoods, Gorton's, Grow Girl Seattle, High Liner Foods, Highland Refrigeration, HomeStreet Bank, Hospitality Performance Network Global, Islandsbanki, Ketchum, Key Bank, Lafferty's EMS, McKinley Research, Net Your Problem, Northwest Farm Credit Services, Norton Sound Economic Development Corporation, Ocean Beauty Seafoods, Perkins Coie, Petro Marine, Port of Seattle, Resolve Marine, Restaurant Depot, Seafood 101, Seafood Nutrition Partnership, Simrad, Sysco Pacific NW, Trans-Ocean Products, Trident Seafoods, UniSea Inc., United Catcher Boats, Urner Barry, Wells Fargo, Wesmar Company, and Westward Seafoods.