October 18, 2022
Consumers Want to be 'Taken Care of' and are More Spontaneous, Says Alaska Airlines and Holland America Representatives at GAPP Annual Meeting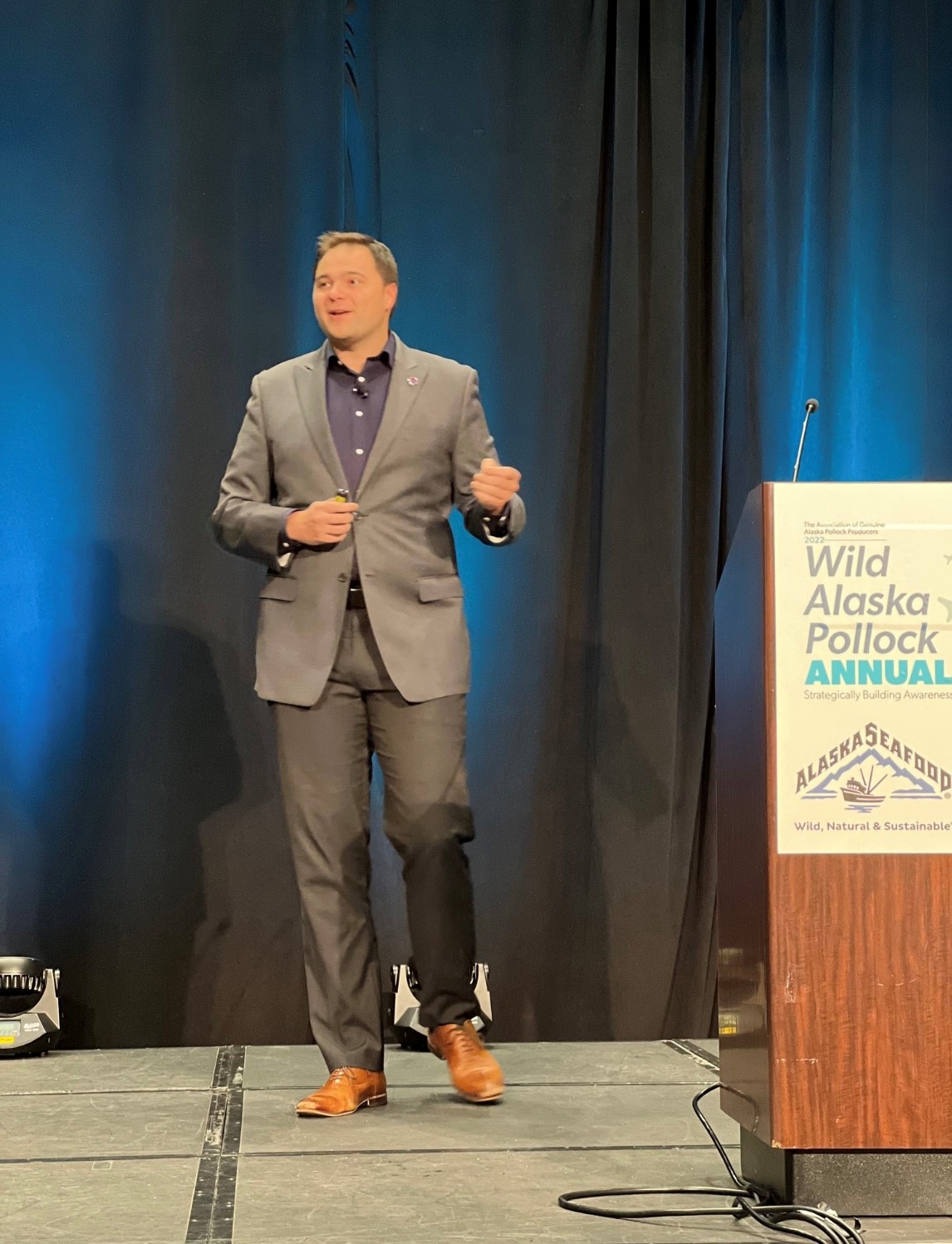 Consumers in a post-COVID world want to be "cared for" said Holland America's Vice President of Marketing and E-Commerce at the Wild Alaska Pollock Annual Meeting yesterday. Cole spoke earlier in the day on a panel moderated by Alaska Seafood Marketing Institute's (ASMI) Megan Rider about the partnership between ASMI and Holland America, the importance of sustainability and how the changing consumer has changed the travel and hospitality industry. Speaking on similar themes, Alaska Airlines' GM of Airline Planning and Network Performance shared his thoughts on airline travel later in the day with the nearly 250 attendees at the industry's annual event, hosted by the Association for Genuine Alaska Pollock Producers (GAPP).
"People were thrilled when we [Holland America] returned, they were excited to reconnect with us, to the brand and we have such a huge community of cruisers coming back together," said Cole of return to cruising post-COVID. "The biggest shift we saw was the emotional impact of the pandemic—customers really wanting to be cared for or taken care of. How do we take these well-planned itineraries and be more thoughtful about them? How do we take their culinary needs more into account and their onshore excursions into account? We're seeing people just wanting to be even more cared for since we've returned."  
Cole noted the over four-thousand pounds of fresh Alaska seafood on every cruise including Wild Alaska Pollock fish sticks in discussing the culinary opportunities going forward for Wild Alaska Pollock as the cruise line looks to elevate its dining experiences even further.
"Fish sticks are a huge fan favorite for our guests and crew alike. The guests love them," said Cole. "With the demand for crab and the shortage of crab, Wild Alaska Pollock crab sticks as an alternative are really growing and the guests are really enjoying them. But there's more opportunities beyond those as well—Wild Alaska Pollock has a unique flavor profile that can be used in new dishes-- rice, pasta salads."
Ensuring guests can be 'cared for' from a culinary standpoint outside of sit-down meals and dining options is also a growing focus for Holland America.
"Looking at more convenience applications—we've been looking at how do we do more fish cakes and fritters and eat and go and [so people can] move about the ship or go to the pool as opposed to sit-down," explained Cole. "We're looking at new applications—as we evolve our experience as we have guests who want that 'cared for' experience we are looking at how we can take care of them in different areas around the ship, too."
Both Cole and Kevin Lemme noted that people seem to be returning to normal and 'not waiting' to take the vacation or to travel.
"The majority of bookings are coming in within one month of flying—all of the algorithms we have built over years and years of bookings have been thrown off," said Lemme of the post-COVID airline travel world. "We're seeing a lot of demand now in the 'shoulder seasons' which has to do with the pent-up demand—people aren't waiting for summer or spring break to go where they need to go or go on vacation."
Full presentations from the GAPP Annual Meeting will be posted on the GAPP website in the coming days. The annual event, held at the Westin Seattle, concluded yesterday with a cocktail reception for guests, members and event sponsors.
In addition to Title Sponsors the Alaska Seafood Marketing Institute and Global Seas, GAPP would like to thank its other event sponsors: Alaska Fisheries Development Foundation, Alaska Ship Supply, Alaskan Observers, Inc, Aleutian-Pribilof Island Community Development Association, American Seafoods, Angulas Aguinaga, Aquamar, Arctic Storm Management Group, Baader, Beck Pack Systems, Central Bering Sea Fishermen Association, Clark Nuber, Coastal Villages Region Fund, Delta Western (NorthStar Energy), Diversified Communications, Eat Well Global, Fishermen's News, Glacier Fish Company, Global Seafood Alliance, Golden Alaska Seafoods, Gorton's, Grow Girl Seattle, High Liner Foods, Highland Refrigeration, HomeStreet Bank, Hospitality Performance Network Global, Islandsbanki, Ketchum, Key Bank, Lafferty's EMS, McKinley Research, Net Your Problem, Northwest Farm Credit Services, Norton Sound Economic Development Corporation, Ocean Beauty Seafoods, Perkins Coie, Petro Marine, Port of Seattle, Resolve Marine, Restaurant Depot, Seafood 101, Seafood Nutrition Partnership, Simrad, Sysco Pacific NW, Trans-Ocean Products, Trident Seafoods, UniSea Inc., United Catcher Boats, Urner Barry, Wells Fargo, Wesmar Company, and Westward Seafoods.