August 26, 2020
Chef Dan Churchill to Keynote 2nd Annual Wild Alaska Pollock Meeting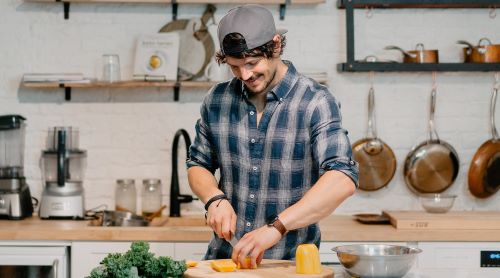 Image Credit: Dan Churchill
Chef and ambassador Dan Churchill will provide Wild Alaska Pollock annual meeting attendees with a first-hand perspective on the health-conscious consumers that follow his example and dine at his restaurants, and on his newfound love for Wild Alaska Pollock, the Association of Genuine Alaska Pollock Producers (GAPP) announced today. During his keynote address at the Association's second-annual meeting, Chef Churchill will give a personal account of why partnering with the industry was a logical fit for his popular lifestyle and fitness brand.
"Rarely do we get the opportunity to hear directly from a coveted influencer and chef like Dan Churchill about what's working and what's not when it comes to our fish," said Craig Morris, GAPP CEO. "I know Dan is excited about the future of Wild Alaska Pollock and wants to see more people realize the benefits of consuming our perfect protein."
The second annual Wild Alaska Pollock meeting, scheduled to take place on October 12, 2020 from 8:00am to 1:00pm PST, will be held virtually and will feature a variety of engaging speakers. Chef Churchill will provide the mid-session keynote address, looking at Wild Alaska Pollock's future as someone with deep ties into the global food scene.
Currently based in New York, Churchill is the chef and co-founder of Charley St and is the host of the popular 'The Epic Table' podcast. Dan is regularly featured on Good Morning America, on ABC's The Chew and on The Food Network and as a result, has reached an audience in excess of 10 million people. The restaurant, in the popular Nolita district of Manhattan, is also home to Dan's own production kitchen where he films videos and content with thought leaders in the food and wellness space.
"I personally love seafood in general because of how versatile – and nutritious – it is. Seafood is a protein that can be cooked in so many ways and can take on a wide array of flavors and is seen in nearly every cuisine on earth," said Churchill. "With Wild Alaska Pollock, you get most importantly a super tasty fish that is easy to cook with and without a doubt one of the most sustainable fish out there to harvest. Wild Alaska Pollock understands and respects the great need we face to improve our food systems and especially one of our most valuable resources, our ocean waters."
Chef Churchill has partnered with GAPP and the Wild Alaska Pollock industry for the last couple of years through GAPP's North American Partnership Program, working to build awareness and demand for Wild Alaska Pollock in new channels and with new consumers here in the U.S. Recently, Dan has worked to raise awareness about Wild Alaska Pollock's strong nutritional profile, including its role in increasing muscle mass and density, as recent studies have shown.
"If you know Dan, you know his mission is simple: to use food to bring people together and enrich their daily lives," said Morris. "That mantra has made Dan a perfect partner for our fish from the start as I like to think that's exactly what our industry is seeking to do too—enrich people's daily lives. I can't wait to hear from him at our second annual event about what the future holds for our fish."
Registration for the Wild Alaska Pollock meeting is free and interested participants can register here. The event is supported with generous support from the following sponsors: American Seafoods, Alaska Seafood Marketing Institute, Clark Nuber, Glacier Fish Company, Golden Alaska Seafoods, Starbound, Sysco Seattle, Trans-Ocean Products, and UniSea. If your company is interested in supporting this important industry event, please contact Craig Morris at Craig.Morris@alaskapollock.org or visit the GAPP website to learn more about sponsorship opportunities.