October 27, 2021
Brand Trust, Sustainability, Transparency and Opportunity Key Themes at Third-Ever GAPP Annual Meeting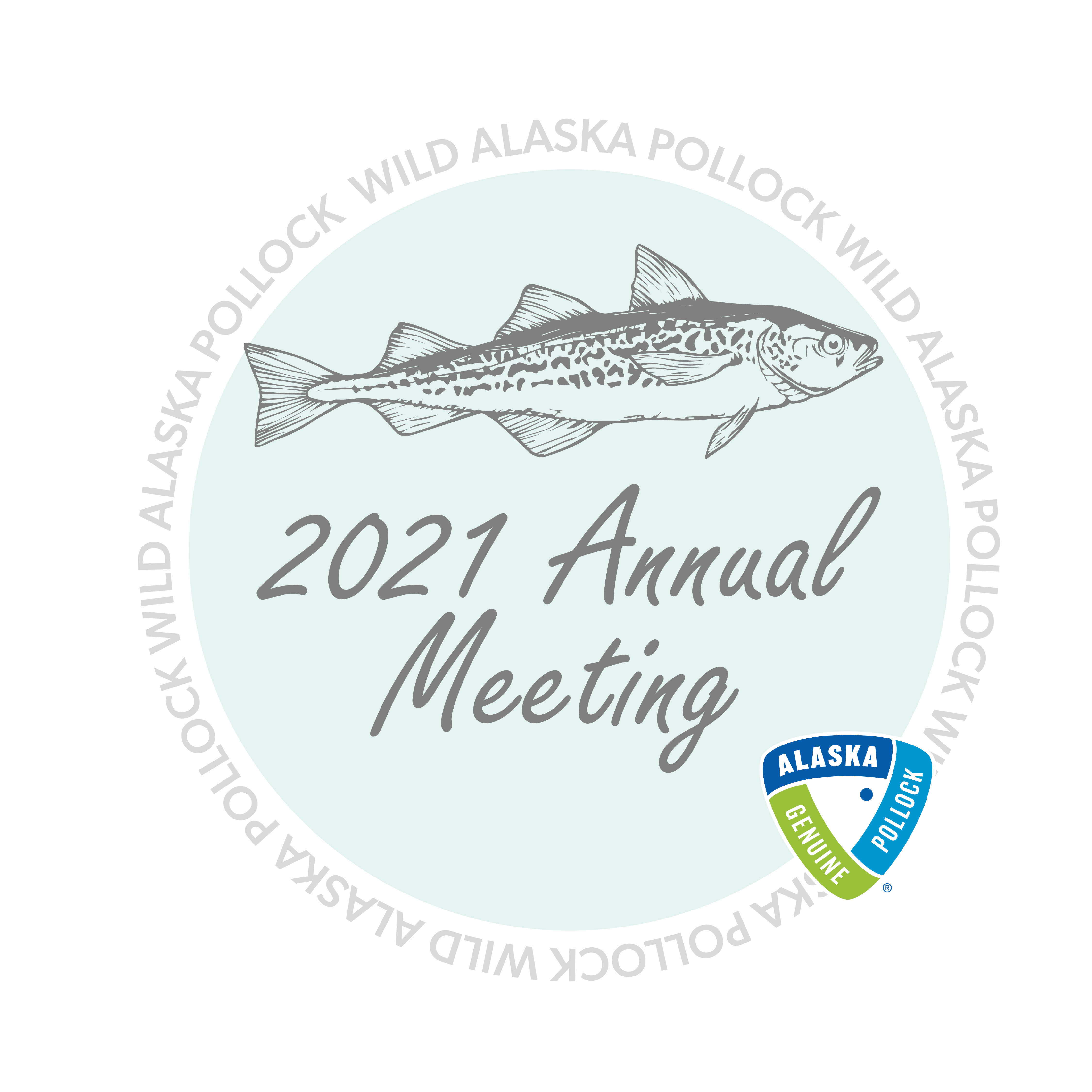 SEATTLE, Wash.—The work to build demand for Wild Alaska Pollock, specifically Wild Alaska Pollock surimi seafood, is full steam ahead with research and insights to underpin new initiatives in the coming year, the Association of Genuine Alaska Pollock Producers announced today. At its third-ever Wild Alaska Pollock Annual Meeting, a variety of distinguished speakers highlighted the significant opportunities for the fish that have been identified through proprietary research over the last year and shared the roadmap for the path forward to continue building demand with the nearly 200 meeting attendees in attendance virtually.
Alaska Senators Lisa Murkowski and Dan Sullivan opened the meeting with video messages commending the industry on its recently-released Life Cycle Assessment results that revealed Wild Alaska Pollock as one of the lowest carbon impact and most climate-friendly proteins on the planet today. Both Senators also noted the loss of industry legend and pioneer Chuck Bundrant and encouraged GAPP and the industry to continue building upon his legacy.
Edelman CEO Richard Edelman shared the latest results of the Edelman Trust Barometer with meeting attendees, noting that trust is at a premium right now, with consumer trust at an all-time low.
"Brand trust is now more important than brand love; it's the critical factor for consumers at the point of purchase," said Edelman. "Consumer trust drives growth, particularly in the food and beverage industry. We must deliver on sustainability, diversity and nutrition to position ourselves as a long-term partner with consumers for life."
During the morning's partnership panel, representatives from Neptune Snacks, Trident Seafood: Louis Kemp, Aquamar, Inc. and New England Seafood discussed both brand love and brand trust, with an emphasis on both new products and the work to showcase Wild Alaska Pollock's sustainability story.
"A key element of our campaign is telling the story of the fish; how to take a raw fillet and turn it into a delicious meal and the GAPP partnership has allowed us to do that better," said Rich Lawrence
of New England Seafood's "Fish Called Fred" campaign. "Sustainability is definitely part of that story and our goal is to gain more retailers in 2022."
"Neptune is a mission driven brand with a desire to bring a new product into the market that was as sustainable as it can be," added Nick Mendoza, founder of Neptune Snacks. "The amazing LCA (Life Cycle Assessment) information and the full-cycle sustainability of the fishery is huge for us.  Wild Alaska Pollock is number 1 and 2 in our jerky line and the story behind it is part of why."
Wild Alaska Pollock's nutritional attributes also remain a high selling point for driving consumer awareness and purchase intent for consumers.
"Wild Alaska Pollock ranks third-lowest compared to other commonly purchased proteins when it comes to fat and saturated fat and has the second-highest level of Omega 3s which makes it attractive to both athletes and health-conscious consumers alike," said Jenna Mills, a speaker from Eat Well Global, a leading nutrition research firm during her presentation on GAPP's work to ascertain the nutritional selling-points for U.S. retail-available Wild Alaska Pollock products.
By continuing to build-out the story about Wild Alaska Pollock as good for you and good for the planet with science-backed proof points, speakers throughout the day discussed the unparalleled global possibilities for the fish in all forms.
American Seafood's Rasmus Sorensen and Erin Harrington of McKinley Research announced GAPP's latest research project, affectionately named "Wild Alaska Pollock 2040" to explore the export market opportunities for the fish by "grabbing the binoculars and looking 20 years into the future."
"Just imagine Wild Alaska Pollock ceviche being the most known dish in Peru. Or Wild Alaska Pollock 'Birds Nest' in China – or perhaps Wild Alaska 'lolo' being at the top of menu's in Fiji. I can certainly imagine Wild Alaska Pollock 'bacalao' in Portugal and Brazil," said Sorensen of the new research. "With this project we hope to create a compass for GAPP and its members which can help us stay ahead of some of the global trends and opportunities in the years to come."
One such opportunity was clearly surimi, which was emphasized throughout the day. GAPP discussed its ambitious roadmap for "harnessing surimi seafood's star power," which includes working with National Fisheries Institute to seek truthful labeling through the Food and Drug Administration (FDA), launching an ambitious influencer-led holiday recipe campaign direct to the consumer, and look forward to find the next big product idea through partnerships.
Speakers expressed great excitement over the future for surimi and noted how GAPP is systematically working against an aggressive roadmap to drive trial among consumers in the U.S. and around the world.
"Surimi gets me excited," said Amin Nabli of Aquamar, Inc. during a morning panel.  "The consumer research work GAPP has done over the last year was just a foundation, now the big idea work begins to develop the broader story, the Wild Alaska Pollock surimi story, the sustainability story. We need to stop thinking of surimi as just a commodity."
GAPP also unveiled its plans for the first-ever direct-to-consumer holiday campaign utilizing star-cultural influencers and introducing surimi seafood into popular seasonal recipes.
"This is a comprehensive, 365-degree program to hit consumers in a variety of ways to drive awareness and inspire usage over the next couple of months," said Ketchum head of Global Analytics Mary Elizabeth Germaine. "Through this platform, we are able to connect online media consumption with brick-and-mortar sales during the 8-to-10-week holiday window of the campaign and demonstrate convergence rather than just showing clicks or impressions or engagement rates."
The day ended by examining the possibilities for Wild Alaska Pollock, even beyond Surimi by founder of Changing Tastes, Arlin Wasserman who challenged attendees on how Wild Alaska Pollock can become the next "chicken."
Said Craig Morris in closing remarks, echoing the sentiments of the opening presentations, "Our industry has made great strides thanks to the vision, leadership and passion of our Board and members. I've been struck by the stories and anecdotes I've heard about Chuck Bundrant since his passing and about his courage and compassion in particular. It is clear that Chuck took many calculated risks and propelled the industry forward, but always did so with the people—the fishermen—at the heart of his plan. The fish and those that harvest it are at the heart of everything GAPP does as well. Three cheers to the road ahead."
The third-annual GAPP Annual Meeting was held virtually today with a wide array of distinguished speakers.  GAPP would like to thank its event sponsors: Glacier Fish Company, Global Seas, the Alaska Seafood Marketing Institute (ASMI), Neptune Snacks, UniSea, Trans-Ocean, Urner Barry, R3 Consulting, SeaTech, Clark Nuber, Trident Seafoods, Ketchum, Parker Smith Feek (PSF), Gallagher, Edelman, American Seafoods and Trans-Ocean.