Craig Morris , May 23, 2023
The Risk-Reward Equation in Sponsoring a Professional Sports Franchise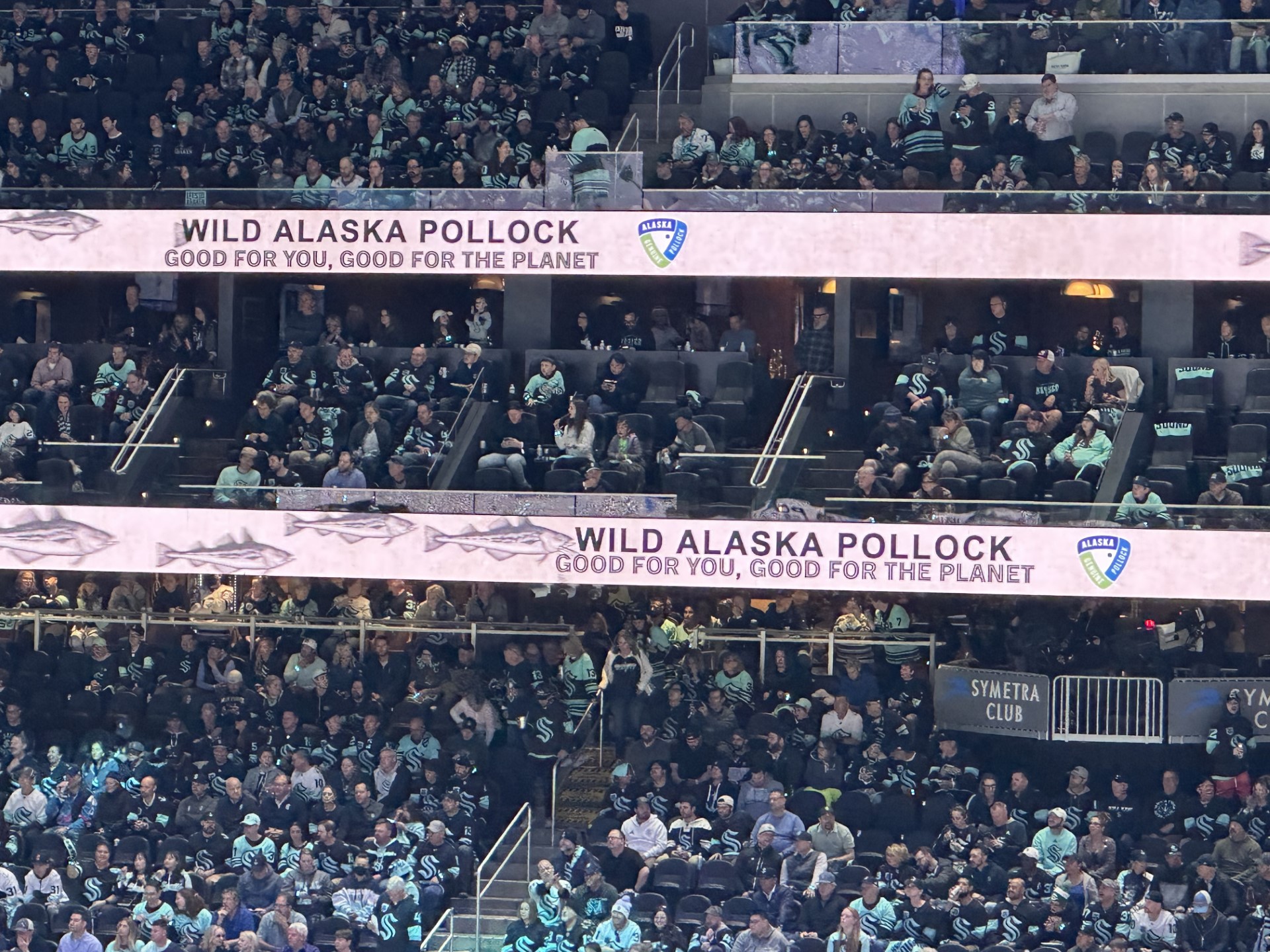 One year ago, if you Googled the National Hockey League's Seattle Kraken, the most frequent question (I kid you not) was "have the Seattle Kraken ever won a game" (to be clear, they had). Fast-forward to this season and the Kraken roared from the proverbial deep to defeat the Stanley Cup Champion from 2022 and made it all the way to the second-round of the playoffs, suffering a heart-breaking defeat to the Dallas Stars in the seventh and last game of the series.
With that Google search in mind, you might be wondering why the Association of Genuine Alaska Pollock Producers (GAPP) then decided to partner with the Seattle Kraken and their home, Climate Pledge Arena (CPA) and be so eager to be called the "Official Whitefish of the Seattle Kraken and Climate Pledge Arena". So here's the risk-reward analysis for sports sponsorships, as I see it.
First and foremost, win or lose, Climate Pledge Arena packs in attendees. There's a quality that only sports has: hope. Even if your team is down, those die-hard fans believe in the opportunity, the upside potential, the comeback. They hold onto that and keep attending games. That attendance represents consumers—consumers who you (as a brand) have the opportunity to reach. Our partnership with the Seattle Kraken and CPA allows for us to have a built-in audience to test not only our messaging about Wild Alaska Pollock, but also new recipe ideas and preparations that could expand to other venues as well. Not to mention that our partnership also gets us access to people who are visiting CPA for an event outside of a Kraken game—Madonna anyone?
The partnership with the Kraken, and more critically CPA also allows us—as a brand—to align our values with another organization that prioritizes one of our core attributes: sustainability. That shared value allows us a shared platform to capitalize on. If you don't know, CPA is on a mission to be the first net zero carbon certified arena in the world. When CPA makes headlines for their sustainability commitments and achievements, those commitments and achievements are realized, now in part, to the sustainability commitments of our own fishery and industry. Their "wins" around sustainability are our shared wins and our shared opportunity to talk about one of the most winning attributes of Wild Alaska Pollock—one that only rises (according to our year-over-year consumer surveys) in importance with consumers.
There's another thing unique to sports—and that's a hometown fanbase. Much of our fleet, the fleet that harvests Wild Alaska Pollock day-in and day-out, is based here in Seattle. Our boats dock here in the off-season for repairs, rejuvenation and recharging before headed back to Alaska. Many of our industry's leaders are based here in Seattle. And, of course, the on-shore facilities that process Wild Alaska Pollock and the resource itself, that amazing fish, is located off the shores of Alaska. So, the fact the Seattle Kraken market covers not only Oregon, parts of Idaho and Montana, but most importantly Washington and Alaska was key to us. It is our home. That built-in, shared fanbase is something that unites us, the Wild Alaska Pollock industry, with the Seattle Kraken and CPA: our common roots, our backyard so to speak. There's something about rooting for the home team. Partnering with an organization or a team outside of your home base just doesn't have the same ring to it. In marketing you always want to own your backyard. And, well, the Seattle Kraken and CPA is quite literally in our backyard just a short walk from both the Port of Seattle's Terminal 91 and Fishermen's Terminal where much of our fleet is based. Our partnership allows us to give back to our hometown and the markets covered by the Seattle Kraken and aligns us with a new Seattle team that's on the up-and-up.
And, speaking of the up-and-up, let's talk upside potential. While that may have been the google search a year ago, I think we can all acknowledge that the Seattle Kraken had a heck of a season this year. By definition, their winning is a win for us: a win-win, if you will. Every additional game that the Kraken play outside of normal season is another opportunity—a bonus if you will—for our messaging, our menu items, our consumer to be reached both in and outside the arena. Those playoff games are more watched, more viewed and more covered and with our Wild Alaska Pollock swimming around the arena and our sponsorship that's a bonus for us and our industry's dollars.
For some, aligning yourself and your brand with a sports franchise might be more risk than reward. But for us, and Wild Alaska Pollock, it was—and continues to be—all upside. Here's to the Seattle Kraken and another great season starting later this year and here's to Wild Alaska Pollock: two things that "win" in the deep.