Bob Desautel , January 21, 2020
The 2020 A SEASON Opening of Wild Alaska Pollock Fishing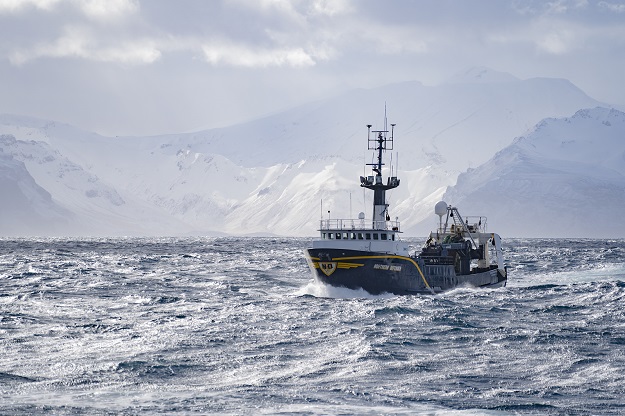 It's kind of like the first day of school (from what I remember!) AND IT MAKES ME GIDDY. Wild Alaska Pollock "A" season opened yesterday—the first day of fishing for 2020. This is the first opportunity OUR FISHERMEN have to harvest the nutritious and delicious Wild Alaska Pollock from the icy cold waters of Alaska. "A" season typically runs every year from late January to mid-April, but many of our boats catch their quota well in advance of the final drop-dead season closing date.
Since "B" season ended in October, we have spent several months preparing our vessels, checking our gear, hiring, educating and training or re-training our crew to ensure every piece of equipment is in tip-top shape. Many of our boats, including my pride and joy, The Defender, set sail from home port in Seattle, WA last week in order to be in Dutch Harbor, AK for the start of the season yesterday.
It's often a snowy, cold and windy day in January when the entire Wild Alaska Pollock fleet sets sail—from catcher boats to catcher-processors and even mother ships. We're a lot like family out there on the Bering Sea—communicating about where the fish are and ensuring that we all keep each other safe in the treacherous weather that can sometimes come upon us all too quickly on the high seas.
We all have our specific amounts of Wild Alaska Pollock that we can harvest—called quotas—that comprise the "Total Allowable Catch" or "TAC" for the Wild Alaska Pollock fishery. This quota number is set by the North Pacific Council and National Oceanic and Atmospheric (NOAA) Administration each year to ensure that the Wild Alaska Pollock fishery remains in-tact indefinitely and that we preserve this precious fish. While Wild Alaska Pollock is Alaska's and the USA's most abundant seafood species, more than half of the catch in Alaska in recent years account for Wild Alaska Pollock. For every 100 fish that swim by us in the Bering Sea, we harvest just 15 FISH, ENSURING OUR PRESERVATION OF THIS FISH POPULATION.
These successful management practices are considered a model for sustainability for the United States, the world and our entire fleet. From management to captains to fishermen, we are all dedicated to preserving and protecting the superior Alaskan seafood industry including Wild Alaska Pollock, for many generations.
One thing that goes hand in hand with preserving this precious resource that I've always found special, is how we make sure that we utilize every single aspect of the fish. During "A" Season in particular, there is a particular emphasis placed on the Wild Alaska Pollock "roe"—or the female fish eggs. In March, there is an auction in Seattle dedicated to bidding on this delicacy (much of which is produced for export to Asian markets, specifically Japan). The roe harvested during "A" season is the largest and of the highest quality. We've worked hard to innovate new ways to utilize this and all parts of the Wild Alaska Pollock.
I'm always a little like an excited kid before A season. I'm anxious, nervous and thrilled at the very same time. Tons of preparation, training and always keeping a safe vessel and crew is paramount. All our hard work the last few months getting ready comes to fruition right now. We always have a saying for fishermen…. "GOOD FISHING," instead of the traditional "good luck" because we in the industry know that luck only plays a small part.