Sharon Ripps, GAPP Research Advisor , April 07, 2022
So Much to Say About Surimi Seafood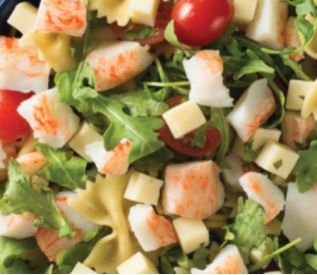 If you were to look at my Facebook feed, besides posts from family and friends, you would see a lot of posts about dogs and even more posts about food.  A lot about food. Just this past weekend, in a New York Times related food group, this post popped up:
"Okay, I am going to get vulnerable here and admit something that might open me to ridicule—I love surimi. It's like the hotdog of the sea. I keep buying this very basic surimi salad from the Whole Foods salad bar, but it's not particularly delicious, other than the surimi. Can anyone recommend a good surimi salad recipe that is not super rich. I know I can just throw some mayo and sour cream or yogurt together or whatever but I'd love a tried-and-true recipe."
I wanted to respond to her right away. I had so much to tell her and knew that what I would say would be both meaningful and compelling. I wanted to say yes, surimi is delicious. And, tell her that she's not alone, surimi lovers are one-quarter of the U.S. population and that's a lot of people!
But more than that, I wanted to tell her that surimi is not a mystery food like a hot dog, it is real food made from sustainably-sourced Wild Alaska Pollock. And since she was looking for lighter options, she could not go wrong with surimi, a simple and complete protein that can be used in lighter seafood salads and in a whole range of healthy recipes.
And while many people responded to her with surimi salad recipes, I wanted to tell her about all of the new ways to use surimi, new recipes, and new eating occasions that would bring all kinds of deliciousness to her surimi experience.
How did I know what to say to her? How did I know what I would tell her would be meaningful?  I turned to GAPP's seminal Imitation Crab/Surimi Seafood Attitude & Usage Study. This study conducted just last year for GAPP by C + R Research provided a comprehensive overview of U.S. consumers' attitudes, behaviors, usage, and needs about and for imitation crab. We learned that surimi consumers love imitation crab for its great, crab-forward taste and its high quality. They value its nutritional benefits of high protein and Omega 3s.  We also learned that they have no idea what it is made from and because it is called imitation, they were not sure they wanted to know. But once we told them that surimi was real food, made from sustainably sourced Wild Alaska Pollock, their interest and inclination to purchase significantly increased.
They also told us about their favorite surimi recipe, be it on a salad, in a seafood salad, like ceviche, in crab cakes, or served as part of pasta, noodles, or rice dishes. Most admitted that their favorite surimi dish was the only dish they made that used surimi and that they would welcome more tasty recipes that used it. We learned that we needed to help our consumers break out of their surimi routine and make surimi a more relevant and visible part of their lives, in their kitchens and in-store.
We knew we had a wealth of information and insights within our study, and we wanted to turn those insights into action.
We first turned to our partners at Ketchum, our communications pros, who took our data and turned it into the Surimi Messaging Toolkit. Now all GAPP members and the industry at large have a go-to resource on how best to market Wild Alaska Pollock surimi seafood no matter the audience. From the data, they identified the key, most compelling messages we should communicate to consumers as well as areas of opportunity, focused on surimi product education, recipe content, and inspiration and messages that reinforce Wild Alaska Pollock surimi seafood's unique and compelling differentiators.
We also took the learnings and the toolkit opportunities one step further into direct action with the Surimi Holiday Campaign 2021. This 360-campaign, the largest in the history of the association, focused on driving surimi seafood education and inspired surimi usage occasions among consumers ripe for our messaging. Using their proprietary omniearnedID process, Ketchum quantitatively identified two influencers (Rachel Mansfield and Sohla El-Waylly) and Food 52 to create compelling surimi recipes and content for their followers. This program was wildly successful, garnering 1.6M impressions, an engagement rate of 4.1% and most importantly a 15% sales lift among those who saw the content versus those who did not.
GAPP however was not the only one to action these learnings. Our GAPP Member companies who market surimi seafood also took up the challenge, refining their consumer messaging to reflect the new learnings and bring in new younger consumers, ramping up their recipe offerings on their websites via influencers and chefs and exploring and introducing new surimi-based products for more delicious surimi occasions. 
Most importantly, we're not done learning about consumers and surimi. One opportunity that the research uncovered is that a key to surimi growth is changing the game at retail. The surimi section (aka the smoked fish section) needs creativity and energy to drive consumers to it. We need to build a compelling retailer sales story in order to gain space and merchandising. 2022 will bring new surimi learnings and more real-world action as we tackle the retail and shopper surimi seafood experience. We'll have so more to say about surimi in the coming year.
Stay tuned!