August 11, 2022
Meet our Title Annual Meeting Sponsor: Alaska Seafood Marketing Institute (ASMI)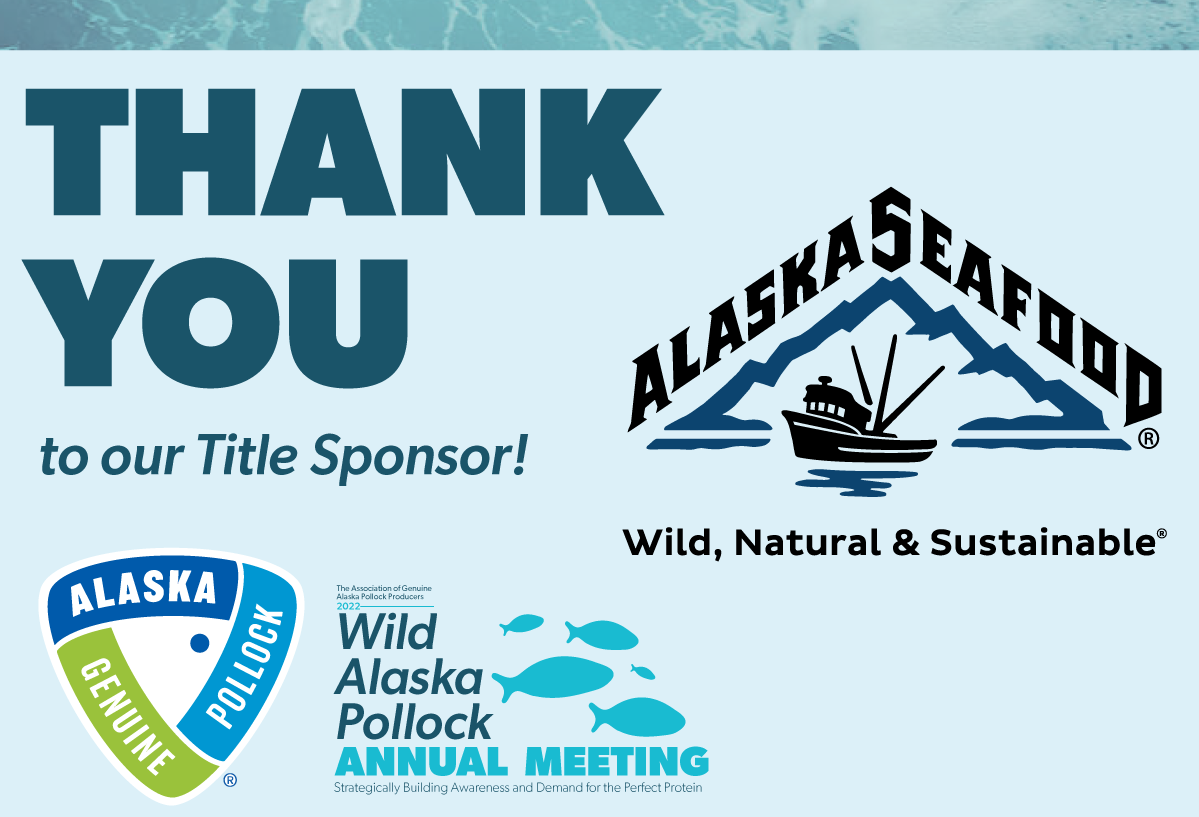 On the GAPP blog today, we're talking to one of the Title Sponsors for the upcoming Wild Alaska Pollock Annual Meeting, Alaska Seafood Marketing Institute.
Not only is Alaska Seafood Marketing Association (ASMI) a long-time sister organization of GAPP's, but we asked Jeremy Woodrow, ASMI Executive Director and his team some questions to uncover what makes ASMI so special and what they're looking forward to about the Annual Meeting on October 17th. Here's what they said:
Q: What's one thing about ASMI people don't know and you wish they did?
A: As the marketing arm for the Alaska Seafood industry, ASMI's efforts are made more impactful through participation and cooperation from the entire Alaska seafood industry. When it comes to marketing seafood from Alaska "we are all in this together." ASMI will always do it's best to elevate the Alaska Seafood brand in key markets. However, when individual companies and brands take ASMI's efforts to the next level is when our mutual success really shines and grows, and is when the Alaska Seafood brand is at its strongest.
Q: What session on the GAPP Annual Meeting agenda are you most excited about and why?
A: Personally, I'm excited to learn more about the results from GAPP Partnerships. This is a segment of marketing Wild Alaska Pollock where GAPP really helps fills a void that ASMI cannot participate in as dictated by Alaska Statutes.
Q: Why does ASMI find so much value in GAPP?
A: GAPP and ASMI are aligned in our core missions, which is to elevate Wild Alaska Pollock. For over 40 years ASMI has been educating consumers about the benefits of Wild Alaska Seafood. GAPP naturally takes the baton from ASMI and runs the final leg by taking Wild Alaska Pollock to the next level through partnerships and hyper-focused marketing efforts that target where Wild Alaska Pollock can be most successful. GAPP's efforts compliment those of ASMI and vice versa. As a result, both Wild Alaska Seafood and Wild Alaska Pollock are achieving great success in the global market.
Q: Why did you decide to sponsor this year's event (thank you!)?
A: It important that GAPP continue to be successful in its efforts and that it continues to grow and capitalize on its recent achievements. ASMI is very proud to partner with GAPP and help ensure that the 2022 Annual Meeting is a success.
Thank you to ASMI for being such a stand-out supporter of GAPP and a Title Sponsor for Annual Meeting. Haven't registered yet? Don't miss out and register here today!