Craig Morris , June 27, 2019
Charting a New Course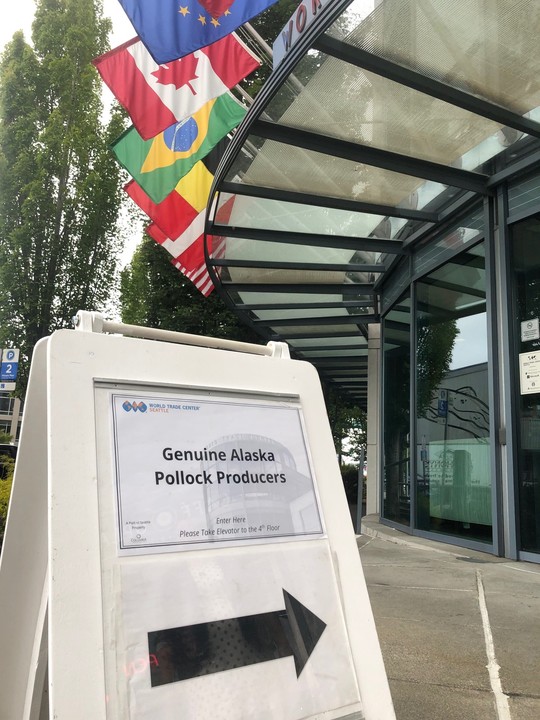 I recently returned from a Hake fishing trip on two of the Association of Genuine Alaska Pollock Producers (GAPP) members' vessels, the Ocean Rover and Golden Alaska. This trip was designed to help me better understand how these large boats operate, as I am still getting my sea legs at the helm of GAPP. The trip was wonderfully educational, but perhaps the biggest lesson learned was what happened prior to me ever setting foot on either ship. I had planned my trip to depart out of Coos Bay, OR and when my flight touched down in Eugene, OR the morning I was to set sail I had a message that the weather conditions were too bad and I couldn't catch a tender out to the meet up with the ship. The recommendation was simple: catch a flight to head up to Bellingham, WA to try and catch a ride on the Ocean Rover later in the week. After quite a few fits and starts due to weather, mechanical issues on the boat (which I'm learning are common), and waiting on parts—a full week after my scheduled departure date I was finally out at sea.
Everyone in this industry just said, "that's fishing." But, I've always been a "Plan A" type of guy. As much as I've tried to deny it, I tend to be happiest when things go as originally planned. I wouldn't exactly say it's my way, or the highway, but I'm sure some of those around me when things start going off the rails would. Anyway, I'm learning in this industry that I'm going to have to have a Plan B, and C, and D and maybe even some days an E. I'm going to have to go with the proverbial flow and roll with things.
It's a good lesson for GAPP as an organization as well. We released our 2018 Annual Report (available here) today, and it contains a lot of information about the past year of GAPP projects, initiatives, and successes. GAPP has always accomplished a lot on behalf of its membership and that is evident in this Annual Report.
After taking the helm of GAPP almost six months ago and being responsible for the increased industry investment in GAPP, I've had the task of evaluating GAPP's past initiatives to determine if those initiatives still serve the Board-directed GAPP mission: to increased demand for and raise awareness of our fish-Wild Alaska Pollock. It would be easier, for sure, just to stick to Plan A—and put the increased investment the industry has put behind GAPP into the same projects GAPP has undertaken in the past. Instead, I think we're going to do a lot of learning, a lot of going with the flow and implement a lot of Plan B's and C's in the name of building a better, more efficient, more strategic, and more effective organization; one that delivers maximum return on that critical industry investment.
We may not "get out to sea" on the day we were scheduled to do so—but rest assured that when we do, we're going to be that much better prepared to haul in the most fish possible. Take, for example, the new GAPP Committee structure. Previously GAPP had committees based on geographic region. But, in taking a step back and truly understanding the industry needs it was determined that the new GAPP committees should really be focused on products, not markets. So we launched the Fillet, Surimi, and Roe committees, as well as committees dedicated to Communications, Sustainability and Metrics. And this week we even decided to add a Membership Committee to continue to find partners willing to invest in our efforts.
Similarly, instead of doing more consumer research, we decided to take a step back and analyze what research about Wild Alaska Pollock had already been done so that we could truly understand where the gaps, excuse the pun, are. This analysis of existing research was presented to the GAPP Board at their June Board meeting earlier this week and will now help drive our new consumer research and Wild Alaska Pollock marketing narrative development process forward at an even faster pace.
I'm proud of the organization that GAPP is and has been—and I'm excited to take the organization to even greater heights. And I'm ever thankful that I've come to an industry and organization that has taught me that sometimes Plan B (or C, D or E) was better than Plan A after all!!