Wild Alaska Pollock On the Menu
Marinated Alaskan Pollock with Pickled Vegetables from "The Chef and I" in Nashville, TN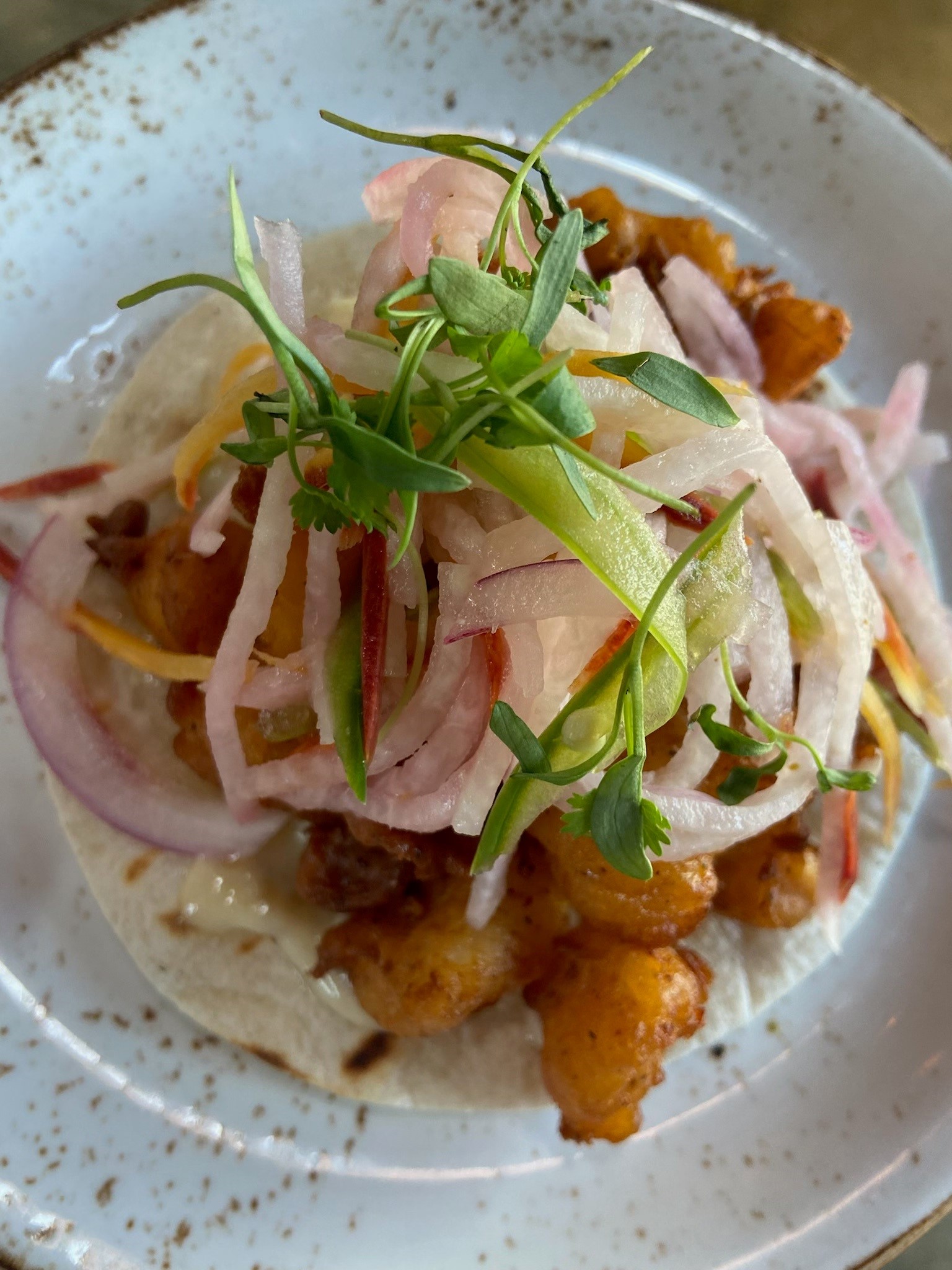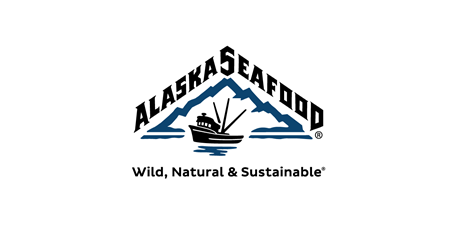 Dine Out to Help Out Chicago: October 18th- 31st
In support of the Chicago restaurant community, we are excited to announce our Chicago Restaurant Program: Dine Out to Help Out Chicago. The past 18 months have been challenging for the restaurant sector and especially those restaurant partners who focus on outstanding sit-down dining experiences. And, there are few cities in the U.S. with a more vibrant restaurant scene than the Second City itself!
The Wild Alaska Pollock industry has been the beneficiary of record demand during the COVID pandemic due to our strong placement in two channels that have experienced strong sales—the frozen food aisle in grocery and quick service restaurants with drive-through capability. Because of this, we want to give back by working to help our partners who have been the most negatively impacted by coming together to support sit-down restaurants in selected U.S. markets. Recently we held a campaign in Nashville, TN, and now we are moving to Chicago.
This campaign centers around our industry donating Wild Alaska Pollock products to upscale restaurants to allow them to serve delicious & creative dishes using a wild-caught, 100 percent domestically produced sustainable and nutritious center of the plate seafood during this challenging time while helping to offset their input costs. In addition, GAPP will also be providing marketing support to encourage diners to continue to celebrate in-person dining at participating restaurants. 
In return, participating restaurants will showcase the versatility of Wild Alaska Pollock with chef creations that feature our perfect protein.
Here are some of our participating restaurant partners
Checking all the boxes
The Association of Genuine Alaska Pollock Producers (GAPP) has invested heavily into positioning Wild Alaska Pollock for more upscale restaurant preparations including sponsoring Wild Alaska Pollock events at some of the finest restaurants in both Seattle and Nashville during 2020.
Based on the feedback from Chefs who participated in these events, Wild Alaska Pollock checks a number of boxes that consumers are looking for today. Based on our research, there are five pillars that when associated with Wild Alaska Pollock build demand for this fish on your menu.
Mild taste

Unmatched nutrition

Wild caught

Alaska origin

Unrivaled sustainability story
How Wild Alaska Pollock is Harvested

The Journey from Sea to Plate
Before we begin on how to set these products up for success, let's talk about how these three products are produced. All Wild Alaska Pollock is caught in the pristine icy waters off of Alaska by hard working fishermen and women who brave those conditions to bring this perfect protein to your plate.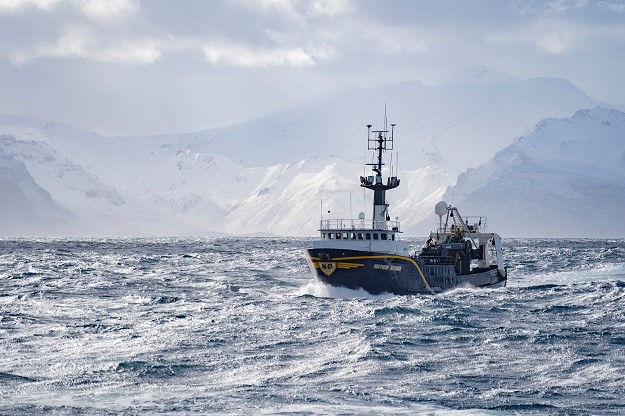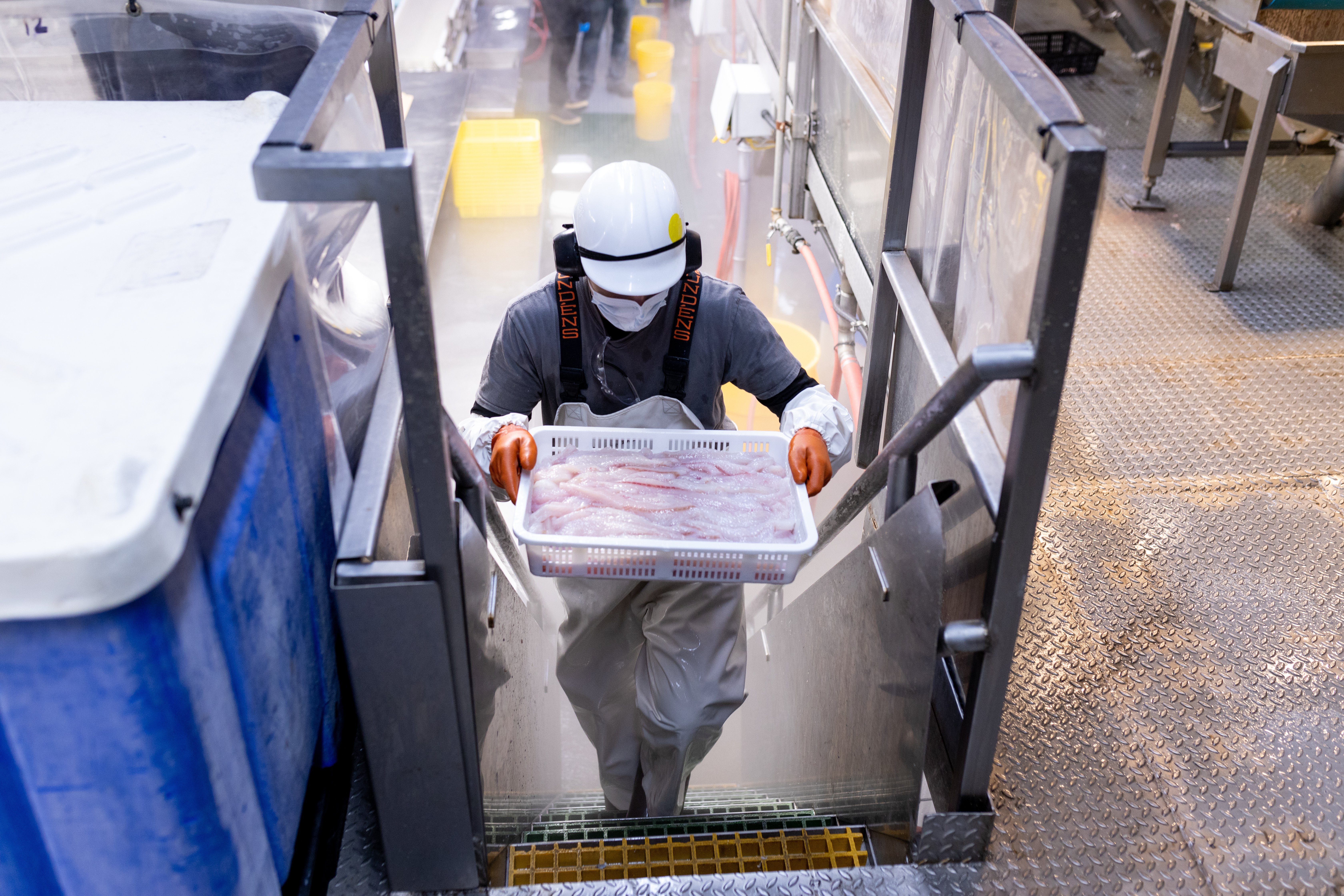 After the catch
Every Wild Alaska Pollock is individually filleted into two equal-size fillets that are visually inspected to ensure they are completely boneless. From here the whole fillets can either be individually quick frozen or cut into smaller loin segments and individually quick frozen in Alaska. These products are referred to as IQF fillets or loins.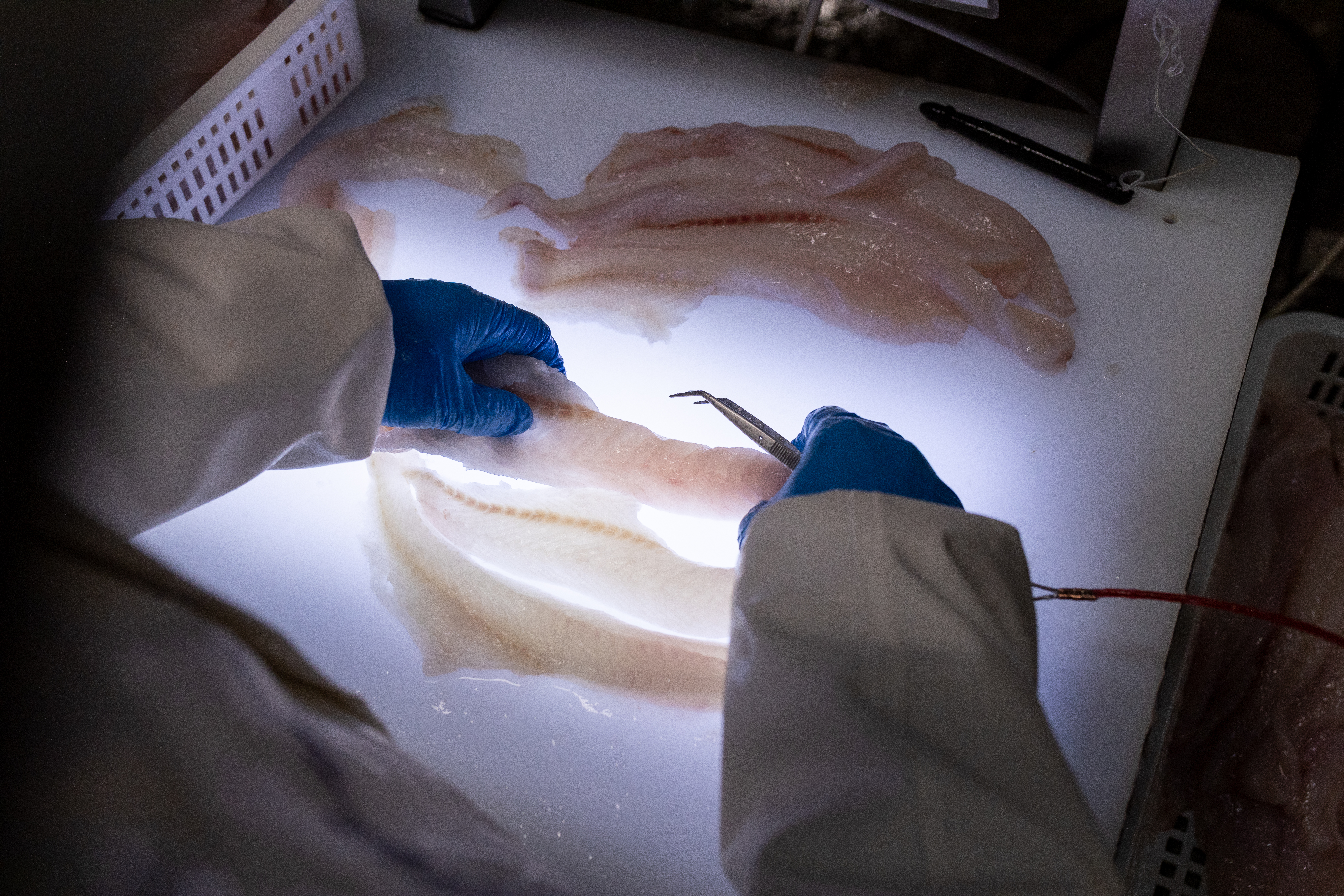 Above: Smoked Wild Alaska Pollock with caper berries on a crostini with whipped goat cheese and Peruvian peppers from "The Chef and I" in Nashville, TN
Fin-tastic Forms
Further, based on these events that GAPP has helped sponsor, Chefs have stated that there are three product forms that have consistently worked well on their menus.
All three product forms are blank slates that exceptional Chefs can work their magic on to delight diners and we aim to provide other Chefs interested in working with Wild Alaska Pollock with background on how these products are produced and how to best prepare them in high-end restaurant setting.
If you are interested in plating Wild Alaska Pollock in your restaurant, please read the following and reach out to us so we can help you best position your menu offering up for success!
Fillets

Loins

Skillet cuts

Portions

Fillets and Loins 
IQF fillets and loins have a number of advantages to Chefs including checking all of the five boxes outlined above. However, Chefs must remember that Wild Alaska Pollock is a fish that is modest in size so the IQF fillets and loins from the fish can often be a challenge to provide a substantial portion size when served on their own. Further, Wild Alaska Pollock IQF fillets are typically relatively thin and long compared to their width so optimal plate coverage can be a challenge and requires some creativity on the part of the Chef. IQF Loins are the whole filets that are hand-trimmed to offer the advantage of a more consistent thickness end to end as well as being more square in shape for plate presentation.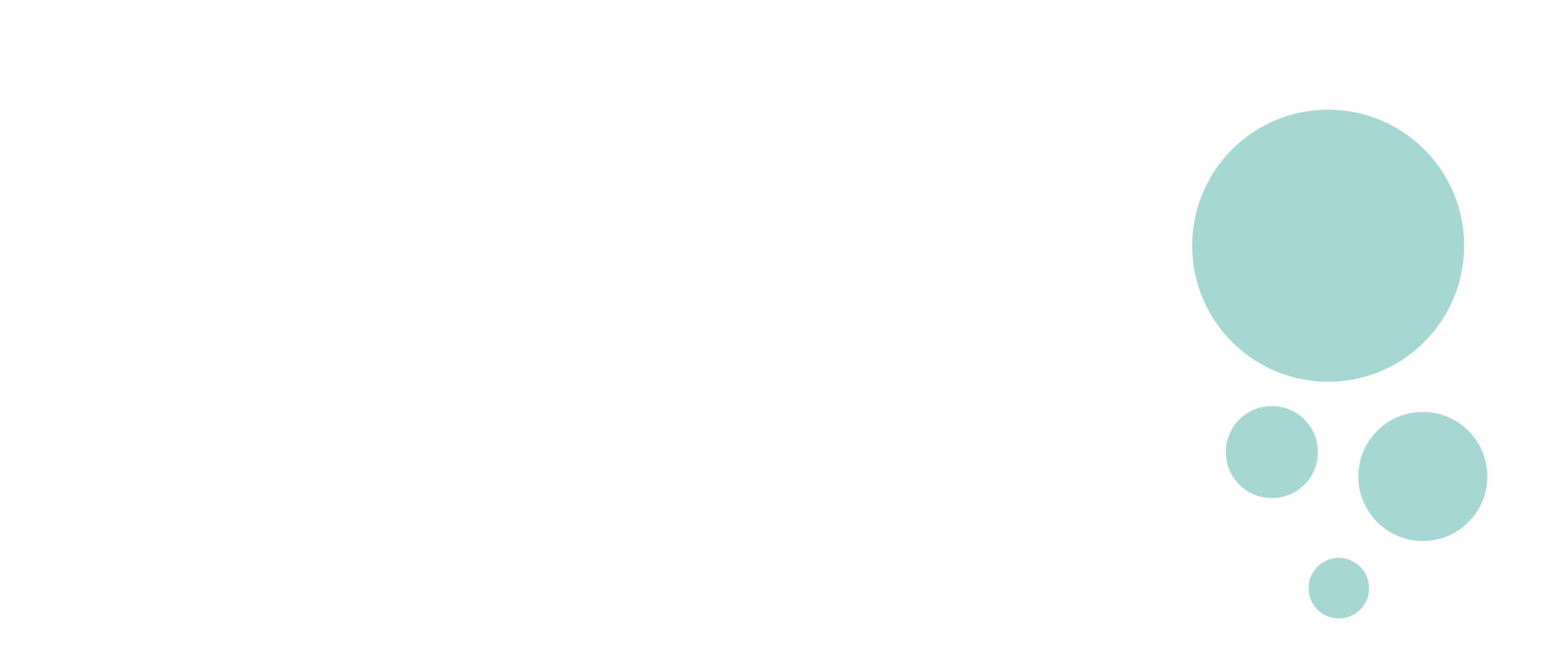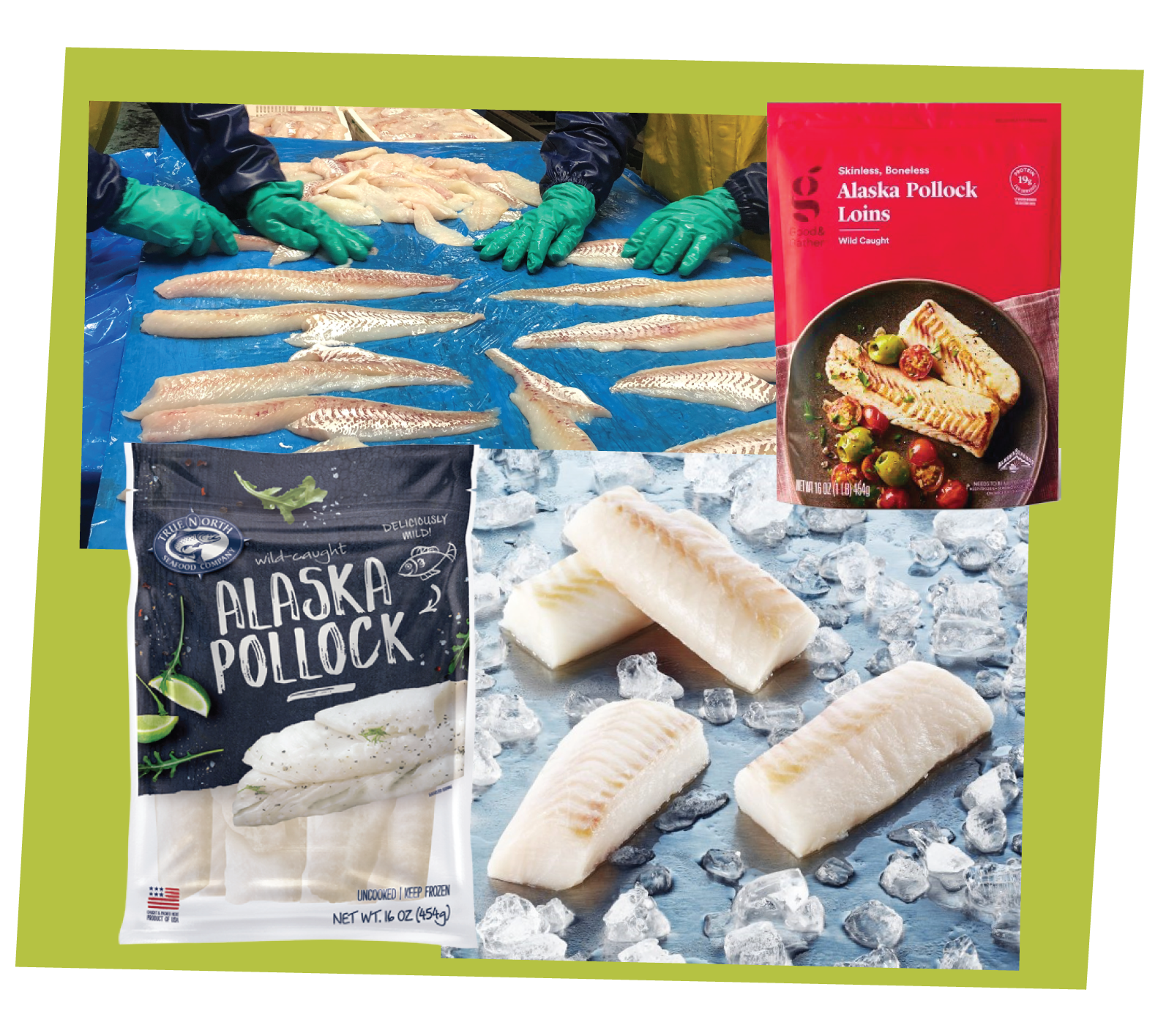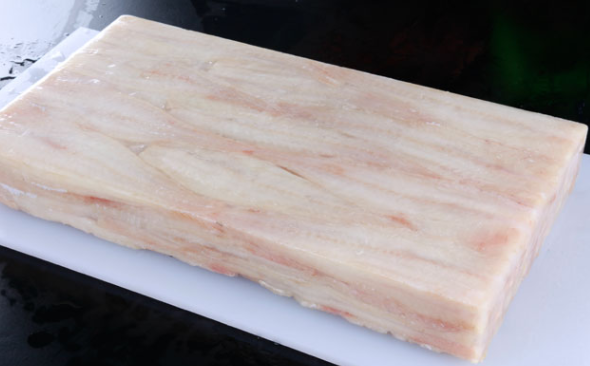 Skillet Cuts and Portions
Instead of individually quick freezing fillets or loins, whole Wild Alaska Pollock fillets may be hand-packed into 16.5 lb "blocks" of fillets and flash frozen in Alaska in this form. These blocks can either be cooked whole for institutional use or are cut by the manufacturer into a number of different items that consumers enjoy. For higher-end restaurant applications, two product forms cut from blocks have proven to be very successful: Portions and Skillet Cuts. We will begin with Skillet Cuts.
What are Skillet Cuts?
Skillet Cuts are simply Wild Alaska Pollock blocks cut into strips and then these strips are cut into diamond-shaped cuts from the loin that work very well as a fish ingredient in anything from a cioppino to a stir-fry.
Skillet cuts offer great advantages to Chefs including their consistent sizing and uniform cooking performance.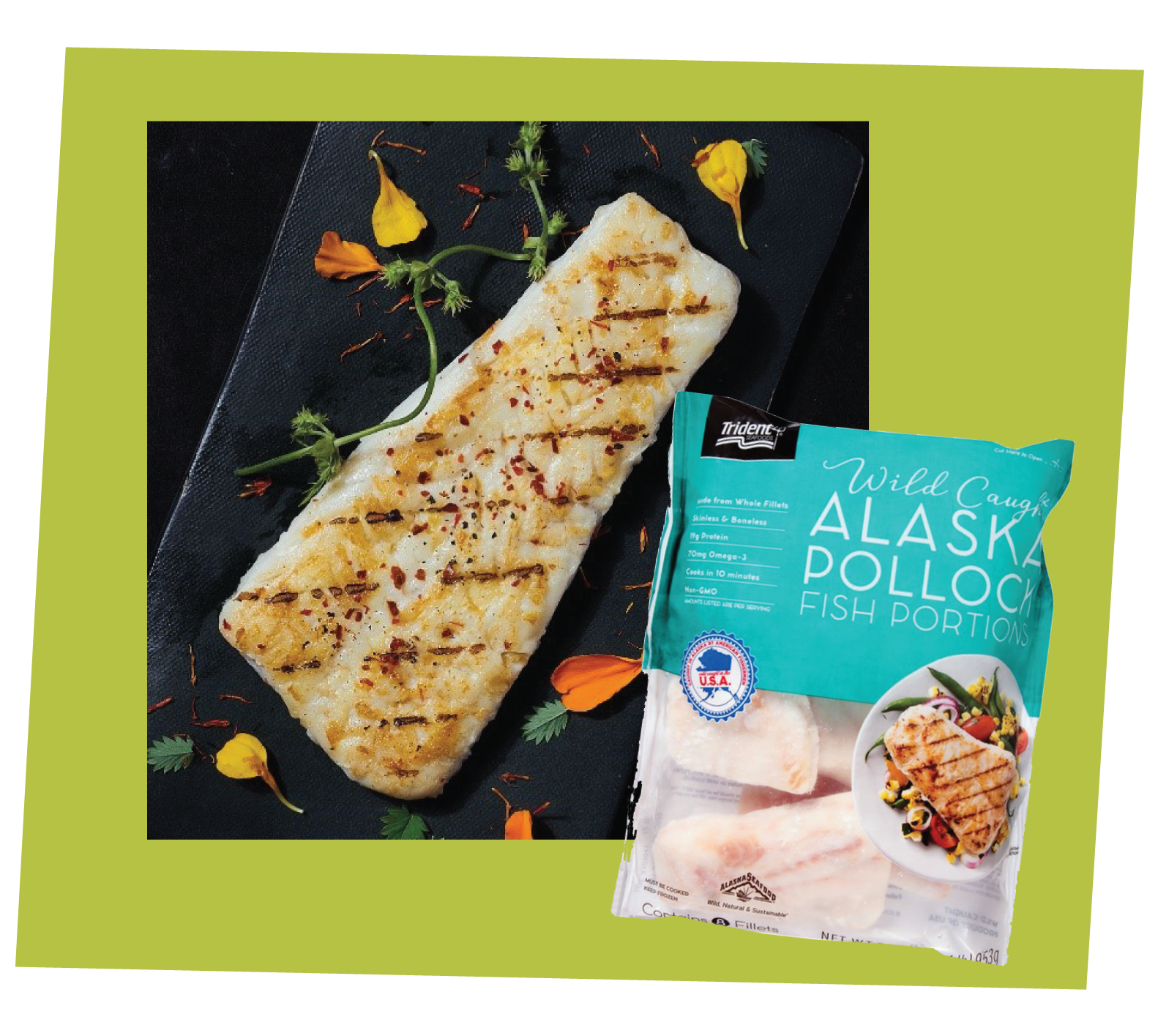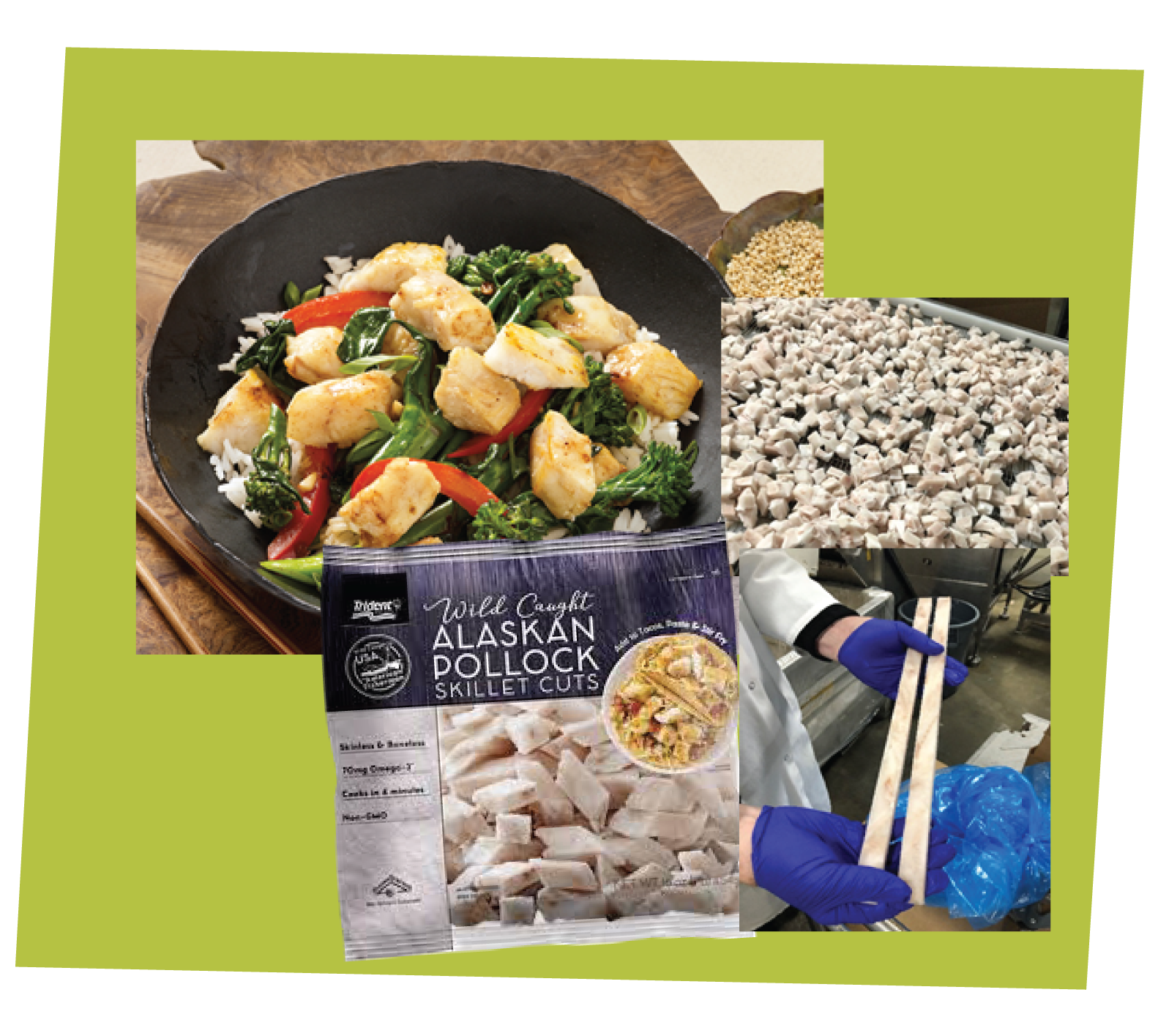 What are Portions?
Wild Alaska Pollock Portions are an item that has proven to be very successful in GAPP's work with higher end restaurants. Like the Skillet Cuts, Portions are cut from whole blocks of boneless Wild Alaska Pollock fillets that were frozen in Alaska. These portions, because they are cut from blocks made of many Wild Alaska Pollock fillets, can offer greater portion size control and ideal thickness and plate coverage for a high-end restaurant application.
Cooking Tips

Regardless of product form, Wild Alaksa Pollock is very lean and requires attention to set it up for success. Based on some of our experience, we've learned the following from chefs:
Wild Alaska Pollock is very quick to cook

Wild Alaska Pollock pairs well with fattier proteins to add flavor and texture

Wild Alaska Pollock pairs well with bold and earthy flavors
To maintain freshness, Alaska Pollock is frozen in Alaska for shipment to your restaurant. Many Chefs that we have worked with enjoy cooking the fish directly from the frozen state while others prefer to thaw the product first before cooking. We've provided some resources below about how to cook from frozen and the advantages that method of preparation offers.
We all know that Wild Alaska Pollock is most commonly seen batter and breaded. However, our experience has shown for the higher end applications, diners are most drawn towards more creative dishes that pair Wild Alaska Pollock with other flavors and push forward with a more healthful menu offering.
Regardless of the product form you are interested in, we want to work with you to come up with menu ideas that are going to work for you and your restaurant's menu and style!