American Seafoods
Wild Alaska Pollock Ceviche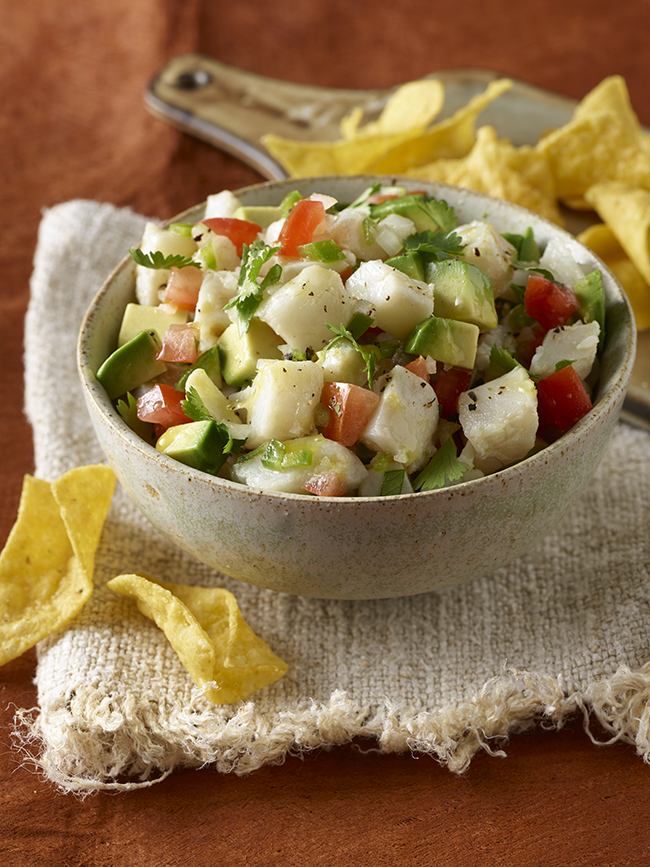 Image & Recipe Courtesy of American Seafoods
Ingredients
1 lb. Wild Alaska Pollock, thawed and diced
1/2 cup fresh lime juice
1/2 tsp. fine sea salt
1 whole lime
1/2 tsp. garlic salt
1/8 tsp. white pepper
1 Tbsp. olive oil
1 Tbsp. vegetable oil
1/2 small sweet onion
1/2 to 1 whole jalapeno pepper
2 roma tomatoes
1/4 cup fresh cilantro
1 avocado, 1/2" dice
Tortilla strips
Directions
Thaw Wild Alaska Pollock for 24 hrs. until semi-thawed. Cut 1/2" thick slices from side of block (against fillet grain). Lay the slices out in a single layer on sheet trays. Cover and thaw under refrigeration until defrosted. Drain well. Cut into approx. 1/2" sized pieces.

Place Wild Alaska Pollock pieces into a colander and drain excess moisture. Then place into a large mixing bowl. Squeeze fresh limes over fish. Add salt and mix. Turn fish into a large container, then cover with plastic wrap directly onto the surface of the fish, and press down with gloved hands to submerge fish. Cover and refrigerate for 4-12 hrs. Stir a couple of times and make sure the fish stays submerged in the accumulated liquid.

Place marinated fish and accumulated juices into a colander and allow to drain thoroughly. Place back into mixing bowl or the large container. Add all remaining ingredients EXCEPT avocado, and blend well with a rubber spatula. Fold in diced avocado and mix gently to blend, without breaking up the avocado.

Serve with tortilla chips. 
Yield:
5 5-6 oz. servings