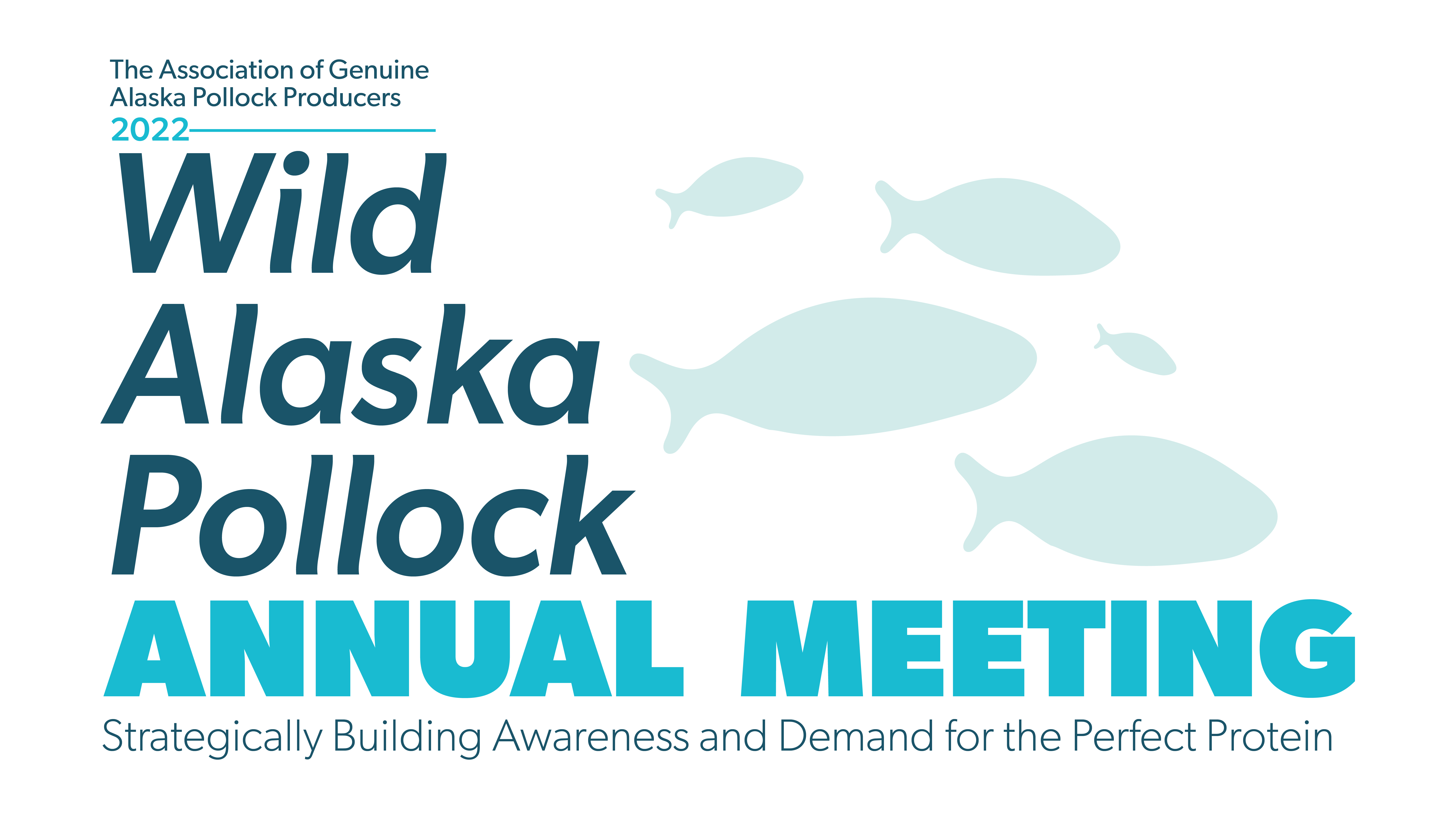 Annual Meeting 2022
The fourth annual Wild Alaska Pollock meeting will be held in Seattle, Washington at The Westin Seattle on Monday, October 17, 2022. The meeting will bring together representatives from all segments of the Wild Alaska Pollock industry, marketing experts, visionary speakers, catcher-vessel cooperatives, sustainability experts and more! The theme of this year's event is "Strategically Building Awareness and Demand for the Perfect Protein."
8 am: Opening Remarks: Bob Desautel, GAPP Chair
8:10 am: Welcome Video Remarks, Senator Sullivan, Senator Murkowski *
8:15 am: The Importance of Industry Relationships and Common Goals, Jon Kurland, Regional Administrator, Alaska Regional Office
Brought to you by Global Seafood Alliance 
8:25 am: GAPP State of the State: Craig Morris, GAPP CEO  
8:35 am: Food Trends that Matter to Wild Alaska Pollock, Amanda Buckle, Managing Editor, Seafood News & Urner Barry's Reporter
8:55 am: Wild Alaska Pollock Fishery Update: Ron Rogness, GAPP Consultant; Jana Dombrowski, Wells Fargo; Brought to you by American Seafoods
9:40 am: Perfection in Plain Sight: Selling Surimi Seafood to Health Professionals, Chris Rich, Vice President, Eat Well Global   
Break—15 minutes [10:00-10:15am]; Brought to you by Arctic Storm
10:15 am: North to Alaska with Holland America, Kacy Cole, Holland America; Megan Rider and Susan Marks; Alaska Seafood Marketing Institute
10:35 am: The Power of Influence(rs), Melissa Kinch, Partner, Ketchum; Deborah Henderson, Managing Account Supervisor, Ketchum
11:05 pm: From 'Top Chef' to the Top Fish, Chef Antonia Lofaso
Brought to you by Global Seas
11:50 – 1 pm: Lunch; Brought to you by Aquamar
1 pm: Sponsor Remarks
1:05 pm: Welcome back from Lunch: Port of Seattle Commission President Ryan Calkins
1:15 pm: Gimme that Filet-o-Fish, Jason Cervonne, McDonalds U.S.; Craig Morris, GAPP
1:35 pm: What do Americans Think about Wild Alaska Pollock: Mary Elizabeth Germaine, Partner, Global Head of Analytics, Ketchum; Lauren Hasse, Director Analytics, Ketchum
2:15 pm: How Alaska Airlines is Reaching New Heights, Kevin Lemme, GM Airline Planning and Network Performance
2:35 pm: New Partnerships Charting New Territories, Christine Durkin, GAPP Consultant
Break—15 minutes [2:45 – 3 pm] Brought to you by UniSea Inc.
3 pm: We Get By with a Little Help from Our Friends (in Retail and Foodservice), Chef Matt, Nordstrom; Jake Holbrook, Gorton's; Analise Gonzales, Trident Seafood; Marcus Lalario, Lil Woody's; Jay Gordon, Arby's; Amanda Buckle, Seafood News & Urner Barry's Reporter
Brought to you by Alaska Seafood Marketing Institute
3:50 pm: Keynote Address, Secretary Thomas Vilsack, United States Department of Agriculture *
4:20 pm Wild Alaska Pollock Then and Now, Jim Johnson, Doug Christensen, Wally Pereyra, Bob Desautel & Special Guest  
4:55 pm: Closing Remarks, Craig Morris, GAPP CEO
5 pm: Reception



*Invited
Thank you to our 2022 Annual Meeting Sponsors!
SUPPORTING SPONSORS
Alaskan Observers, Inc.
Aluetian-Pribilof Island Community Development Association
Central Bering Sea Fishermen's Association
Grow Girl Seattle
McKinley Research
Net Your Problem
Norton Sound Economic Development Corporation
Perkins Coie
Restaurant Depot
Seafood 101
Sysco Pacific NW
Wells Fargo
Wesmar Company
MEETING DETAILS


Where: The Westin Seattle, 1900 5th Ave, Seattle, WA 98101
When: Monday, October 17th, 2022

What: GAPP's 2022 Wild Alaska Pollock Annual Meeting

Exciting speakers are being confirmed and will be announced in the coming months and topics will include economic updates, consumer research and trends, the latest on surimi, global demand for Wild Alaska Pollock, and the results from the new GAPP "always on" Wild Alaska Pollock awareness and demand campaign slated to kick off in the U.S. this summer.
Come ready for networking, good conversation, food, beverages, and guest appearances from Dutch!